Xian Zhang to debut as NJSO Music Director
 
This month, Xian Zhang debuts as the New Jersey Symphony Orchestra's 14th Music Director, conducting performances across the state, beginning at NJPAC in Newark on October 27. She returns to Newark for two concerts and a gala celebration the following weekend.
While the upcoming performances mark her official start as the NJSO's new artistic leader, Zhang has been making connections with New Jersey audiences and musicians since her first guest appearance in 2010. This April, she dazzled in a week of concerts and left a lasting impression on concertgoers, musicians, press and students in the Orchestra's education programs.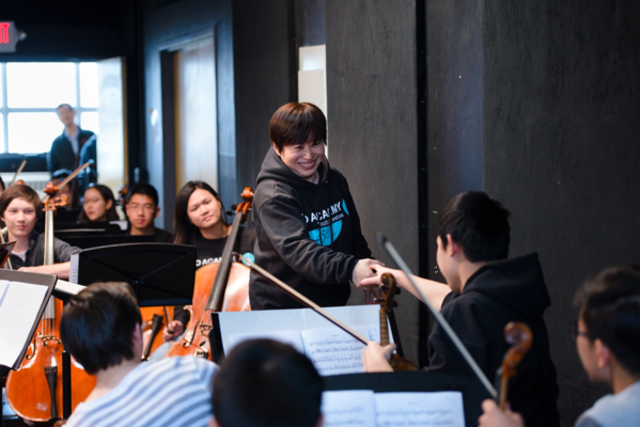 Orchestra members were eager to work with their future leader. Clarinetist Andrew Lamy said: "We're very excited—she is cheerful and lyrical, creative and [has] plenty of depth and a wonderful sense of rhythm. I'm looking forward to this new chapter."The New York Times praised her "dynamic performances," writing: "On the podium she is a pint-size bundle of energy, conducting with feet firmly grounded and big, purposeful motions of the torso and arms. In brief remarks from the stage, she also showed herself to be a natural communicator, brimming with enthusiasm and humor: a good choice for this orchestra, which takes its ambassadorial role seriously with concert series offered across the state and numerous outreach initiatives."
Between the April concerts, she made an impromptu visit to the NJSO Youth Orchestras' rehearsal on Rutgers University's Newark campus. It didn't take long for her to inspire the student musicians. Timpanist Maxine Musto made no effort to hide the ear-to-ear grin that lit up her face as Zhang led the youth orchestra—a smile that widened even more when the conductor gave a special shout-out to the percussion, trumpets and brass for their excellent playing as the last note lingered in the air.
The chance to play under Zhang's baton was, Musto said, "intense and exciting. You could feel that she is really passionate about it and she just exudes it on to everyone; it was like in the movies where she just wishes it onto everyone. That is my main goal in life—to keep doing the thing I love nonstop and yet still be that passionate."


Zhang also surprised participants in the NJSO's annual #OrchestraYou, which brings NJSO concertgoers and Orchestra musicians together for a fun pro-am music session in the NJPAC lobby. She watched the rehearsal, then conducted the final performance, thrilling players and audience members alike.
Excitement for Zhang's arrival this month is building. The New York Times features her debut concerts in its classical season preview, anticipating the moment when "this excellent orchestra introduces its charismatic new music director." NJSO violist Brett Deubner praises her energy and leadership, saying: "As a musician, I like to be challenged, both artistically and technically; she will do that, and she will help the Orchestra continue growing. Bringing her to the podium is a great positive."
The Wall Street Journal called her appointment "historic." The conductor told the paper "her priority is 'to help shorten the distance' between audiences and musicians … it's all about finding that connection with people … on a human level.'"
In April, The Star-Ledger wrote that Zhang "won over the crowd with both her remarks and her musicianship. And like any good trailer or overture, it left you wanting more."
Now, the "Xian Zhang era" the newspaper eagerly anticipated is about to begin.
Zhang leads the NJSO at NJPAC in an all-Tchaikovsky program on October 27 at 1:30 pm. She conducts works by Beethoven, Haydn and Strauss at NJPAC on November 5 at 7:30 pm and November 6 at 3 pm; a gala celebration begins at 5:30 pm on November 5. Learn more at www.njsymphony.org/zhang.
 
---
Courtesy of Victoria McCabe of NJSO
Photo credit: Fred Stucker