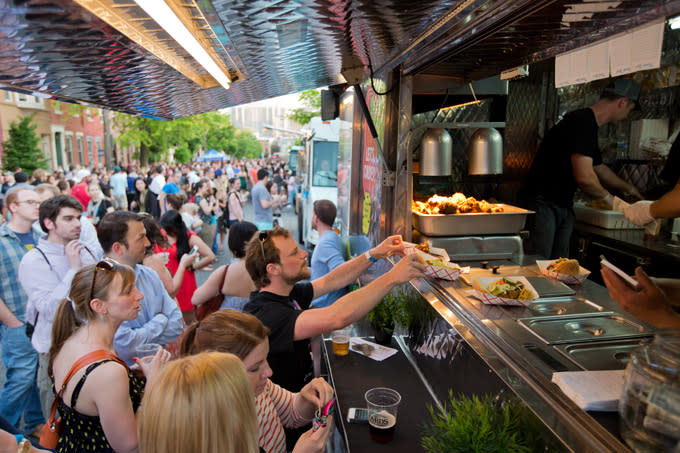 Q) Why food trucks to a soccer stadium?
Who doesn't love good food, a cold beverage, live music and family-fun activities outside during the beautiful fall season?  Saturday, October 22 will be the first time in the history of Red Bull Arena that we host a Food Truck Breakaway event and couldn't be more excited.  We will have some of New Jersey's best culinary options including Jersey Eatz, Kimchi Smoke, Texas Smoke Barbecue, Callahan's, Bacon Me Crazy, T&N Homemade Kitchen, Empanada Guy, My Four Suns, MozzArepas, Try Vegan, El Lechon Del Negron, Flat Bread Grill, Bro-Ritos, Fork In The Road, The Whirly Pig, The Flying Pie Guy, etc. 
Activities for adults and children will include Bounce House City, Giant Jenga, Connect Four, face painting and much more. In addition, Mount Pleasant Animal Shelter will be sponsoring "Pumpkins for Paws", where 1,000 pumpkins will be available to decorate & take home on a donation-basis, with proceeds going to the Animal Shelter.  A puppy adoption station will be set-up and those visiting the "Pumpkins for Puppies" zone will be able to interact with the puppies/dogs up for adoption as well.
A pyrotechnical music finale that will really be bring the day to a stunning finish.
Both VIP and General Admission tickets are on sale foodtruckbreakaway.com/tickets.  VIP Tickets will include access to Audi Club, on-field experiences including penalty kick, photograph on the field and a tour of the official Red Bulls locker room.  

Q) For those that have never been to Red Bull Arena, what should they know?
A) Red Bull Arena in Harrison, NJ is the premiere soccer venue in all of North America.  It's the proud home of the New York Red Bulls (of Major League Soccer) who have qualified for the 2016 Audi MLS Cup Playoffs starting in October. The venue has also hosted multiple world-class soccer teams & events including both the United States Men's and Women's Soccer Teams, Chelsea Football Club and the 2011 MLS All-Star Game featuring Manchester United.
We are now aggressively pursuing the opportunity to host other events at Red Bull Arena.  Years ago we held our first concert at the venue with a band called Dispatch and we have begun to make a big push to be a premier destination for concerts and live entertainment.

Q) Best way to get to Red Bull Arena?
Red Bull Arena is also very accessible for those in New Jersey or New York City utilizing mass transit as it can be reached via the Harrison station on the Port Authority Trans-Hudson system PATH train (20 minute ride to NYC) as well as from Newark Penn Station and New Jersey Transit's and Newark Broad Street stations.   Also, Red Bull Arena is just minutes off of the New Jersey Turnpike and Interstate 280. Parking lots are available for fans driving to Red Bull Arena for an event.
 We look forward to seeing you at Red Bull Arena for a first-class experience!
---
Q&A with Amy Scheer, Chief Commercial Officer, NY Red Bulls