Hot Spots for NJ Devils Fans

What's more fun than booing NY Ranger fans at Newark dining establishments before the NJ Devils take the ice at the Prudential Center?  But first, how about getting in the mood for the match with other Devils supporters at one of several hot spots within a "short skate" of The Rock?

Some are longtime Newark favorites; one is a new kid on the block. All offer cold beverages, great food, and the excitement and energy of rabid fans ready for the red light to flash and horn to blare when the Devils shoot and score!


Devils fans are drawn to the place as much by its proximity to the Prudential Center as its great food and libations. Or could it be the Devils-appropriate red and black color scheme? Located across Route 21 at the edge of the Ironbound District, Hell's Kitchen has all the prerequisites for Devils fans.
A nice selection of craft beers on tap plus a long list of original cocktails complement the wide-ranging menu. Everything from "Devil Wings" in eight styles, from Classic Buffalo to Anti M's Ghost, to a Thai Beef Salad is prepared with care and served by a friendly staff. Weekly specials like Bacon & Whisky Wednesdays and Thursday night burlesque shows also help Hell's Kitchen live up to its slogan, "Damn Fine Food, Wicked Drinks and a Hell of a Good Time!"
When Frank McGovern opened his tavern in 1936, there was a separate entrance for the ladies. In 2011, Esquire magazine called it one of the "Best Bars in America." Today, you'll find Devils fans in this quintessential pub sharing drinks and laughs with a diverse and welcoming crowd including everyone from college students and downtown office workers to off-duty police, firemen and retirees.
And there are plenty of big screen TVs for sports action, which you can watch while drinking the perfect pint of Guinness pulled from one of the dozen taps, along with micro brews and standards. There's always mixed drink and shot specials (including a chilled Fireball shot machine), along with great bar food. In addition to the self-proclaimed "world famous" bar pizza, McGovern's offers not only the de rigueur disco fries with cheese and brown gravy, but also lava Fries (buffalo sauce & mozzarella) and Irish fries (cheddar, Monterey jack, bacon and ranch dressing).  You'll find everything from sandwiches and wraps to salads and burgers on the extensive menu.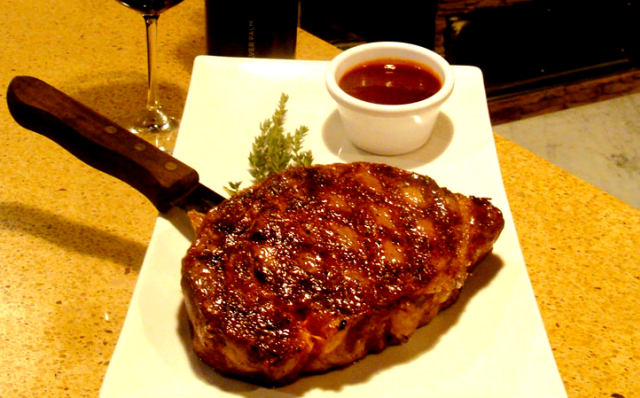 With a great Portuguese-style picadinho (pork cubes, shrimp, clams and potatoes in a white wine sauce) among its specialties, Bello's pays homage to its Ironbound District location. That's an introduction to a menu featuring an eclectic lineup; there's always something to please.
Calling itself the Brick City's first gastro pub, Bello's has been family run since 1974, and the convivial atmosphere shows that personal touch. Better known as a hangout for Red Bulls fans, Bello's location near Penn Station is equally convenient to the Prudential Center and welcoming to Devils fans. With more than 180 choices from around the world, the bar features Newark's largest beer selection, and one that rivals some of the best beer joints statewide. Few offer the combination of fine fare, fermented beverages and convenience that keeps Bello's humming during hockey season and year-round. 
When it comes to convenience, you can't beat Edison Ale House, just across the street from the Prudential Center. You'll find 20 beers on tap plus 12 TVs at a long and inviting bar. Solid food, including a Happy Hour menu from 4 'til 8 p.m. with chef's choice appetizer samplers for less than $10, including the Finger Lickn (choice of 3 – mac & cheese bites, mozzarella sticks, fried pickle chips or veggie pot stickers) and the Surf & Turf (choice of 3 – chicken wings, fried shrimp, tilapia bites, beef or pulled pork sliders).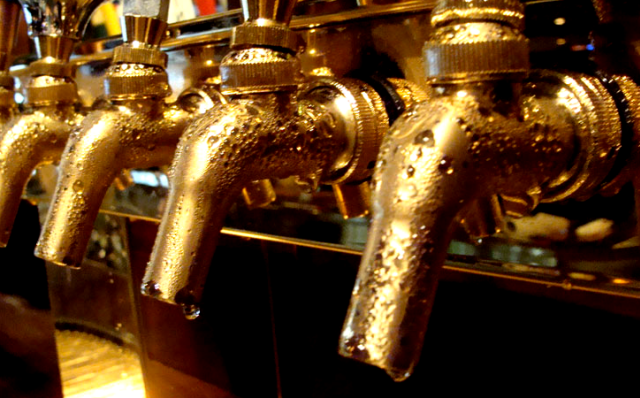 What better place to host a legion of boisterous fans than a Bavarian-style beer hall? Redd's is ready to welcome Devils fanatics for the start of the NHL season in a spacious location just around the corner from the Rock. You can't go wrong with the "Devil-ish" bacon combo from the appetizer sampler platters, which the menu describes as "bier, dynamite, double-smoked bacon, Napa cabbage slaw, braised red cabbage and french fries."
Given your surroundings, maybe some soft pretzels or the German wurst platter would be more appropriate.  Yes, you can get a Bud Light, but why not a more traditional Weihenstephaner Hefeweissbier, a Spaten Oktoberfest or Redd's own Amber Brew, a Vienna-lager styled house beer?
 
---
Newark Bound Magazine: It's all about Newark. Flip through the glossy for an in-depth look at Newark's world-class attractions, endless dining options, upscale and discount shopping, accommodations, and more. NewarkBound explores and reports on the highlights, trends, celebrities, humor, history and perspective that reflect life in and around New Jersey's largest city. 
Story By: Vince Baglivo 
Header Photo: Joseph A. Sorrentino