Best Burgers In Ironbound
Eating in the Ironbound is not hard. Everyone knows this. Good eats are lurking just around every corner. That's why I thought it was necessary to compile a list of America's all-time favorite classic – the burger.
What may surprise some folks, is that burgers are flowing plentifully in the culturally European haven that makes up the neighborhood. In fact, a quick Google search for "burger Ironbound, Newark" will render quite a few options – Just be sure to sift through the shameless lists that include fast food joints of the "dollar-menu" variety. After you've done that, you will notice that many of the choices that make up this list are also included herewith. Use this as a semi-guide to your all around experience.
Let's start with an obvious one…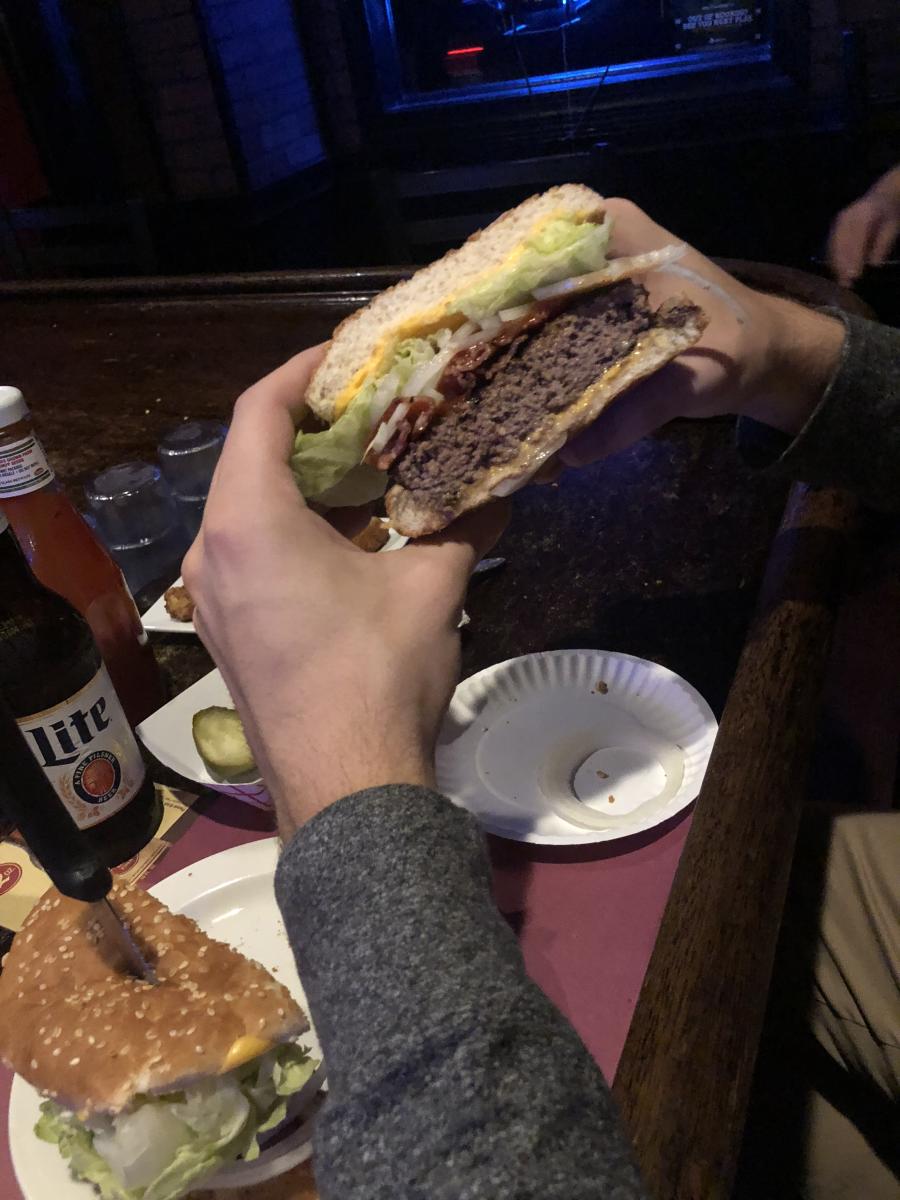 Burger Bound (62 Van Buren St) is known for what their name so cleverly states. There specialty burgers are absolutely delicious. I'm just sorry I cannot recommend one over the other. But, if I really had to choose one I would say the Premium Burger – the melted Manchego cheese with BBQ avocado aioli and onion ring toppings are simply heavenly. Burger Bound also offers two vegetarian burger options – their black bean burger, and the mushroom burger. Regardless, whichever you decide to order, I highly suggest adding a side of truffle-parmesan fries. They are the perfect side to any burger (or salad if you want to be that person). Despite what their name might suggest, they do have a working bar and a fun atmosphere. In the spring/summer their backyard outdoor space is a great place to gather with friends.
Krugs Tavern (118 Wilson Ave) is Newark's gold-standard of burger. Krug's has a full menu of classic American bar-food. It's nearly impossible to not like everything on their long list of appetizers, sandwiches and/or soups and salads. But you're here on burger business. Krugs boasts some pretty delicious specialty options. But their perfectly grilled bacon cheeseburger (or regular cheeseburger/hamburger for those of you that don't like to live fully) is what you can catch me regularly dining on. Pair your burger of choice with one of their delicious pickles and wash it down with an ice cold brew (drink responsibly) for an ultimate comfort dinner. But don't let the beautiful simplicity of it fool you. This establishment was named Best Burger in Northern NJ by NJ.com's Peter Genovese in 2015. In his article he called it "simple, classic, no-nonsense -- symbolic of the neighborhood hangout."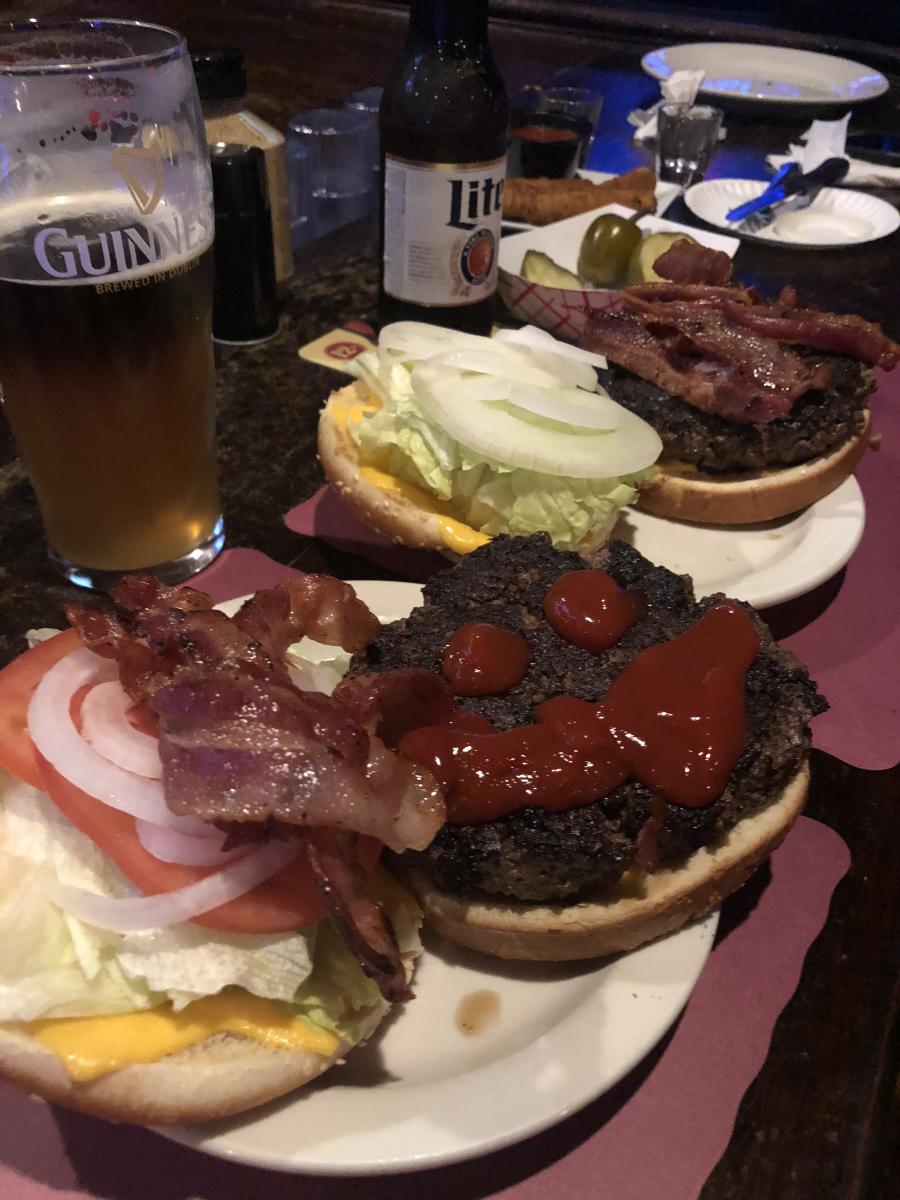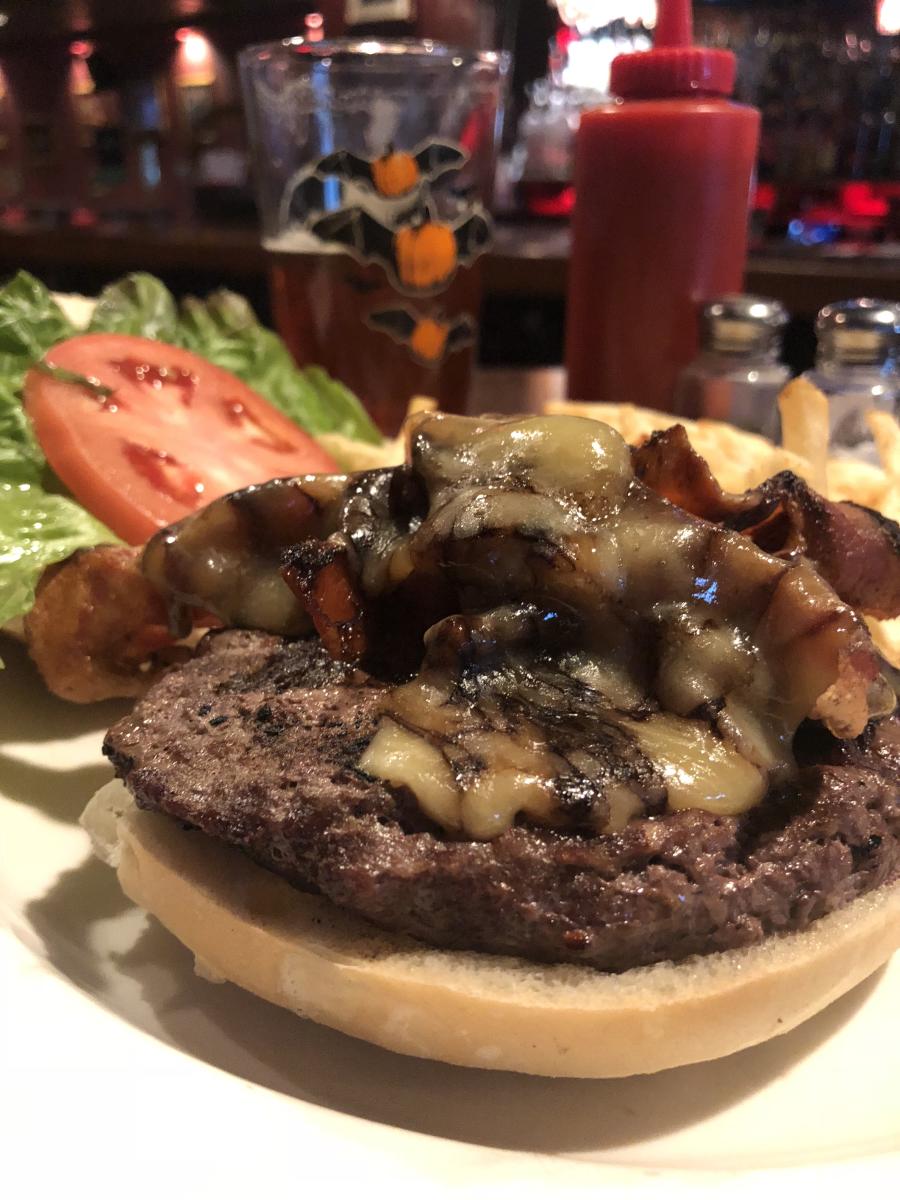 Pour Abbey's (107 Hawkins St) does not have quite as many options as others on this list. In fact, their entire burger selection gives you four choices. Though, I would argue only three, because their Bacon Burger is just their Abbey's (classic) Burger plus bacon… which is an available add-on. However, don't let their lack of fancy-named- horn-tooting options discourage you. Their classic (with or without bacon) is forever juicy perfection. But if you still find yourself craving a sense of mystery, their Latin Macho Burger is made with secret sauce and their fries are only ever described as Abbey Fries. Go to Pour Abbeys for their great vibes, cool décor, and rooftop lounge for warmer nights.
Hell's Kitchen Lounge (150 Lafayette St) is one of those neighborhood places that have it all. Entertainment, a steady crowd of loyal customers, and a menu that doesn't quit. Their burger selection will rival any other in the Ironbound. The Guinness Burger – with Guinness marble cheddar and bacon – is the type of burger that will wake you up late at night with intense cravings. Another popular favorite is The Original – a cheeseburger with chorizo, onion rings and BBQ sauce. Each a testament to the establishment and equally worthy of your order.
Bello's Pub and Grill – If you're in the area for a show and need a quick bite, drink, and amiable ambiance then Bello's is the spot for you. Their menu offers everything from starters to dessert and ranges in everything from bar pies to flank steak. However, their burgers are what constantly keep me coming back. The Portobello Swiss Burger is my personal favorite, but their spicy Cajun Burger and robust Bello Burger are crowd favorites as well. Bello's second floor is full service and has a pool table, perfect for killing time while you wait for your order to be grilled up.
The above suggestions are personal research and popular opinion on where to get a failsafe delicious burger in the Ironbound that also conveniently offer adult beverages and some sort of ambiance (whether it be sports bar or lounge). But the truth is many other places offer burgers as well.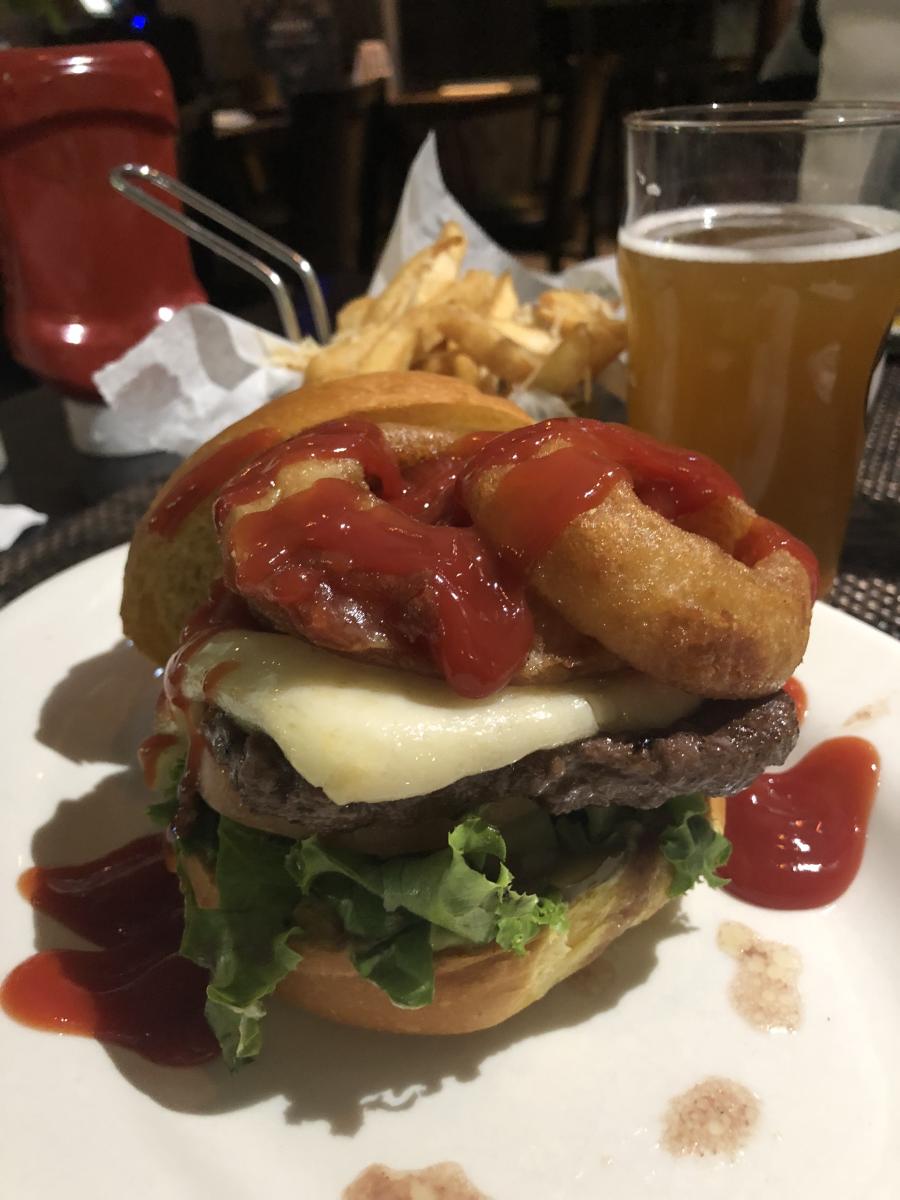 Hamburgao (288 Lafayette St) is a quick-eats eatery offering delectable Brazilian style burgers and comfort food. And if you're out burning the midnight oil then Altas Horas (266 Ferry St) is the 24 hour restaurant of your dreams. Take a moment to really read through their burger options, they come with a range of toppings from potato-sticks to corn and mayonnaise.If it is truly your opinion that a burger is just a burger – nothing more than a meat patty between two buns (with the occasional My-Fair-Lady type makeover of gourmet cheese and varying aioli sauces), then I urge you to go and try all of my recommendations. I beg you to have any of the specialty burgers that give a nod to the Ironbound's Iberian history with their additions of chorizo or Manchego cheese. I beseech you to try the all American mouthwatering classic at Krugs. I implore you to nosedive into the all too Brazilian and over abundant use of corn and mayonnaise toppings at Altas Horas (at an ungodly hour of the morning for a true Ironbound experience). Because until you truly taste the flavor of the Ironbound through the classic hamburger, that's the only opinion you'll ever be able to form.
---
Shayla Castrelos is the founder of fashion and lifestyle blog, SundayShay.com. She works in New York City full time as a legal assistant as well as being in full-time pursuit of trends, restaurants, and nightlife. She has a degree in Journalism from Rutgers University Newark Campus. She is based out of Newark, where she currently resides.