Top Restaurants near NJPAC
Lovingly known as NJPAC, Newark proudly boasts one of the largest and most beautiful performing arts centers in America: the New Jersey Performing Arts Center. Since 1997, NJPAC has graced over 9 million patrons with world-class entertainment and touched the lives of more than 1.5 million children via arts education programming. Home to the Grammy-award winning New Jersey Symphony Orchestra, NJPAC hosts the popular Horizon Foundation Sounds of the City concert series each summer, has rolled out the red carpet for two U.S. Presidents and the Dalai Lama and, most recently, has served as the home base for the hit TV show, America's Got Talent.

That being said, it's pretty much a foregone conclusion that you will visit NJPAC at some point during a trip to Newark. But the question remains: where to grab that crucial pre- or post-show meal? Lucky for us, there is no lack of fabulous dining choices in the downtown area near NJPAC. And your Glambassador has experienced them all! Check out my well-curated Glambassador's Guide to Restaurants Near NJPAC, below.
NICO Kitchen + Bar, NJPAC, 1 Center St. – You can't get any more convenient than NICO when it comes to eating near NJPAC. Located right inside the center with high ceilings and rich leather seating, this premium eatery offers high-end Contemporary American and Italian tapas. On performance nights, NICO offers a well-priced, three-course prix fixe menu to enjoy.
Maize, Robert Treat Hotel, 50 Park Pl. – Not your average hotel bar, this upscale establishment serves fresh New American cuisine with a Portuguese twist. Located directly across the street from NJPAC in the Best Western Robert Treat Hotel, Maize has a well-appointed "Pre-Theater" menu and an extensive wine list to choose from.
Don Pepe, 844 McCarter Hwy. – A rustic, old-world feel awaits you at this traditional Spanish eatery. Boasting huge portions of delicious seafood dishes and hearty steaks, Don Pepe is just a short walk from NJPAC. Try the shrimp in garlic sauce, paella or crab legs and don't forget to share a pitcher of sangria!
27 Mix, 27 Halsey St. – If an artsy and eclectic casual dining option is more your speed, 27 Mix is the perfect choice. Featuring an enclosed outside patio that's open during warmer months, the menu is chock full of Southwestern, Asian and Italian infused dishes at an affordable price point. There's something for everyone!
Mr. Adams Steakhouse, 1034 McCarter Hwy. – A sports bar in the front and a rodizio restaurant in the back, Mr. Adams is the versatile option for a post-show meal or drinks. With plenty of parking and a large dining room, we love the strong cocktails and great steaks. Sit at the bar for a view of multiple big screen TV's or sit by the big bay windows in back for a view of the water. 
Nizi Sushi, 28 Central Ave. – Right around the corner from NJPAC, this unassuming gem of a sushi spot serves yummy traditional Japanese and Korean fare. The shrimp tempura, NJIT roll and the Spicy Kani Salad are solid choices, and you can't go wrong with a Bento box full of teriyaki. Bonus: Nizi Sushi boasts a full bar.
Duke's Southern Table, 11 Clinton St. – Known for its live jazz, Southern cooking and signature drinks, Duke's is a Downtown Newark hot spot for sure. The mouth-watering menu is full of favorites like Kale Ceasar Salad, Smothered Turkey Wings and Shrimp and Grits. Come for the food, stay for the atmosphere. Tell Vonda, the owner, that we sent you!
Burg, 55 Park Pl. – Located right on the newly renovated Military Park, which sits across from NJPAC, Burg is a brand new addition to the downtown Newark food scene. Besides an array of juicy burgers to choose from, this casual eatery has a full beer and wine selection with a daily happy hour from 4 to 7 pm. 
Kilkenny Alehouse, 27 Central Ave. - Just three blocks from NJPAC, Kilkenny's is the right option for an affordable bite before a night at the theatre. Along with traditional Irish fare, Kilkenny features a well-rounded menu with $5 recession specials served all day during the week.
Forno's of Spain, 47 Ferry St. – Spanish cuisine and sangria…need I say more? With generous portions of traditional dishes served in an elegant setting, you will feel right at home at Forno's. Sit at the bar for a more low-key experience and be sure to try the risotto or paella.
Burger Walla, 47 Halsey St. – Be forewarned: once you stop in, you may end up with a serious Burger Walla addiction! With a cute and casual ambiance, this Downtown eatery fuses burgers and Indian food together with ease. Feeling adventurous? Give the lamb, shrimp or crab cake burger a try. Don't forget the sweet potato tots!
Tier 3 Café, NJPAC, 1 Center St. – Two hours prior to select performances at NJPAC, Tier 3 Café, located on the third tier of Prudential Hall, offers a delicious buffet-style dining option with panoramic views. A delightful selection of fresh salads, made-to-order pastas and tender meats are available at a value price.
Mercato Tomato Pie, 212 Market St. – Looking for a family-friendly, authentic Italian pizza destination close to NJPAC? You've found it. Fresh ingredients, huge portions and coal-fired crusts add up to one great pizza spot. The warm and inviting décor includes chalkboard tables that will entertain adults and children alike. Mangia!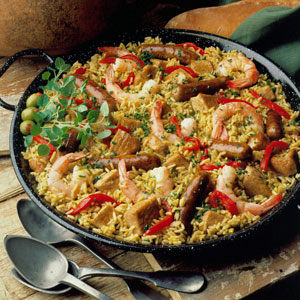 ---
Lauren Craig, also known as InaWordFab, is the Glambassador of all things fashion, art and entertainment in Newark. When she isn't busy practicing law or watching reality television, Lauren is devoted to inspiring others to live their most fab and fulfilling life...and world peace. Visit inawordfab.com for more and be sure to follow her life in the fab lane @inawordfab on Twitter and Instagram.