New In Newark Arts
A number of must-see murals and exciting new public art projects have popped up all over our favorite city—many of which honor notable Newarkers and involve internationally renowned artists.
A substantial number of them are a result of the Newark Murals program, an initiative of the Newark Planning Office and the Newark Urban Enterprise Zone meant to revitalize Newark neighborhoods through art and manifest the spirit and pride of Newark in its public spaces. There are also extraordinary new works by independent local artists and other art initiatives that have sprung up around town, too, including one that recently won a major design award for 2018.
No matter the genesis, each piece tells a story, provides inspiration and is a perfect addition to your Newark bucket list. And now, without further ado, the New in Newark Guide: Public Art Edition.
Fairmount Heights Switching Station
Head to the Fairmount Heights section of Newark, just above University Heights, to view the massive structure designed by David Adjaye, that has been called an "inside-out art gallery". A necessary piece of electrical infrastructure that came about as a result of Superstorm Sandy.
Adjaye was brought into beautify the Switching Station project after concerns about how it would look from residents and community partners. Now, the project is the winner of the Landscape/Urban Development Best Project 2018 from Engineering News-Record. In all, there were 14 international artists including six artists from Newark who created massive sculptures, mosaics and works of art that were attached to the façade of the Switching Station. Newark's "Art Wall" is certainly a must-see.
Every Mother is dedicated to celebrating the strength, hope, paint and resilience, of women, caregivers and mothers fighting for justice for their families in the wake of urban violence. This mural was created by internationally renowned Brooklyn based artist, Sophia Dawson in commemoration to mothers who have lost their children at the hands of police brutality and racism. The City of Newark partnered with Yendor Arts for this tribute uplifting the mothers of the movement, completed in 2017.
Key to Life
The first in a five-part mural series, Key to Life honors native Newarker and renowned musician, Wyclef Jean. A partnership between the GRAMMY Museum Experience Prudential Center, Prudential Financial, Yendor Arts and Newark Arts, the series is a collective effort to beautify the streets of Newark while honoring local music legends. Located in the Fairmount neighborhood, the 20-foot mural, designed by the artist FABS, features the face of the three-time Grammy award winner on top of piano keys. It is located on the side of the Thrift Works building on Central Avenue.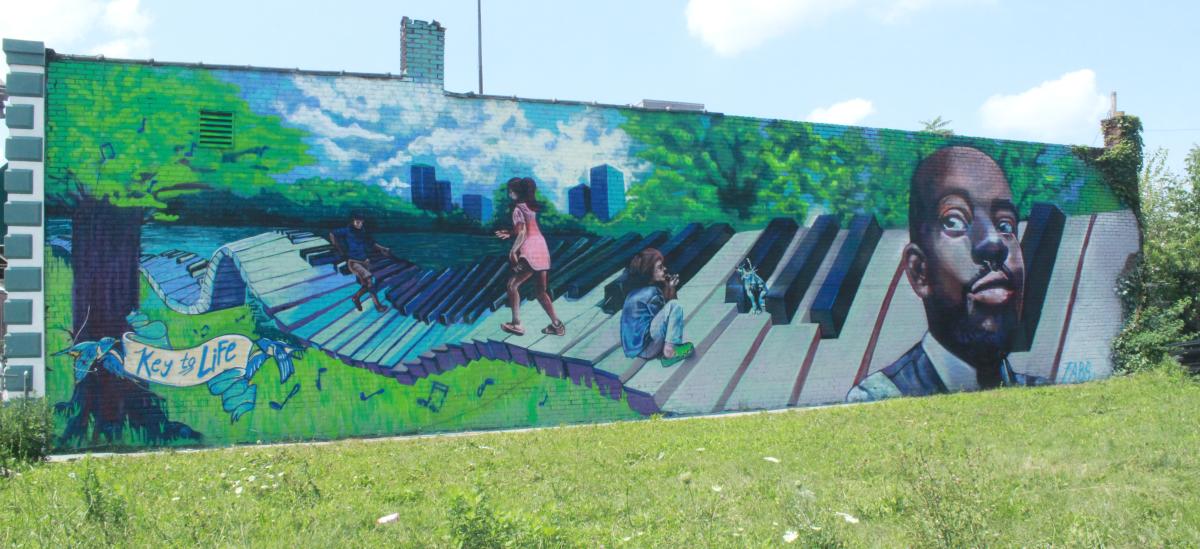 Rome Street Mural by Vhils
A result of an agreement between Mayor Ras J. Baraka and the government of Portugal, this mural launched the International Artists Exchange Program, initiated by the Mayor's Office of Arts, Cultural Development, and Tourism. The program invites artists from various countries, with unique skills and/or renowned works, to come to Newark to produce public art and share their technical talent with local artists, children, and residents. The Rome Street Mural is the first of five murals to be created by Artist Alexandre Farto aka Vhils, one in each ward. Located at the Ironbound Recreation Center (Sharpe James / Kenneth A. Gibson Aquatic Center) in the Ironbound, the piece showcases Farto's unique style of graffiti using tools such as chisels, jackhammers and tiny explosives instead of spray paint to carve through the surface layers of walls.
The Three Doctors
This dynamic piece is a collaboration between the city, Yendor Arts, the Three Doctors Foundation, the Prudential Center and the New Jersey Devils. Located at 16th Avenue at the corner of South 18th Street, it honors the "Three Doctors," Drs. Rameck Hunt, Sampson Davis and George Jenkins, who each grew up in Newark public housing, without fathers. They first met as classmates at University High School, where they made a pact to get through high school, college and medical school successfully. They completed their pre-medicine and pre-dental courses at Seton Hall University, and then all three attended Robert Wood Johnson Medical School, with Hunt and Davis becoming physicians and Jenkins becoming a dentist.
Michelle Obama at Brick Avon Academy
"When they go low, we go high," an iconic phrase by an iconic First Lady! Artist Brittany Williams and Artist Layqa Nuna Yawar collaborated to create this powerful mural on the facade of Brick Avon Academy featuring Michelle Obama in 2017.