In the Streets
Broad and Market, Downtown Newark NJ, July. A woman comes round the corner. She's curvy, with bleached cropped hair, and wears short, short cut shorts that reveal ferociously and artfully inked legs. Slung behind her back, in her right hand, is a hot pink singer sewing machine, the basic full size model that has been more or less unchanged in shape for more than a century. It must be heavy. But she must be strong, because she walks lightly, gracefully and purposefully through the bright sunlight and the crowds, a late afternoon deity of creativity.
So walk with me some. There are wondrous beings all around us. I promise I will toss down no claims to totality or to comprehensiveness. There is simply too much going on, and that is glorious. I went out and snatched some summer days and nights like someone fetching the last popsicle out of the back of the drugstore freezer. And yes, I saw you dancing in the next aisle over. Carry on. It's summertime. 
Wednesday:
First, I saw the Guard d' Avant Progressive Music Festival, bringing "Alternative R&B, Soul, Rock, Rap, LoFi, Experimental, Folk, Blues, Punk, Pop, Electro, Avant, Roots" to Military Park every Wednesday in July. The festival is the brainchild of The Honors Program, the folks behind those "Newark Times" shirts you may have seen around town. They aim to be "Guarding the unorthodox, progressive, experimental and innovative from having to be ordinary." The mix of artists involved is very fine, and a likely portent of things to keep coming. In a very 21st century moment, a content bot tried to tell me that the NJ Renaissance Fair was a "related event," being held in an undisclosed "magical village" somewhere. Hmm. I do suppose we're all wearing costumes of some kind, but I think the magic was right amongst the bricks because next I rushed off to see Yvonne Fly Onakeme kick off Rebellious Voices: Our Words, Our Voices at Gallery Aferro for Newark Pride. Organized by Kiyan Williams, the event was hand-fanning packed and featured an active open mic where numerous poets, including a woman who had just that week arrived to live in Newark from Texas, shared their work. There was such a range of voices, timbres and moods, with different generations of creative people's argot in use, from one man's extraordinarily dignified and moving words about "being in the life," to a younger woman's rant about facebook-enabled dating, the latter setting us howling in extremes of hilarity. Everyone left reluctantly, and late, clutching flyers about Queer Newark's call to collect and archive artifacts from Newark's clubs and other sanctuary spaces for LGBTQ people. I ran into Newark-born performance artist Kelly Ann Pinho on the sidewalk, she was heading to the Newark Print Shop for Print Club, held Wednesdays.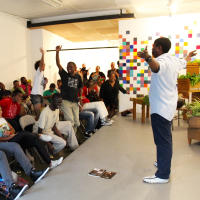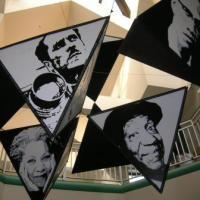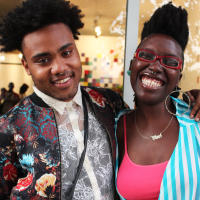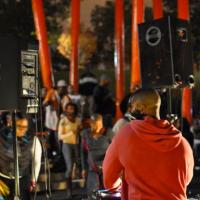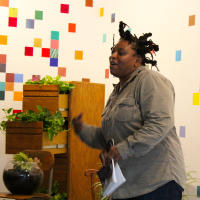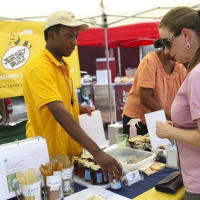 Friday:Thursday:
Every week on Thursdays the good people at the Geraldine R. Dodge Poetry Festival are bringing lunchtime poems to Military Park. So I walked to the green again, thinking about the upcoming Festival this Fall (it's an "on year" for the festival, it runs 2014, then will again in 2016). I do not wish to hasten the end of summer by any means, but I do look forward to the festival this October. This week, Festival Poet Catherine Doty read: "It's about the blood, banging in the body, and the brain lolling in its bed like a happy baby...The coil of ribs heats up, begins to glow. Come here."
Live It Breathe It, a collective of young graduates from Newark's Arts High, held a dance showcase featuring work by choreographers Titilayo Derricotte, Ronnie D. Carney, Kamille King and Alex Schell. Arts High was the first magnet school for the arts in the country, and has incredible WPA-style murals within the school building. Also happening simultaneously across town at the banks of the Passaic River was the Riverfront House Dance Party. Thinking about the incredible cultural, historical, political and architectural (including vanished monuments like Club Zanzibar and the Bluebird Ballroom) density of the city, I watched the sky turn pink and then dark blue.
Saturday:
Bread and Honey. Fresh Portuguese bread and JerseyBuzz honey made by Newark's own beekeeper, 24-year old Aaron Daniels, and Rhythm Revue with Felix Hernandez on WBGO. The playlists are posted weekly, in all caps like an urgent message.
I'M GONNA MAKE YOU LOVE ME.
Evonne M. Davis and Emma Wilcox are working artists and cofounders of Gallery Aferro, a Newark alternative arts nonprofit. Begun in 2003, Gallery Aferro offers exhibitions featuring local, national and international artists, a wide range of public events, a year-round studio residency program, educational offerings, group tours, a publication line, a gift shop and public art initiatives. Visit them at: aferro.org Header Photo credit: Evonne M. Davis