Savoy Stride
I sometimes find sexy bits of Newark's artistic and musical past under the combined influences of my neighbor's homemade wine, and Google street view. It's a potent combination- the elderly grapevines he inherited from the house's former owners make tiny, dark little grapes, and our terroir, as it were- is the skateboard punk land of the South Ironbound, at Newark's edge. Nights, we lie on the roof and watch as the planes circle Newark airport, waiting to land. The lights of the aircraft line up like jewels on a necklace, laid out against the purple clouds. Our stars here are different, you see.  Our stars are also down here at the street level. Our stars are people like Sarah Vaughn, our constellations the musicians who gave America its music.
Seen in person or on Google Street view, the building across the street from Gallery Aferro doesn't really catch the eye, (Though it is notable for a small group of hawks that have nested nearby. These large birds add to the drama of the urban streetscape with sudden, lunging flights to grab dinner, usually a hapless rodent…) yet it is in fact the former site of Savoy Records.
Painter Gilbert Hsiao writes: "As a record collector, one of the labels I've always been fascinated by is the Savoy Records, which was founded in and operated out of Newark.  Curious to find out more about it, I soon learned it was run out of the owner's appliance repair store when it was started in 1942 at 58 Market St….today, that address is one of Newark's many parking facilities. Savoy and its subsidiary labels recorded such artists as Charlie Parker, Miles Davis, Dizzy Gillespie, John Coltrane, Archie Shepp, Sun Ra, and Newark's own James Moody and Ike Quebec, not to mention a host of other jazz, r & b and gospel pioneers too numerous to name here."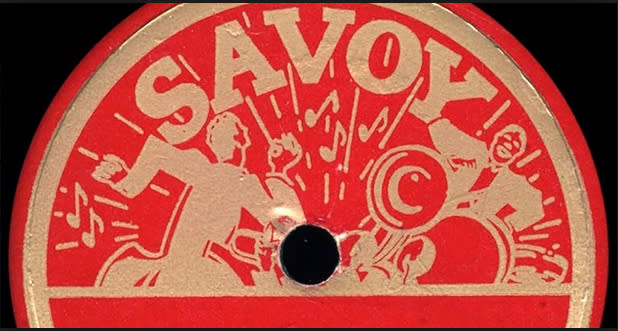 Hsiao has created several paintings titled after the piano playing style, stride, of one of these artists, Willie Smith, writing..,"Newark was home to two of the most famous stride pianists, Willie "The Lion" Smith and Donald Lambert.  Smith grew up a couple blocks from Gallery Aferro, at 76 Academy St.  Somewhat forgotten today, he was one of the more colorful figures of his time; a cigar and derby were his trademarks, but he deserves to be remembered on the merits of his piano playing."
At this point I was down from the roof of the loft and was feverishly toggling between Google and local treasure Barbara J. Kukla's book, Swing City, Newark Nightlife, 1925-50. Get a copy on eBay if you can find it! They are scarce, and this amazing tome will fill your head with delicious details of jazz and subculture. The "who's who" listings of names alone will imbue even the most mundane walk down the block with intrigue- dig it! Kukla's deep research is enhanced by her ability to write vivid descriptions that take us there. Adding to the fun, many bands, and a ballroom, were named after Savoy, both in Newark and New York. I love getting lost in the names, reading about Miss Rhapsody, and Bunny Berrigan, and the thousands of Lindy Hoppers who turned out to shake up dust at the Bluebird Ballroom on Broad Street. 
According to Hsiao, "Unfortunately, the music scene in Newark was not as well documented on record as it could have been; the owner of Savoy Records was notorious for cheating his artists, and many local musicians preferred to go unrecorded than to record for him.  Newark provided the setting for important avant garde jazz musicians like Wayne and Alan Shorter, Grachan Moncur III, Woody Shaw and Larry Young in their formative years.  It was also an important city for the Hammond B3 scene of the 50s and 60s, featuring many important organ rooms that went uncelebrated until decade had passed."
Another artist, Adrienne Wheeler, has told of the many piano bars that flourished downtown until fairly recently. NJ Books, on the corner of Market and University (yes, the one with the enormous brushed aluminum letters on top like the setting of a comic book noir) was apparently well known for having a piano, melding books and music in an informal way. Beyond their musical significance, the distinctive red labels that Savoy pressing carried also have a chunky, noir look to them.
There is work afoot to create a series of sidewalk "jazz markers" that will allow visitors to retrace these swinging musical paths, but until then, the intrepid bopper will have to dig deep, to swing with some stride.
---
Evonne M. Davis and Emma Wilcox are working artists and cofounders of Gallery Aferro, a Newark alternative arts nonprofit. Begun in 2003, Gallery Aferro offers exhibitions featuring local, national and international artists, a wide range of public events, a year-round studio residency program, educational offerings, group tours, a publication line, a gift shop and public art initiatives.