Best Building Bits: The Sequel!
If Newark was a woman she would be complicated. No girl, she's lived life and is full of moods and knowing ways. She styles herself differently each day. Easy to love, like many others, when she's blooming in spring, but I love her too when it's cold and grey and her gorgeous profiles just like cheekbones. This is a beauty that lasts. Newark, see, she is a woman, like Dorothy Parker said, who's done people and been things. And she is so strong and so unforgettable for it.
Any student of art history, specifically of the history of photography, will tell you that much of the medium's early years were consumed with darkroom artists obsessing over inserting picturesque skies into scenes shot on overcast days. It's an old struggle. But on the grey days, with Valentines looming like a fat red heart overflowing with anxious sweetness, you can see all the upper-story details of the carved stone flowers, people, animals, cornucopias (or would that be cornacopiyi?), and fanciful decorative objects of which I know not their names. But love.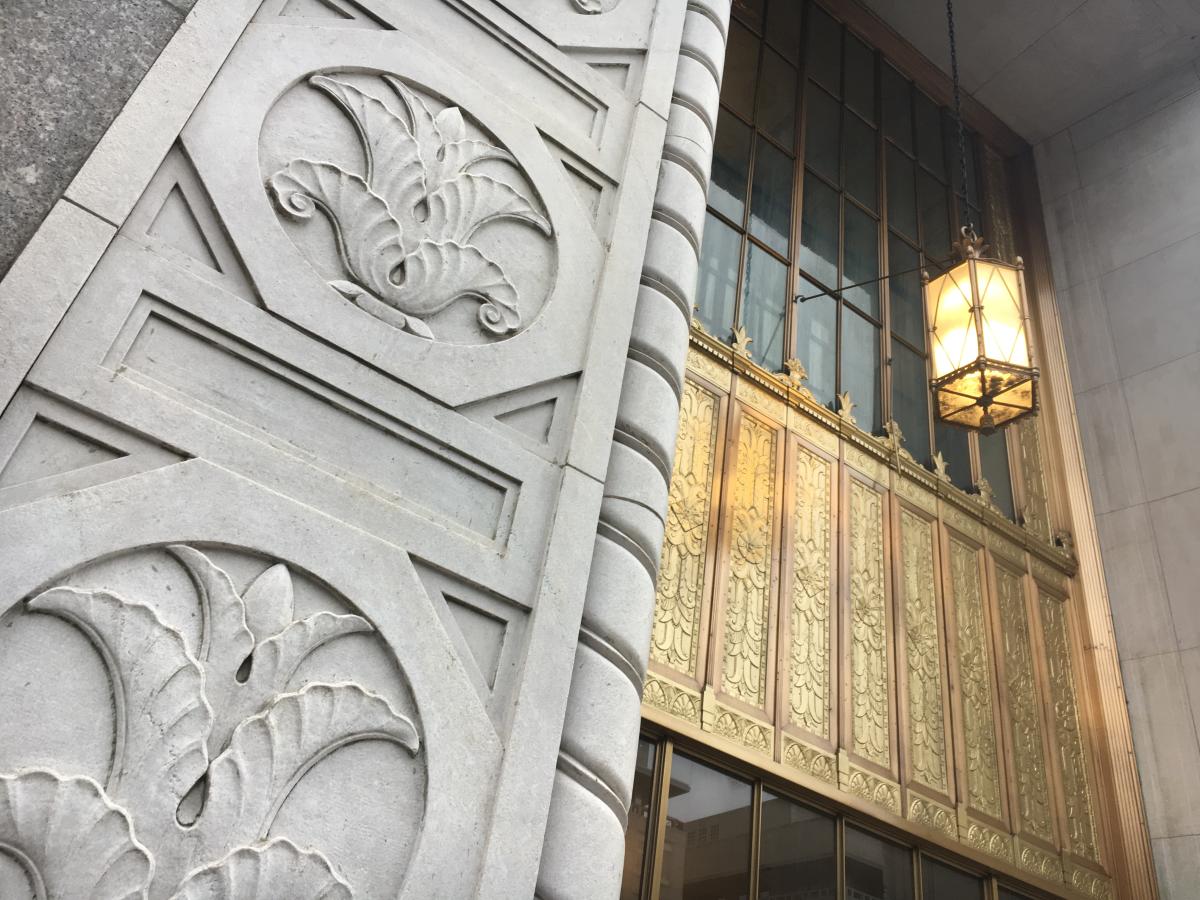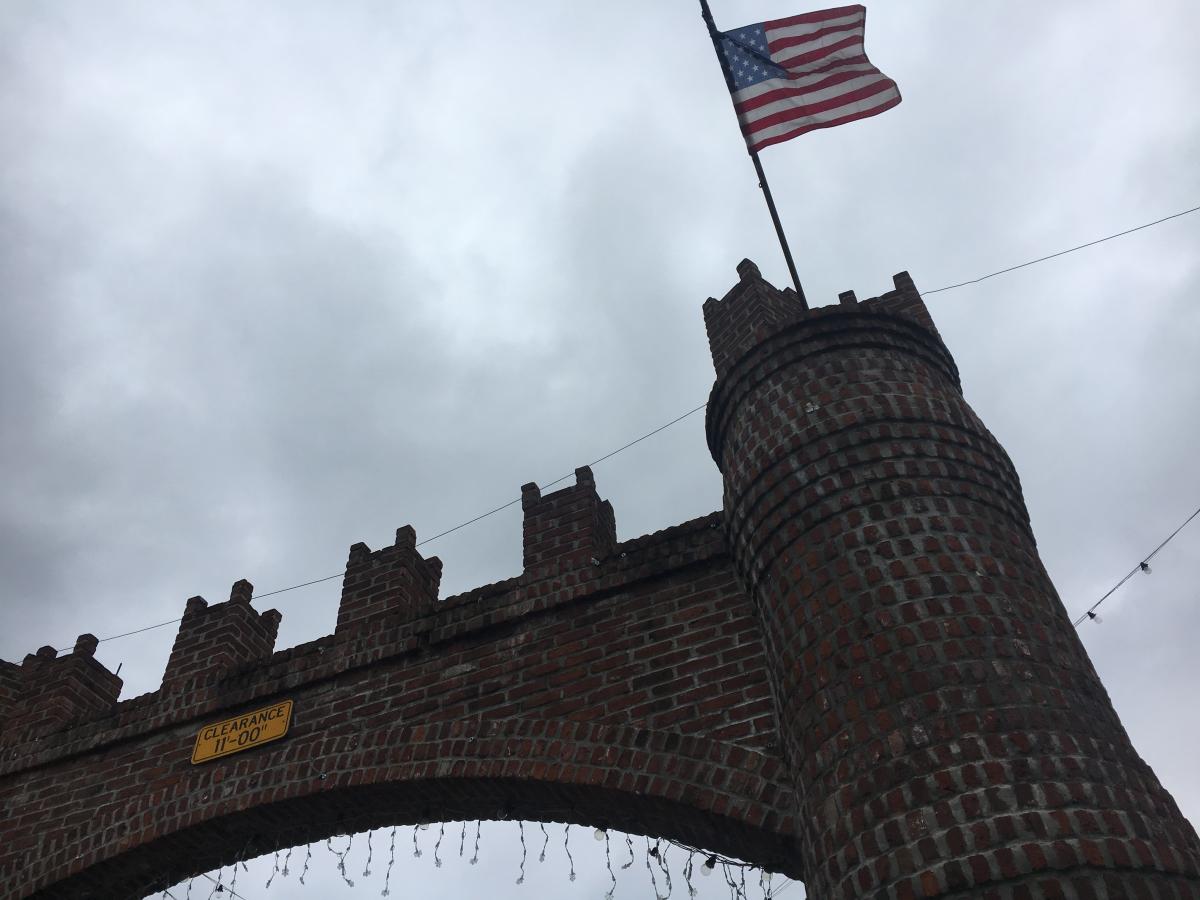 This is about the best building bits. Not even so much the buildings in their totality, with street numbers, names, and historic register designations, though Newark has an enviable, and enviably diverse lot of those. But the little bits that adorn more buildings than I can count, in every neighborhood. Let your eye bob along the decorative waterline, whether it be ground level, or up top, and they are everywhere, an anarchic architectural rebus that tells me I'm home, and also that I haven't learned them all. Hello stranger, the city says with an ironic but smoldering wink. Come see me sometime.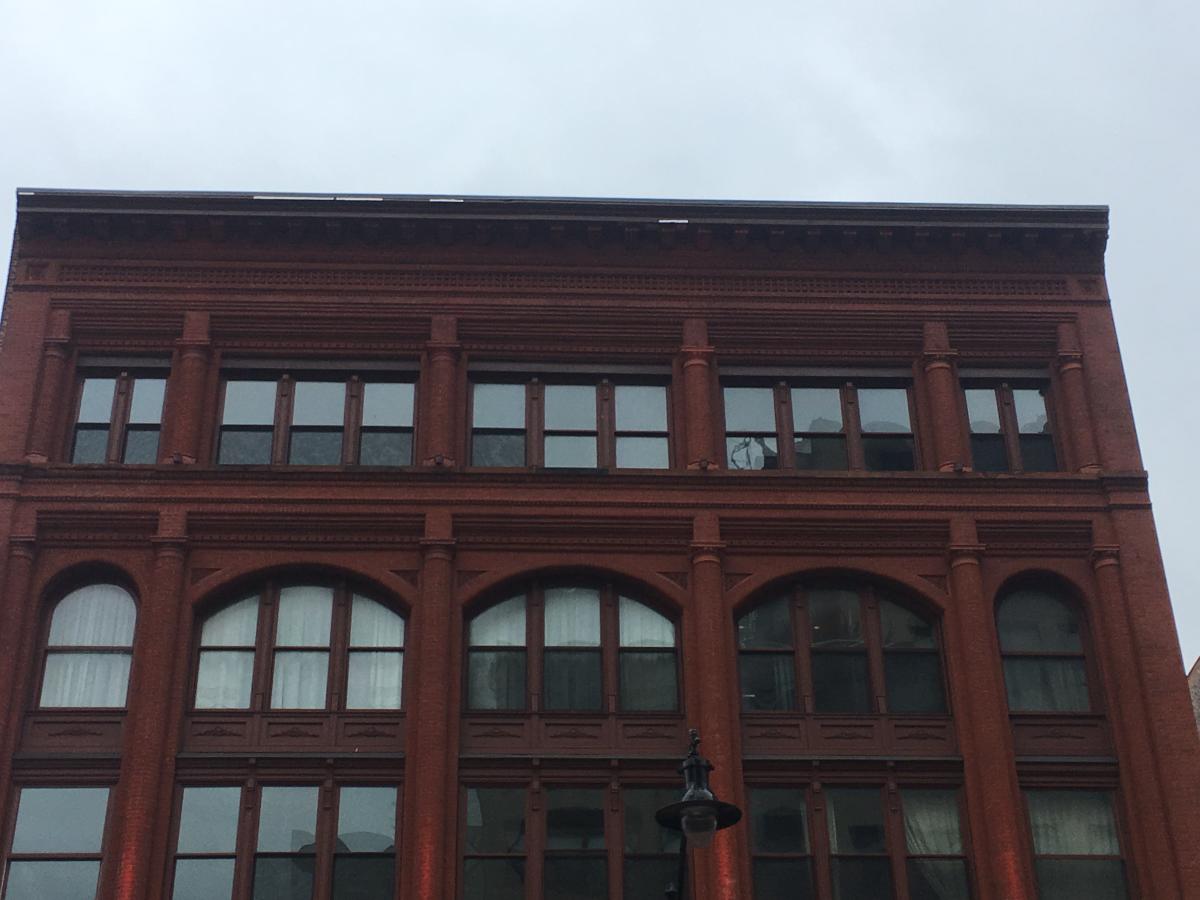 Crossing Independence Park, the East Side High students are bright in their motions amongst the bare trees. The school colors are red and black and many of the young women dye their hair a fiery red. Chubby, urbane squirrels run along wires with red school lunch apples in their mouths, and the wind snaps the flags along the tallest buildings jauntily. There is an aspirational, adaptive, and conversational aspect to urban architectural detail. The ornamental flourishes that eventually will be studied and categorized as precious, were once themselves more than likely an imitation of someone's idea of "quality," of "refinement," or maybe a sincere homage to famous architecture from somewhere else.
I think of it as an endless ongoing conversation between generations, as styles go in an out of fashion. The building I walk past, home to a rising performance artist and a flock of flight attendants, has lace curtains hung below an abstract modish 1960's glass transom. Above the transom, original 1860's ornamentation in the form of carved stone urns with flowers and ribbons trailing out of them. Time and again, the granddaughter will prize the ornamental styles her grandmother cherished, and mother found old fashioned. Though it's worth noting that in some aesthetic camps lace curtains have persisted across 3 centuries now as a signifier.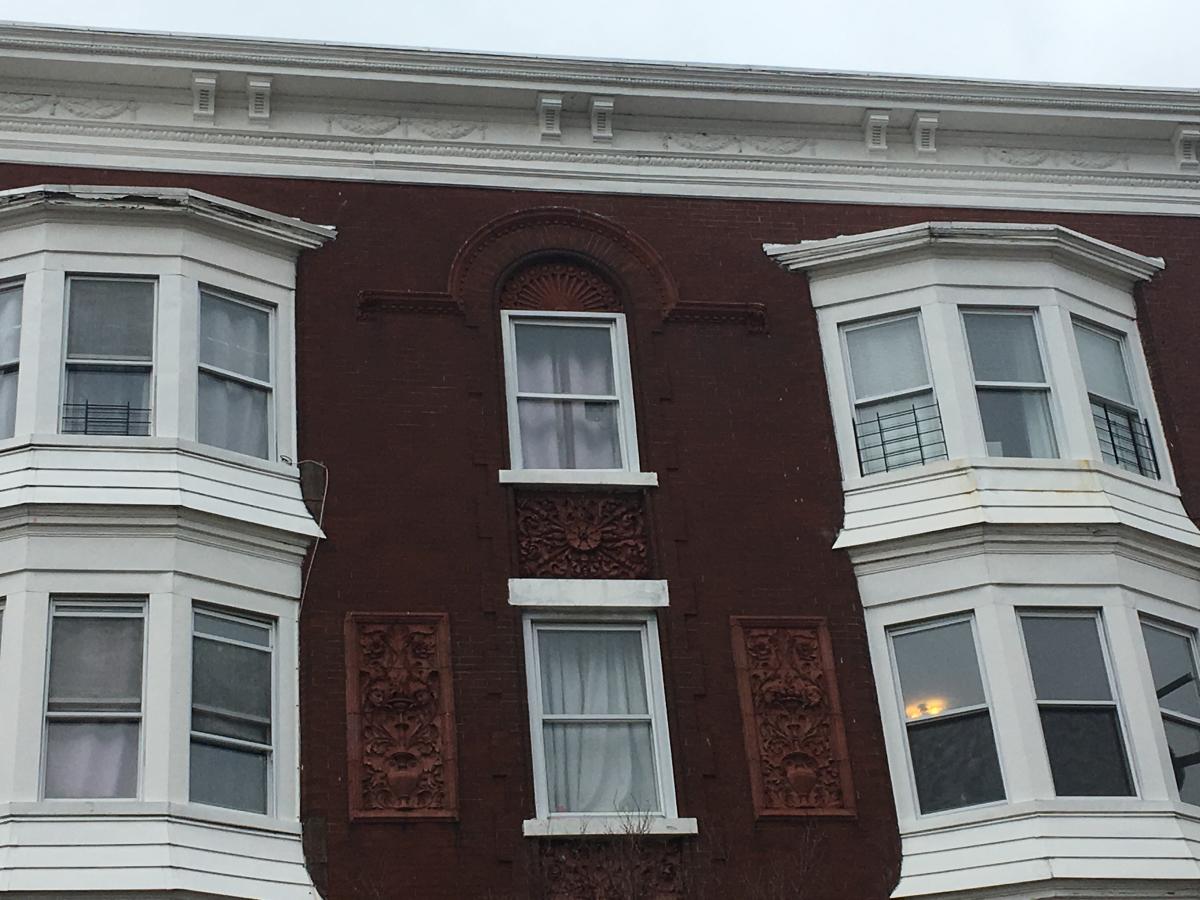 The building currently housing Sagres Bar and Restaurant is a fabulous example of dark red brick archways and decorative flourishes. Across the street is Iberia Tavern, a former factory retooled with hilarious intent, as a castle. But see, aspiration becomes as solid as brick or marble over time. A former student of mine sings there some nights, her dreams of stardom growing, a child of the neighborhood done good. Who is to say it's an ersatz castle?
Crossing under the stone lions of Newark Penn Station, walking North, I think of how I feared that the Columbian, now hung with a "Dinosaur BBQ" sign, would be lost to the wrecker's maw. It's a massive building, with similar coloration as the Sagres but on a grander scale. I reconnected once decades ago with a lost friend (this is from the time before social media, you wee ones) when the desultory, napping men of the last hardware store to occupy it before glorious renovation described a wild eyed curly haired loft-renovating art boy who came in from time to time.
For that, I am grateful. Speaking of wild things, it's not your eyes, it's the building, when you get to the Military Park Building, designed in 1926 by the unforgettably named firm of….wait for it… Polhemus & Coffin. (Does this not sound like the name of a band your best friend used to be dating the drummer from?) The building's angles are so sharp it resembles an optical illusion from several angles. When you're crushing hard on a building, you will do all sorts of things to be near it. A colleague has started attending services at First Baptist Peddie Memorial Church just to commune with this spectacularly conglomerate 1888 building inspired by the Baths of Pisa.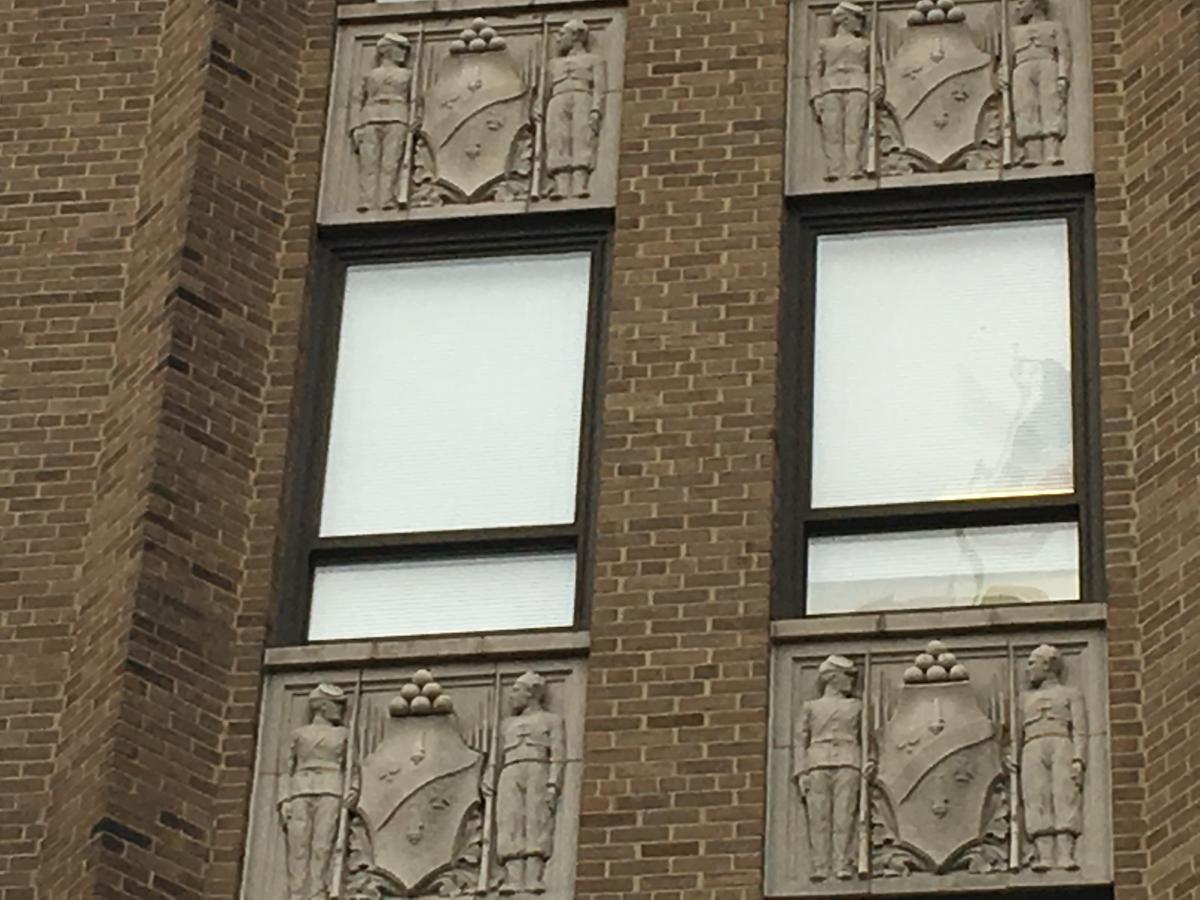 I did mention that the best building bits come from the intense aspirational longing, the desire to imitate or import, of creative people…also try to engineer some excuse to visit the National Newark Building and peep its dreamy blue ceiling.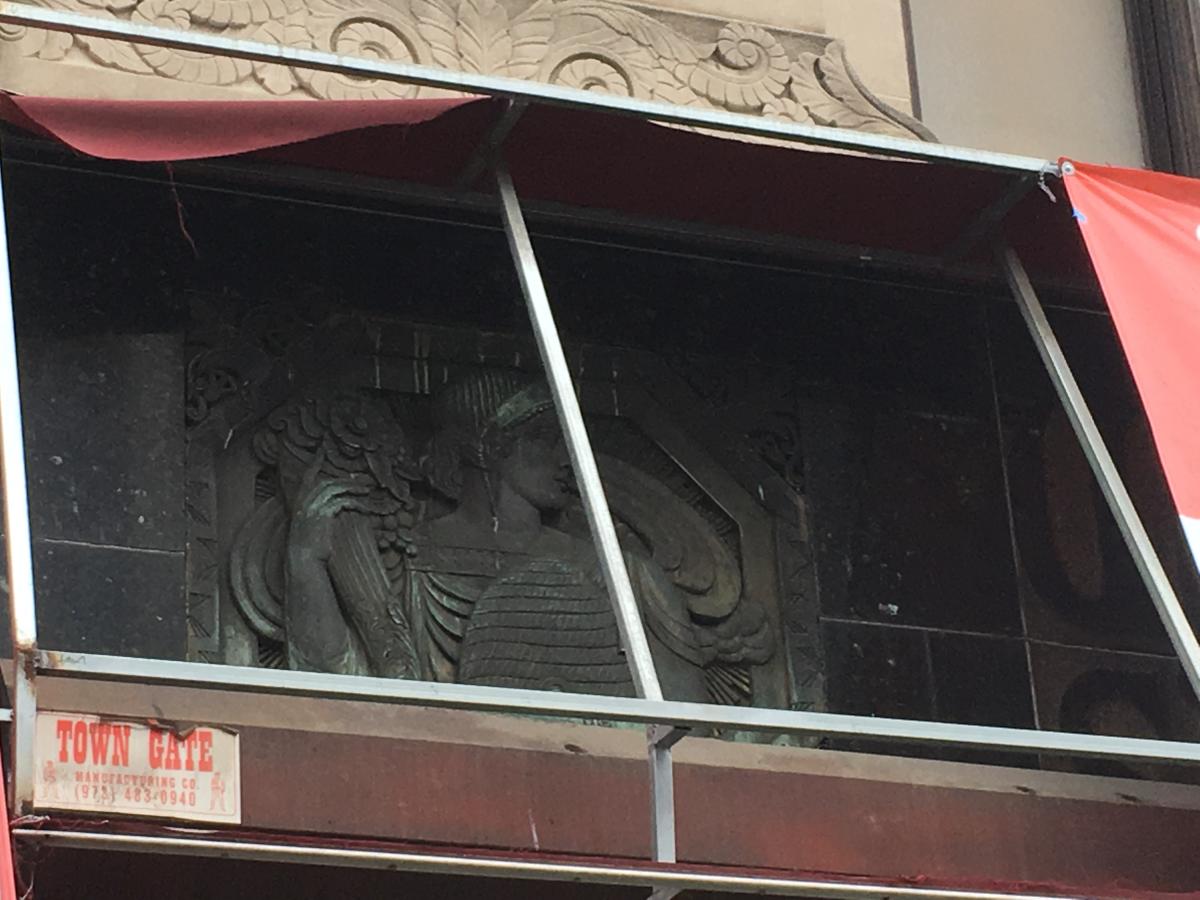 My current building crush is the New Jersey Bell building, currently being renovated. She's from 1929, and is as graceful like a femme fatale, her aspect being so very noir at twilight. Red sandstone with veined pattern as delicate as hand-marbled paper (that imitation again!), and gilt detailing that shines in hard sunlight like seamed stocking, these do adorn her, as do extensive carved profiles of mysterious figures, created by artist Edward Francis McCartan.
She's Rachel in Blade Runner, timeless and severe and lovely. But not doomed. She's being renovated. You should go see her, no pictures will do. To subdue the jealously of my ardor, I stop by Harvest Table next door for a coffee, and pay my respects to Tiger, the departed feline who lived out 17 happy cat years as the mascot of Washington Florist. I know one woman, just one, who doesn't need to be bought flowers. I know the woman who is the city of Newark.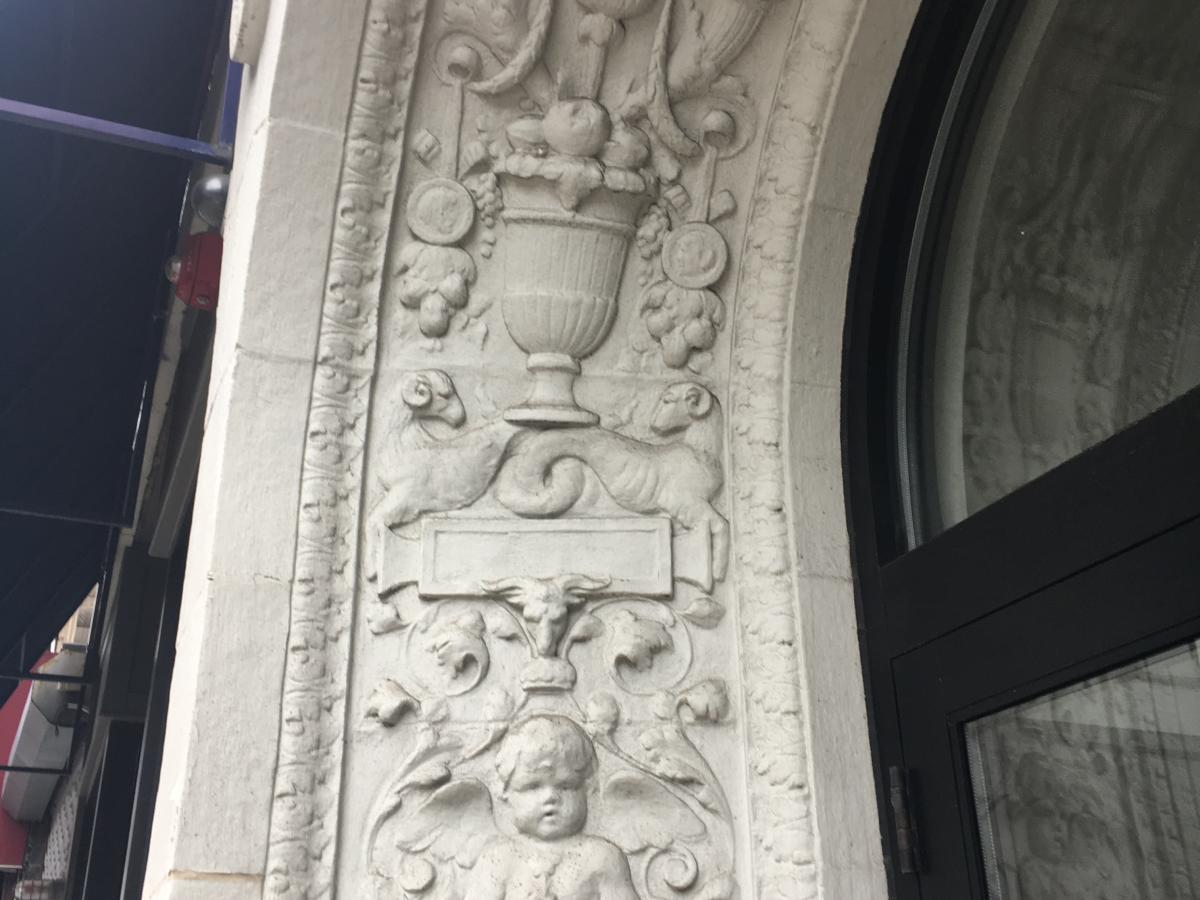 ---
Evonne M. Davis and Emma Wilcox are working artists and cofounders of a Newark alternative arts nonprofit. Begun in 2003, Gallery Aferro offers exhibitions featuring local, national and international artists, a wide range of public events, a year-round studio residency program, educational offerings, group tours, a publication line, a gift shop and public art initiatives.