Fall Art Exhibits in Newark
Are you ready? Every gallery and museum in town is about to reopen for the fall season. It's not like things were that quiet around here over the summer. Rooftops, warehouses, streetside shops, studios, all in a seamless flow of art, poetry and music… Can I just say I love my town because when there is late night body painting of beautiful nude women, it's another tough, beautiful woman holding the paint brush. Mm-Hmm. 
Anyway, it's all very exciting, and as always, WBGO Rhythm Revue is in the air, right around the corner, out someone's car window, everywhere. The bikers roar through just on their back wheels like local apparitions. People do little sidewalk shimmies in front of the air conditioning from open store doors. All the art is about to drop. Listen hard, can you hear a hundred bottle caps flying off icy craft beer longnecks?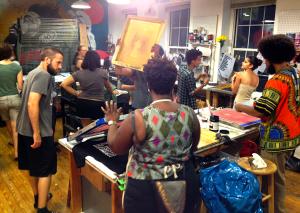 Marvin Gaye - Got to Give It Up
(Locate at least one little black dress, or better yet, some afro vintage, maybe one of those big full skirts or a batik romper. It's still gonna be HOT in September. For you gents, a new hat or some new ink will do just fine. If you didn't get to go out of town at all, make up a fictional country name and claim to have been invited to do an arts residency there. No one's heard of it, tell them it's by invitation only. Very exclusive.)
Barbara Lewis - Hello Stranger 
September 9, the Gateway Project opens (Em)Power Dynamics: Exploring the Modes of Female Empowerment and Representation in America, featuring "two generations  of artists within the ongoing American feminist art movement,exemplifying the diversities of concerns, aesthetics, concepts, and approaches that make up the movement."  September 10, Paul Robeson Galleries opens The (Not So) Secret Life of Plants, themed around the fact that "plants are the foundation on which most visible life on the planet exists.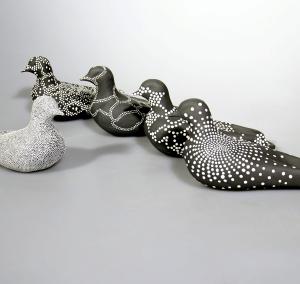 They are under stress, with diminishing natural environments and the very real possibility that many plants may become extinct even before humans are aware of their existence." I would particularly urge you to visit Paul Robeson Galleries soon, and often. The gallery space is unusually shaped, with high ceilings, and director Anonda Bell consistently curates challenging, beautifully structured exhibits that never disappoint. Go check it out!

Archie Bell - Tighten Up
September 12, Gallery Aferro opens Echo, a multidisciplinary, new media-inflected culminating exhibition from The New Jersey Symphony Orchestra and Gallery Aferro's collaborative project, Artist Box.
This initiative that brought artists to NJSO performances of works by Orff, Tchaikovsky, Mozart, Bernstein, Mahler, Dvořák, Ravel and Dohnányi.
Also opening will be Made by Juno, a solo show by young Newark artist Juno Zago, new rotations of public art from the Activate: Market Street (artificial rainbows! Wild performance art!), and Elevator Music 2, new tracks for a hundred-year-old reinstalled elevator.
On the same night, Index Art Center simultaneously opens Surrounding, an exhibition of artists whose work stimulates a heightened awareness of one's surroundings, using objects and circumstances to alter something in the viewer's proximity, and Untitled Installation, a collaborative installation that manifests spatial manipulations from a formal background of architectural education.
Translation: over four intensive days members of ultra-DIY Oculus Art Collaborative, and students from New Jersey Institute of Technology's School of Architecture made a giant art piece. You should come! The entire block will be a giant art/music party. Oh, and it's also Newark ComicCon, so if people dressed like zombies walk on by, well… James Brown - I Got Ants in My Pants 
(If for some reason, you see an artist whose name you don't remember, just ask them "how the work is going" and they will then proceed to talk nonstop till you blessedly recall who they are. If they aren't an artist, I have no good tricks for you)
Young-Holt Unlimited - Soulful Strut
Starting September 19, the Newark Museum will have on view The Shape of Light: Gabriel Dawe, featuring large-scale, site-specific installations.
Dawe's installations for Newark, Plexus no. 30 and Plexus no. 31, will engage with the Museum's historical architectural spaces, taking over the main galleries for the run of the exhibition.
Working with several hundred thousand feet of colored thread at a time, Dawe creates luminous abstract environments that explore connections between textiles, architecture and people.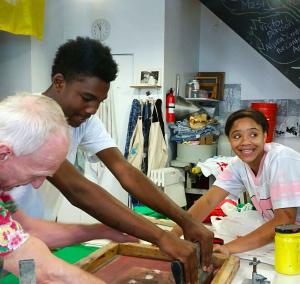 Reconceiving the structure and materials of weaving on a grand, inventive scale, the works question constructed notions of masculinity and femininity, art and craft, strength and fragility.
Also on September 19, Market on Market Street, a new artisan flea market at 85 Market Street from Gallery Aferro. Expect 40+ makers, artists, and vendors of vintage and upcycled goodies in every style you can imagine, plus workshops, performances, yoga, massages from a Newark artist, and of course, JerseyBuzz honey.
Shopping possibilities abound on this day, as it also the Forest Hills annual garage sale. A garage sale, you say? Why are we getting all hot and bothered about this? Ok, let me explain. First of all, the weather will probably be beautiful. You will cruise up to the edge of Branch Brook Park, and then, practically every gorgeously restored -1920s Beaux-Arts, Victorian, Colonial Revival, Gothic Revival, and Spanish Revival house for blocks and blocks will have someone selling antiques on their lawn. I always look at the few that haven't been restored and imagine having glamorous parties.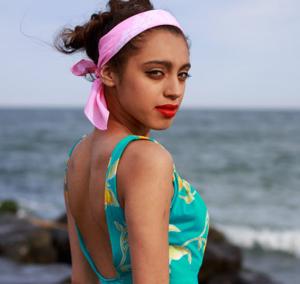 Fifth Dimension - Stoned Soul Picnic
On September 23, Junius W. Williams a noted Newark attorney, educator, musician and community advocate, will sing with his group, Return to the Source Performance at Bethany Baptist Church. On September 24, Aljira opens with new shows by Michael Paul Britto and Tom Nussbaum. T
hen, on September 26, the Newark Print Shop will be opening Printers in Residence III, showcasing the artwork created by 2015 resident artists Sharon Lindenfeld, Angela Pilgrim, and Luke Walter.
Check out Angela Pilgrim's work, which includes limited edition fabrics, and a great feeling for multicolor separations. She cites both Henry Matisse and Kara Walker as inspirations. As always, drop by on any Wednesday night for Print Club, its $10 for "all you can print!" First timers welcome. One could say that about the whole city: Jr. Walker & the All Stars - Gotta Hold On to This Feeling
---
Evonne M. Davis and Emma Wilcox are working artists and cofounders of a Newark alternative arts nonprofit. Begun in 2003, Gallery Aferro offers exhibitions featuring local, national and international artists, a wide range of public events, a year-round studio residency program, educational offerings, group tours, a publication line, a gift shop and public art initiatives.