Give Thanks for Art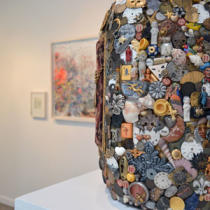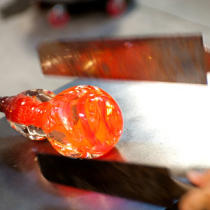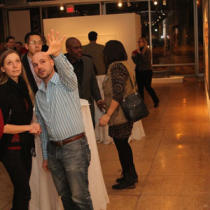 In striking contrast to the popular image of artists as a louche and cynical lot, when I asked the folks what they were thankful for, they told me deeply heartfelt things.  As the gallery interns would say, it gave me the feels. 
J is thankful for motivated artist friends racking up prodigious hours in their studios late into the evening. It inspires me to work harder towards breakthroughs, he says. 
A is thankful for paint. Which makes me think of J. (a different one)
Before the advent of these little glowing boxes we walk around staring at, before "where you at," I would make plans- remember those? - with friends. I might call, on a telephone, my breath traveling across wires strung across town on poles, before I left my loft. Then my feet pushing so hard down on the bike pedals, the cold wind of winter night making my cheeks burn. I miss her, you know: J, who painted with only very good, expensive paints, the colors made with expensive, elemental things, like cadmium blue. I would call her sometimes and she would say, not now, the paint is wet, come over tonight, I can't talk now. 
Sometimes she would forgo food to buy such paints. We went to Seabras Supermarket in the ironbound, and she saw an albino eel in the big tank in the seafood section.
With hand gestures she indicated which one she wanted. The aproned men laughed, "how big?" "the big one?" The painting of that eel lives with a collector now. It is beautiful. All the other eels simply became supper.
One became art, and thus lives forever. That night, I think, we ate jam and bread for our evening meal.But because that bread was from the ironbound, it was a meal unto itself. So give thanks to paint. T is thankful for the chance to travel from Newark to Japan, and the new perspective she has on her city and her country.
The first Newark ComicCon was this year, and it was so fun! E is thankful for "the amazing brain trust of fabulous and powerful women artists in Newark willing to share."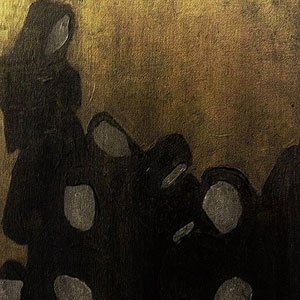 A is "thankful for my day job, since being an artist doesn't always pay!" (lol). I asked L what he was thankful to have seen in his time in Newark, and he told me about claiming, on April Fools Day, to have seen elephants marching down Broad Street, and then a year later, actually seeing actual pachyderms being lead slowly down Ferry Street. His joke had become true.
B, like many others who remember City Without Walls Gallery when it was on Halsey Street, is thankful- "forever"- for the boombox show where everyone made artpieces that looked like stereos, including some giant boomboxes as big as small cars.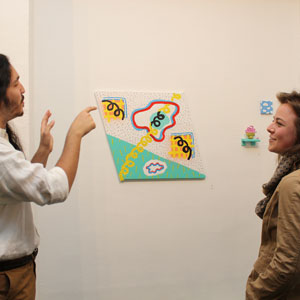 Oh to have seen that! I'm thankful my art community is dense with such stories. And yes, I aspire to do such outlandish things art-wise that people will talk of it long after their pretty years are gone.
I think in some ways we live our lives in the scene performing for each other, dressing up for each other, making beautiful things for each other. And that is the sweetness of my life. S is thankful for the sight of F on his roller skates weaving across downtown.
Several people are thankful for the party dresses sold at Pretty Girl. I suspect this may be in part because said establishment is always threatening to close, and never does.
T is thankful for poetry, and for the yearlong celebration of Newark's 350th birthday that kicked off last week. Imagine that: a yearlong birthday party. I've spent hours and hours in the library of the Newark Museum reading about the epic shindig that was the 250th party. Sounds like everyone in town called out to sick to work for weeks and worked on some crazy carnival floats. How cool is that? We've got a lot to live up to here y'all.
Me, I am thankful for the First Baptist Memorial Peddie Church that looks like the world's largest sandcastle, and yet is also dignified in it's ornate massiveness. It makes me feel solid and grounded when I am sad. I am thankful for the folks who shout "HEY GALLERY LADY" and startle me when I am walking down the street and remind me where I am. 
---
Evonne M. Davis and Emma Wilcox are working artists and cofounders of a Newark alternative arts nonprofit. Begun in 2003, Gallery Aferro offers exhibitions featuring local, national and international artists, a wide range of public events, a year-round studio residency program, educational offerings, group tours, a publication line, a gift shop and public art initiatives.