Newark's Indie Arts Scene
This postindustrial oasis spurs creative minds and souls, producing style bibles, and works of art that matter. There's a movement afoot in Newark and we reached out to area art magnets and mavens to talk about their latest obsessions.
What turns Aferro Gallery Director, Emma Wilcox on? Extremes of high and low tech that allow artists to engage the public in new ways with our public art project, Activate: Market Street. From cold neon, hand cut paper silhouettes that rotate, to hacked xboxes that show you back your own dancing image, we have an interest in stopping you in your tracks to stare.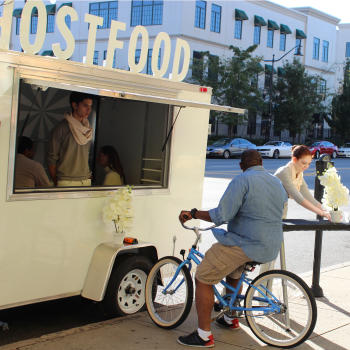 We talked about things that barely exist and Newark's evolution through the centuries. Emma had a great take, "Newark has a complex cultural legacy, from antebellum ballrooms, to the jazz clubs, protest art, and artist-originated spaces that were and are part of the city, there is a density that, if it was all made visible and audible in one moment of time, would be astounding".
I tried to get her to reveal her secret spot, she shot back, "then wouldn't be a secret then, would they? But in all seriousness, the studios at 73 Market Street are not really just four walls: they are frequently laboratories and time machines, where artists are at work 24/7, round the clock.
Sometimes we read poetry off the roof at night with a megaphone. The acoustics are especially good on foggy nights". Gallery Aferro is full of surprises, it's a 20,000 square foot cultural hub where art is made, taught, and experienced. They rarely do the same thing twice, and everyone remembers different moments: from motion-tracked tropical fish, or a 50 foot long painting, or an intense impromptu performance. Their newest program, Activate: Market Street, transforms hundreds of linear feet of vacant storefront space on our block with kinetic, film, new media and sculptural installations on view day and night.
Rebecca Jampol, independent curator for Solo(s) Project House is super excited about the hot talent around town. "Newark's creating a landscape for entrepreneurs and artists to roam freely and create". She's busy curating quarterly year round exhibitions that feature artists from all over the world.
In her downtime she can be found at her favorite hang…"Hell's Kitchen Lounge, Newark's best watering hole"! Solo(s) Project House is a space focused on evolving projects around a completed one, where gallery and studio are elbow to elbow, where the rigors of creation are coupled with the satisfaction of completion.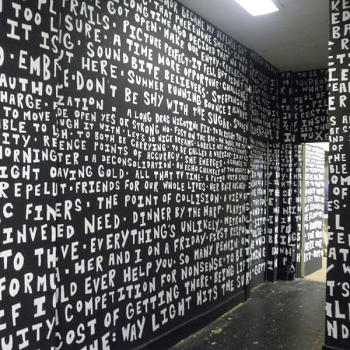 The gallery is a sound stage upon which the house residents can imagine their months of creativity displayed from beginning to end.
Print this! Newark Print Shop is a place for inspiration, a place for discourse, and of course a place to press prints. It draws from the local community bringing together teachers, artists, poets, and activists...the result, great works of art.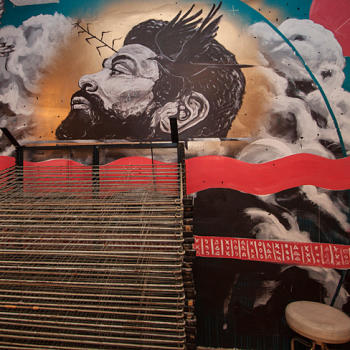 We spoke with Executive Director, Lisa Conrad who conceived of the idea for a weekly print club while in a Newark landmark. "It was inspired by a flier that I stumbled upon at the Newark Public Library, which is home to an extensive print and artist book collection.
The flier was an advertisement for a print club from at about thirty years ago, and I knew immediately that this idea needed to be revived. Print Club happens each and every Wednesday, join in the fun or stop by to see the huge mural of Newark's famed poet Amiri Baraka. Feel like a collector and pick up pretty prints from their gallery store.
"Newark's scene is about shared passions, shared cultures," says Fayemi Shakur, Program and Marketing Coordinator for Aljira Center for Contemporary Art. She is currently smitten with Cuban-American artist, Luis Cruz Azaceta whose work utilizes a humanist narrative to share stories and experiences concerning war, alienation, oppression, isolation and survival.
The gallery itself focuses on the successful careers of outstanding yet under-recognized national and international artists. Stop by for the latest exhibition or start your own collection with over 250 works on display available for purchase.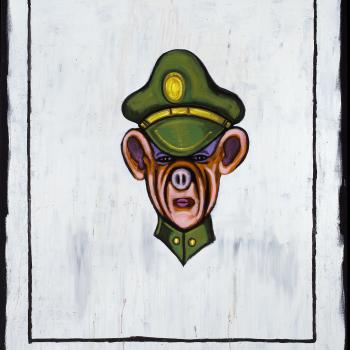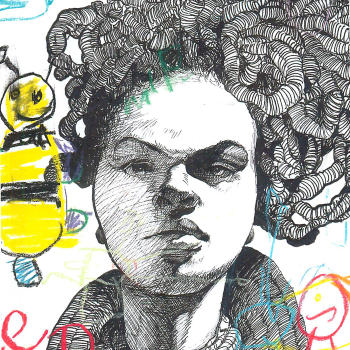 Jackie Cruz, Gallery Manager for City Without Walls is mad for the work of Alphonso Dunn, which explores the power of perception, language, and the imagination as determinants of identity. What makes the CWOW scene so special? Jackie defines it as "Real. Progress. Bold. Fresh. Diverse. Consistently Inconsistent. Newark Proud".
Here's why you should take a look: CWOW has been in continuous operation in the City of Newark since 1975, its an urban gallery of emerging art that advances the careers of artists while building an audience for contemporary art.
What do Warren Buffett, Shaquille O'Neal and the Prime Minister of England have in common? They've each received awards made right in downtown Newark's GlassRoots studios. Tucked away at 10 Bleeker Street, this nonprofit studio is the artistic home for first time beadmakers as well as professional glassblowers.
No matter your age or experience, you are invited to play with fire and discover the thrill of manipulating molten matter to create beautiful works of art. Prefer to sit on the sidelines? Stop in and watch the artists in action or shop the gallery filled with unique glassworks.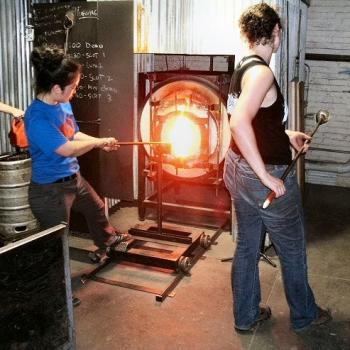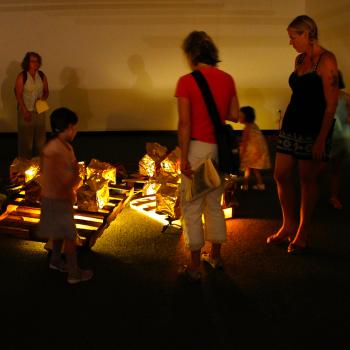 Pop up art happens in Newark. The indie scene has taken over the gateway transforming it from habitrails to happenings. The Gateway Center is a multi-functional building that connects to Newark's Pennsylvania Station. Find exhibitions in the fully functioning gallery space, The Gateway Project Gallery, in Gateway II, and pop up exhibitions throughout the entirety of the Gateway Concourse, which goes from the Station to Mulberry Street.
The Gateway Projects is a collaborative endeavor by Solo(s) Project House (Newark, New Jersey) and Project For Empty Space (New York City), bringing joy to commuters one step at a time.
Sumei Multidisciplinary Arts Center silently stuns with works by musicians, architects, poets, graphic designers, visual and fine artists. They're one of Newark's best kept secrets with two locations in the Ironbound. Sumei focuses on international artists while the Prospect Street Firestation Gallery is dedicated to featuring local talent. The gallery has exhibited artists such as Willie Cole, Vic Muniz and Gary Di Benedetto.
Indexing artists? No need…Index Art Center is in the know. They've just moved into their new digs bringing contemporary art, bands, DJ's and creatives together for a heck of a good time. Stop by and see their new space and lookout for the latest exhibition. 
Get out there and delve into the colorful world of Newark. Mess around in our urban playground, mix it up, and find something wonderful and new.
Images: "New Beginnings" by artists LNY, NDA, and MATA RUDA, Melissa Vandenberg, Bob Elam