Newark Arts Photo Documentary Project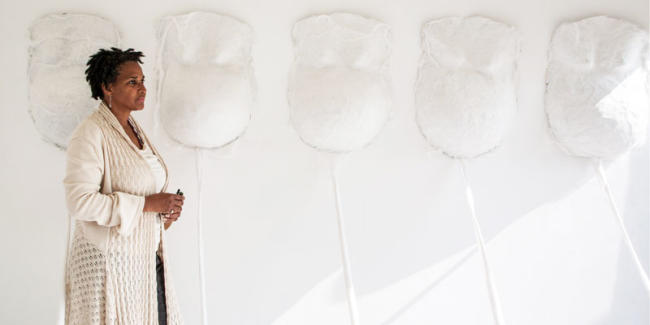 Because I was breathing when I conducted this interview with Colleen Gutwein about her Newark Arts Photo Documentary Project, it was over lots of coffee. It's been edited for length, and the whole time we were talking, I kept getting distracted imagining someone reading these 900 some words decades from now. How many of us have first gotten deeply involved with scenes that came to define our lives, all on the strength of a (showing my age, in a time when yesterday is retro) mix tape, zine feature, or more recently, a video on Instagram? I wonder what we will all remember about Newark art life, c. 2015? And what will the art historians say? Laugh if you want, I know I did with Colleen. But I'm serious too. There is an energy here. There is a legacy, and there is a trajectory, and a spirit. Art gets made here. And that matters. It's everything.
She set out about 2 ½ years ago to interview and photograph and document the energy and creative spirit of the people involved in the current Newark art scene, as well as the physical sites of studios, galleries, and museums. There are now about 45 photo sessions completed, with new photosets added constantly to the project site www.newarkartsphotodoc.com. An interesting aspect of the project is that it is actually comprised of two halves, the second of which consists of interviews, and accompanying portraits taken with a 1940's Jem Jr 120 box camera, manufactured by J.E. Mergott Co in Newark, NJ. These images will only be on view as a full collection, once the project is completed, and will be accompanied by a book including all of the images. Reading below, you will see we have a lovely and thoughtfully contradiction between finished/not finished that runs through the whole project.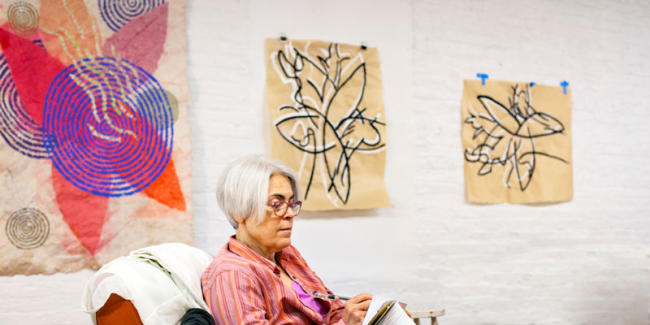 Q: What is the origin of this project?
A: In 2005-06, a group of us from Montclair State started going to Red Saw (earlier incarnation of Index Art Center) and Gallery Aferro....I remember when American Watercolor Movement played at Aferro, that was a wild night...(protracted and happy reminiscences about some serious dancing and experimental film projections). My friends from Index were big influences on my life, my artlife...It actually was DC Smith that suggested I do this project.
Q: What was that conversation like? Was it kind of random over drinks, or very considered? (note: I am introducing an artificial binary here)
A: Well I was bartending at Index so I was sober (both of us laughing), but (both of us get serious) we talked about how artists are coming and going. He said, YOU should document it. YOU should do it. And so I thought about for a while. If I do it, it's going to be big. It's going to take a while. I thought I would finish the project in a year.... ...and it's been twice that and it's not even close!
We talk at length about the oddness of anything that lays claim to being the definitive version, about how scenes get documented, and how if a scene (1980's East Village, for example) is afforded attention, there eventually there are numerous, even conflicting versions of "the story." Both of us photographers, there is a solid honesty to talk of the labor of her project, as well as how I am personally on the list of artists that are hard to get ahold of to schedule a shoot. I keep thinking about the Newark artist files that live in the Newark Public Library Special Collections.
The carefully clipped, yellowing pages, to an artist, seem to sum up lives. But the archive stuttered in the late 20th century. Did the labor of it become too much? Was the expanding (joyful, liberatory, powerful) expansion of who and what constituted an artist overwhelm the limits of an early, more staid, more exclusionary system? Are we stewarding the legacy of Newark arts, as the arts become a brand driver for the city going forward? Colleen remarked that everyone she photographs is excited about being part of a community, "however they perceive that."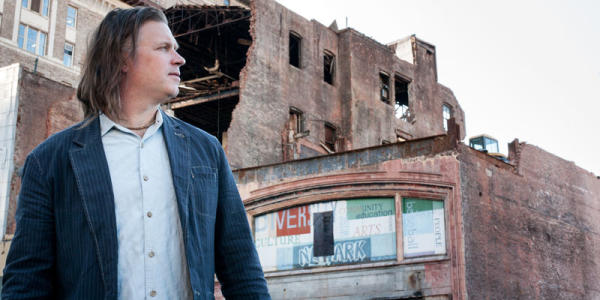 She writes: This documentary takes inspiration from the works and philosophies of Eugéne Atget and August Sander who worked to "preserve an imprint of time" while they were documenting Parisian and German workers respectively during the 1920's. These photographers have left a legacy of their contemporaries for us to look back upon and connect with. A window to another era had been created, allowing every viewer access to a different time, space and culture. This is what the Newark Arts Photo Documentary Project aims to create for the artists of Newark.
Q: Is it a lifelong project?
A: No. She hopes to find someone who will continue the project, carry it on...and then my part of it will be, just, my part.
An important part of our long conversation was her description of the photo sessions, which have included artists ranging from 91 to 21 years of age: "All of those outside forces just melt away, and it's just you and another person and the art. And it's amazing! To have time to learn about people and talk with them and not just say hi at an opening."
So here it is folks: there is no definitive version. Every scene is a kaleidoscope of excitement, constantly forming and reforming. And here is my constant refrain, my little voice amongst others: Newark has always been an art town. And I long for more, more, more documentation, celebration, and pushing out into the world of that truth. Colleen says, It's not an original idea, but I'm doing it. And I hope others will too. The story won't end.
---
Evonne M. Davis and Emma Wilcox are working artists and cofounders of a Newark alternative arts nonprofit. Begun in 2003, Gallery Aferro offers exhibitions featuring local, national and international artists, a wide range of public events, a year-round studio residency program, educational offerings, group tours, a publication line, a gift shop and public art initiatives.
Photo Credit Colleen Gutwein/Newark Arts Photo Documentary Project