Newark Curators
Walk with me under the cherry trees, past the magnolia trees filled with fragrance and birds, through the sounds of house music mix tapes and the hourly church bells and the muezzin, say hi to the ladies at Central Diner, then you've arrived at those big brass doors to explore the Newark Museum's collection. I asked two of the Museum's curators to select a favorite collection artwork. Both of them picked abstract pieces that shimmer with color. Which seems fitting considering Newark's pink trees, themselves a collection, seem to be floating and yet also practically flaming they are so bright. Go spend the day in the Museum's galleries and their beautiful, enormous courtyard. What I am also struck by is how prescient the Museum has been about recognizing beauty and innovation before many others did. 
Also fitting. Recognize beauty, always.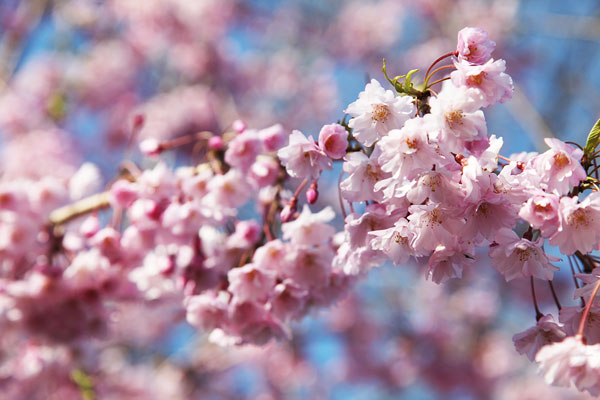 Tricia Laughlin Bloom, Curator of American Art, Newark Museum:
"The Newark Museum has an extraordinary collection of American abstraction, ranging from Arthur Dove's very early Abstraction #3 from 1910 to Sol LeWitt's hard-edge tondo paintings that live in the South Wing Atrium. Commissioned in 2002, LeWitt's monumental  Bars of Color within a Circle (Newark) (a: a blue background) and (b: a red background) announce the Museum's engagement with living artists and signal a rich tradition of collecting and exhibiting abstract art.
Upstairs, in the mid-twentieth century galleries of Picturing America, visitors can explore a wealth of works by canonical and lesser known abstract artists—the latter include remarkably inventive painters like Charles Green Shaw (1892-1974), Charles Biederman (1906-2004), and Charmion Von Wiegand  (1896-1983). Von Wiegand's brilliant, compact painting The Sign of Keeping Still, 1953 is very much of its time and cultural moment, and yet it's richly painted surface and torqued composition still feel contemporary.  Von Wiegand was an active practitioner of the geometric abstract tradition which had early and transnational roots in New York City, around the country and internationally. Influenced by the De Stijl movement (she became close friends with Piet Mondrian in the early 1940s) as well as science, Tibetan Buddhism and other Eastern traditions, von Wiegand used abstraction to express universal and dialectical themes. The Sign of Keeping Still pays homage to Mondrian's distinctive primary palette and rectangular forms, while shaping his restrained vocabulary into something like a logarithmic spiral. The forms appear to pulse outwards or deeply inwards, depending on how you read it, or both ways.  The title is poetic, ironic (given the dramatic movement of the composition) and also delightfully instructive in our Google-driven and overstimulated lives, politely inviting us to slow down and spend some time with a good painting."
Charmion von Wiegand, The Sign of Keeping Still, 1953. Oil on canvas; 30 x 25 in. (76.2 x 63.5 cm.) Newark Museum, Gift of Mr. and Mrs. Robert Miller, 1956, 56.47. ©Courtesy of the Estate of Charmion von Wiegand and Michael Rosenfeld Gallery, LLC, New York, NY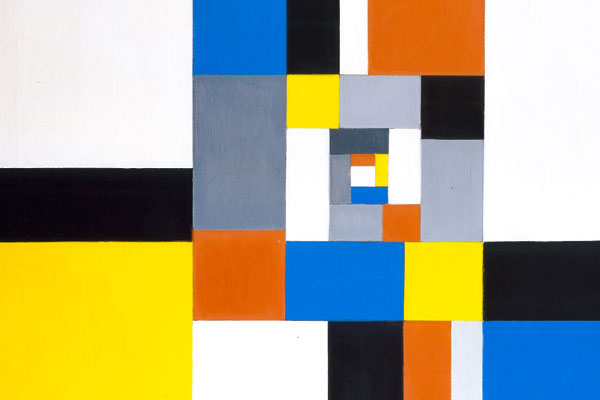 Ulysses Grant Dietz, Chief Curator, Curator of Decorative Arts, Newark Museum
"At the Newark Museum, we've been doing "new" since 1909.  And, while we don't collect European painting and sculpture (because other museums did, back in 1909), we do collect European decorative arts and, by extension, craft.

So, when craft crosses the line into art, we adapt. Newark was the first museum in America to purchase glass by such maker/designers as Rene Lalique and Carlo Scarpa. Modern glass is part of our museum DNA, from colonial South Jersey to modern day Chihuly. This great cast glass sculpture by Stanislav Libensky and his wife-collaborator Jaraslava Brychtova, owes its scale to the tradition of large industrial glass production in the former Czechoslovakia. Because of these two glass artists, Prague has become a global magnet for glass art. Of the same generation as Harvey Littleton, the duo of Libensky and Brychtova shaped an entire generation of glass artists in Europe and have had global influence in the use of glass as an artistic medium. The couple embraced the limitations of the Communist-run glass factory system to attain their artistic vision, exploiting the technical possibilities of large, annealing furnaces and quantities of colored glass- for which the Czech glass industry has long been famous. Libensky and Brychtova are celebrated for their large-scale minimalist sculptures, in which monochromatic cast glass capitalizes on the translucence of the material to produce serene sculptures that change in mood as the light around them shifts-especially when shown in daylight.

Stanislav Libensky and Jaroslava Brychtova, Czech Republic, Cross Composition, 1986, Cast glass, Collection of The Newark Museum, Gift of Dena and Ralph Lowenbach, 2006, 2006.63
---
Evonne M. Davis and Emma Wilcox are working artists and cofounders of a Newark alternative arts nonprofit. Begun in 2003, Gallery Aferro offers exhibitions featuring local, national and international artists, a wide range of public events, a year-round studio residency program, educational offerings, group tours, a publication line, a gift shop and public art initiatives.