Newark Open Doors Exhibit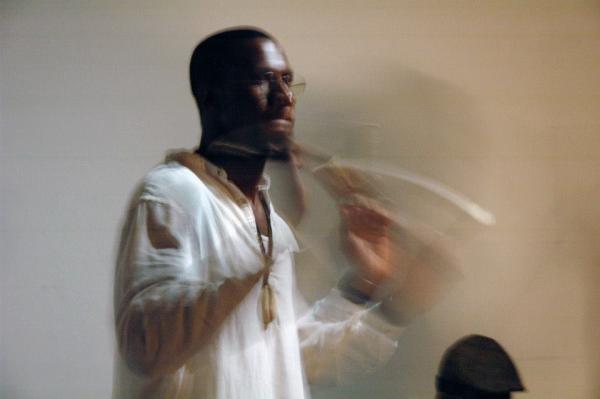 City blocks have a soul, a trace, a resonance. Writer and activist Rebecca Solnit says we ourselves are maps, collections of routes we make with our lives. Think of your first crush, and the way to get to their place. I bet each block was imbued with oh oh that feeling. Cutting across Halsey Street, the synaesthesia of Nabiru Gift Shop's sidewalk-rigged speakers and drifting incense always hits me, the bass as it rises. On to Harvest Table to cruise the countergirl with the low voice, measured smile, and quick hands snapping my change. Catching sight of the pavement, I see that Newark now has what I'm thinking might be its first Toynbee tile. These are strange art messages pressed into asphalt that have been appearing throughout the world since the early 90's, artist(s) unknown. The tiles are made by taking a stencil and letting it melt into the tar as car tires or feet smooth it over hundreds of times.
Artists Ivan Martinez and Matthew Cox spent every other Saturday this entire summer creating and posting hand-drawn signs in the vernacular of commerce in a kind of visual echo of the downtown's historic as well as current font density. Like Steve Powers, Barry McGee, they are entranced by the long tradition of highly skilled itinerant sign painters. The sardonic tone of Martinez and Cox' signs makes me think of Dorothy Parker's Song for Bohemians: "...There are the Artists; They point out all the different colors in a sunsets As if they were trying to sell it to you; They are forever messing around with batik; And hanging yellow tassels on things; And stenciling everything within reach..." Linda Street of Pink Dragon Artist Syndicate used to say to me, "See you on the Circuit." Centuries earlier, the Japanese called it the Floating World. Whatever you call it, in the past few weeks alone, I've been to, among many other Newark events, an inaugural vintage car show and a screening of The Boys, a documentary by twin filmmakers and artists Kevin and Eric Durkin. The film is a documentary about the Durkin's cross-country roadtrip to meet their biological relatives.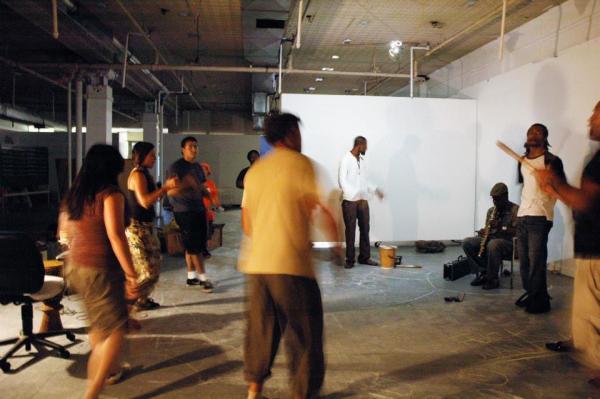 In nine days, Newark Open Doors will start, and we can all sleep....later. Find the connection between a special rotation of the Newark Museum's galleries devoted to the arts of Global Africa highlighting examples of politically engaged works (including a 1980s anti-apartheid work by South African artist Sue Williamson, photography by Zanele Muholi from her series of portraits of the LGBT community in South Africa, and a printed textile dress made to protest female circumcision in Mali) and Election/Erection at Gallery Aferro, artist and activist Adejoke Tugbiyele's solo show of work made in Newark in the wake of Tugbiyele's expulsion from her Nigerian Fulbright fellowship. Explore BRIDGING THE VOID: Pulaski Skyway National Juried Art Exhibition at Sumei. I remember finding Sumei principal Hal Laessig's Newark Metametrics project more than a decade ago, and feeling that I had come across something secret, which I loved. In every Newark street I walk down, I wonder what is the music, the symbol and sign of that moment. Like any other big annual event in our lives, Open Doors is always a time for me to reflect on where we all were the previous time around. Who has joined us, and who has left us? Tribute to Maya Angelou and Amiri Baraka will feature ten poets honoring Amiri Baraka and Maya Angelou via their own work or through reading some of the respective poets' most popular poems.
My advice for Open Doors is to work up your outfits in advice. Consider a kind of uniform, whatever your style. You will be seeing everyone you know and lots of folks you don't yet. As with any festival of this scale, there's the official listings, which are substantial, plus the icebergian bulk of other happenings that go on under the surface.
Rumors: Liberation Arts, a loose collective of singers, dancers, poets and musicians with varied subcultural allegiances, will be performing in the alley behind Gallery Aferro, Index Art Center, and Newark Print Shop. A Camera Obscura, to be built on Market Street. An attempt by Newark's Gerald Arthur to break the world record for continuous freestyle. With the former, I am excited to imagine creative people from punk, folk, and other tribes connecting with Liberation Arts' deep house, Afro Brazilian, and hip hop roots. As with revolutionary history when different movements worked together, another world is possible.
---
Evonne M. Davis and Emma Wilcox are working artists and cofounders of Gallery Aferro, a Newark alternative arts nonprofit. Begun in 2003, Gallery Aferro offers exhibitions featuring local, national and international artists, a wide range of public events, a year-round studio residency program, educational offerings, group tours, a publication line, a gift shop and public art initiatives. Visit them at: aferro.org
Photo Credits for storefront images, Ivan Martinez. Liberation Arts Images: Liberation Arts