Glambassador's Guide to Public Art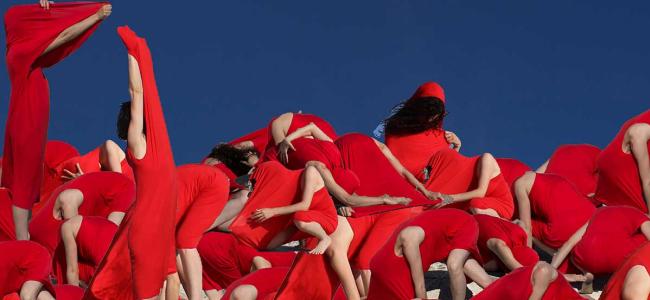 Meant to provoke, inspire, enrich and embellish...public art adds to our lives in so many ways. Unlike works that are typically relegated to galleries and private homes, publicly displayed works are the great equalizer. Whether it is a boldly painted mural, an oversized sculpture, or a mixed media creation for mass consumption, public art pieces greet us with imagination and creativity as we go about our daily lives. The inclusion of public art turns a cityscape into a vibrant canvas, and when it comes to that, Newark is truly a masterpiece. By Lauren Craig
Looking to visit some of the best displays of public art in the city? Here is your Glambassador's Guide to Public Art in Newark.
Nat Turner Park, 18th Avenue - Named after the leader of a slave rebellion in 1831 in Virginia, Nat Turner Park was developed in 2002. Respected visual artist and Newark native, Jerry Gant, was commissioned to do a community art collaboration that would grace the park entrances. What resulted was a thirteen piece sculpture series, "Art at Nat Turner Park," that colorfully adorns what is the largest city-owned park. Each sculpture is said to reflect the African-American influence on music around the world.  
Gateway II, 283-299 Market Street - In 2014, Rebecca Jampol, local gallery owner and curator, was charged with creating an indoor public arts program in Gateway II, an office building downtown with a concourse that connects with Penn Station and sees 30,000 commuters every day. Thus, The Gateway Project was born! The Project is a series of pop up exhibits that will activate the space throughout the year. The current concourse exhibit, Emerald City, can be seen as you exit the Path at Ramp 5 and uses materials in a way that is referential to the 1830's industrial boom in Newark.  
Penn Station, Raymond Plaza - In 2012, the New Jersey Transit Arts Program commissioned Jerry Gant to create works outside of Newark Penn Station that reflect the manufacturing and transportation history of Newark. Gant took up the task in his signature way via the creation of five steel panels with industrial-themed cut outs along the pedestrian walkway on Raymond Plaza West, facing the Gateway Hilton Complex.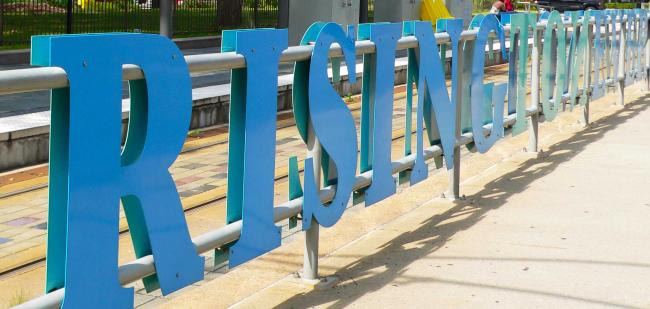 Washington Street Light Rail, Washington Street - In 2006, NJ Transit commissioned a work of art by well-known artist, Willie Cole, to adorn the Washington Street Light Rail Station platform. It reads, "Our greatest glory is not in never failing, but in rising every time we fall."
Lincoln Park Brownstones, Washington Street and West Kinney - Jerry Gant's twenty five foot mural, "From Hardship to Fellowship," graces the side of the Lincoln Park Brownstones and was commissioned by Verizon's How Sweet the Sound Community Arts program. Gant was selected to represent Newark by painting a mural to coincide with the How Sweet the Sound gospel tour. 
 
Newark Murals is an initiative of the Newark Planning Office and the Newark Urban Enterprise Zone to create works of public art in each of Newark's neighborhoods that represent the spirit and pride of the city. Twenty one large-scale murals have been created under Yendor's leader, Rodney Gilbert, and artists collaborate with Newark youth and community based organizations. The following are just a few of the must-see Newark Murals that dot the city!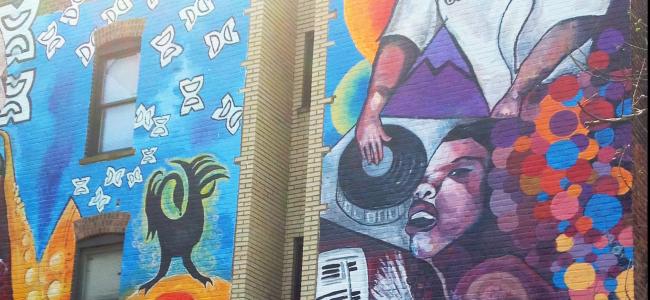 "Emancipation of Music"
Produced by: LPCCD, Rutgers-Newark, Newark Public Art Program and Integrity House
Lead Artist: Armisey Smith 
Supporting Artist: Malik Whitaker
Assistants: Yasmin de Jesus and 7 students from Rutgers-Newark American Studies Field Study 
Lauren Craig, also known as InaWordFab, is the Glambassador of all things fashion, art and entertainment in Newark. When she isn't busy practicing law or watching reality television, Lauren is devoted to inspiring others to live their most fab and fulfilling life...and world peace. Visit inawordfab.com for more and be sure to follow her life in the fab lane @inawordfab on Twitter and Instagram. 
Photo Credits: Top Image: Artwork by: Milcah Bassel | Emerald City | The Gateway Project
Bottom Images: Artwork by: Lauren Hall | Willie Cole | Divya Mehra | Emerald City | The Gateway Project 
Highlight Box (homepage): David Antonio Cruz | Emerald City | The Gateway Project