Spring Flings with the Arts
It's the vernal season here in scenic Newark, NJ. Community gardens, which range here from modest, intimate assemblages of pink-painted scrap tires and homemade benches, to dazzling, almost startling, blockwide urban orchards ablaze with fruit, are being woken from winter slumber. Heavy-laden magnolia trees bloom amongst unexpected architectural sightlines. And, odd as it may sound when we are barely taking off our coats, the spring exhibit season is underway, and the summer season of art parties is coming. More on those parties soon! But here are some of our spring shows, now that we are out of hibernation!
At Index Art Center, an unusual group exhibit, The Ether Acre opens May 12. Curated by Colleen Gutwein, this show explores the parallels between photography and poetry, from direct application to the surreal.  These works lay bare the artists' inclinations as testimony to the human experience. While I am pleased to report that yours truly has work included, I highlight Gutwein's efforts because the group of artists included is such a notable collection of different generations, and "tribes" that make up the Newark arts scene.
I have never been especially interested in easy labels when people ask me if there is a "Newark style," or a "Newark school," but I am noticing some things about us when I think about the photographers and poets enlisted here for May: There is a toughness, an intensity, an interrogation. Long memories, deep looking, and somewhat melancholy spirits paired with a sharp sense of humor. We are not un-engaged politically whatsoever but resist pigeonholing or being enlisted for the crusades of others.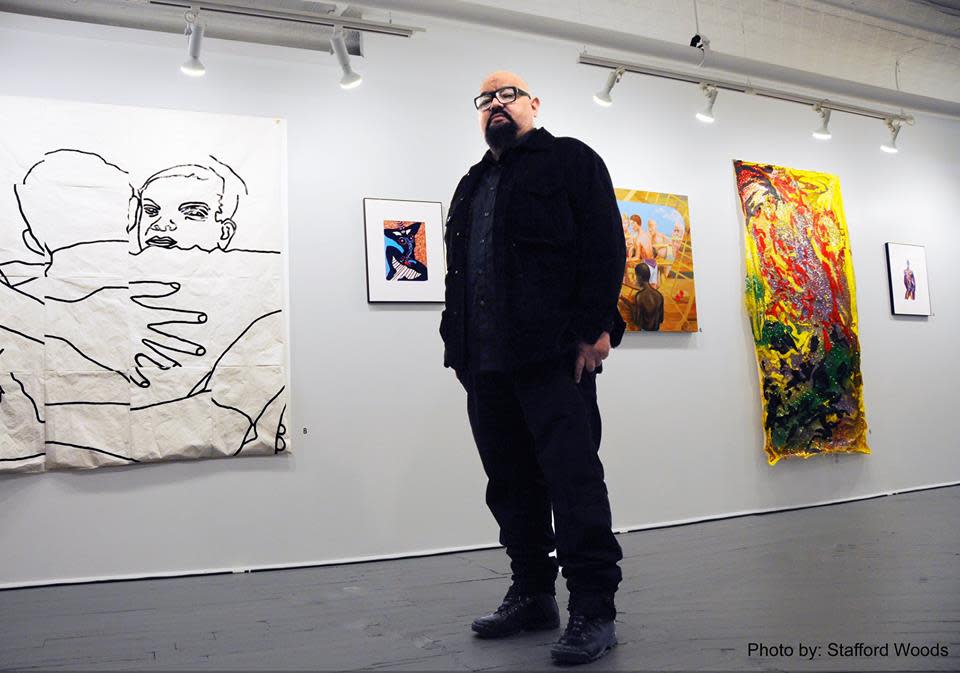 I will continue to contemplate other adjectives that might convey the unique spirit of the city's chroniclers. They say that poets are the unacknowledged legislators of the world. Artists: Emma Wilcox, Tom McGlynn, Jasmine Mans, paula neves, Richard Cammarieri, Cesar Melgar, Jennifer Coard, Joe Strasser.
Also on view at IAC through June 8: 'de profundis' works by Joseph O'Neal. O'Neal presents a collection of viscerally charged paintings and drawings. Words and text from De Profundis (Oscar Wilde's controversial prison letter) are scrawled amongst the artist's abstractions and presented in tableau form free of narrative. Utilizing both traditional and non-traditional techniques O'Neal's preference for chance and the non-objective are apparent in his latest offering.
At Project for Empty Space, presents invisible fruit: stories of camouflage from the periphery, a solo exhibition of work by one of their artists in residence, Shoshanna Weinberger. The show is up through May 18. Much of Weinberger's work is rooted in an exploration of her Caribbean-American heritage. It draws strongly on the complexity of heritage and assumed norms as she goes about defining the female archetype. Referencing her own adolescent memory and our current xenophobic zeitgeist, Weinberger renders her female muses along a spectrum of character types.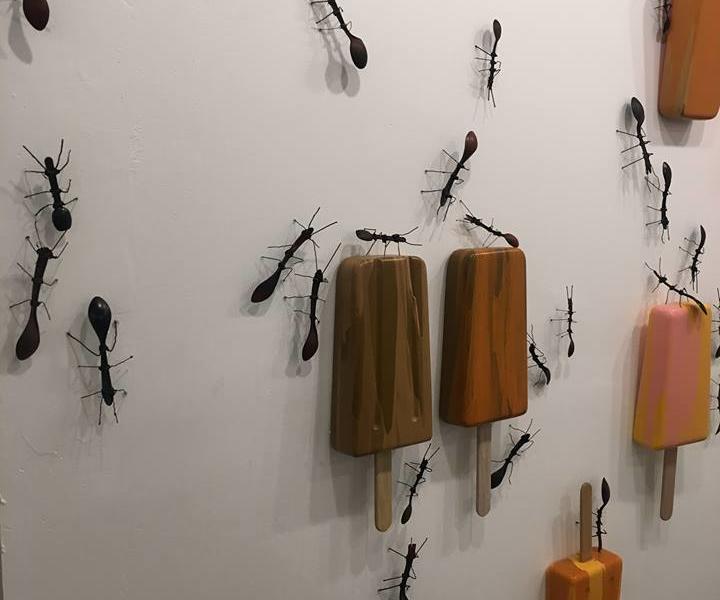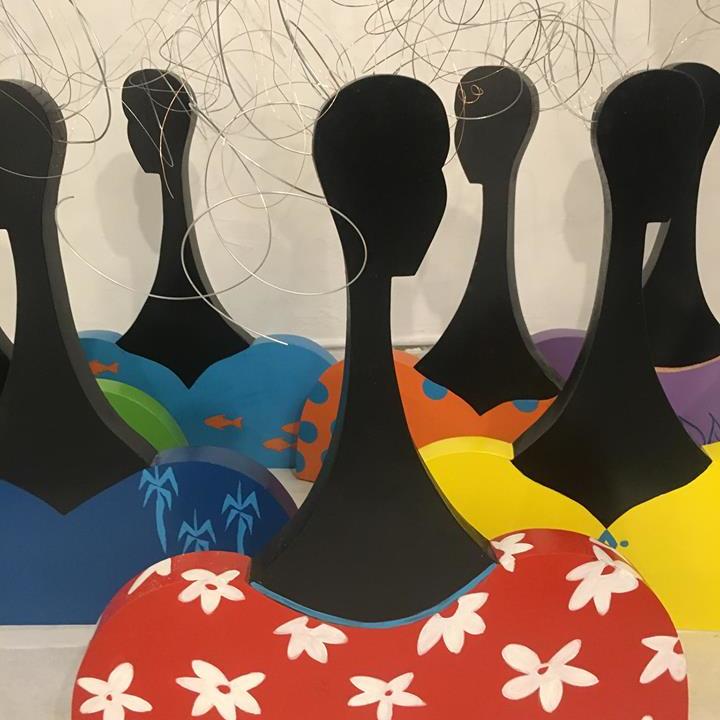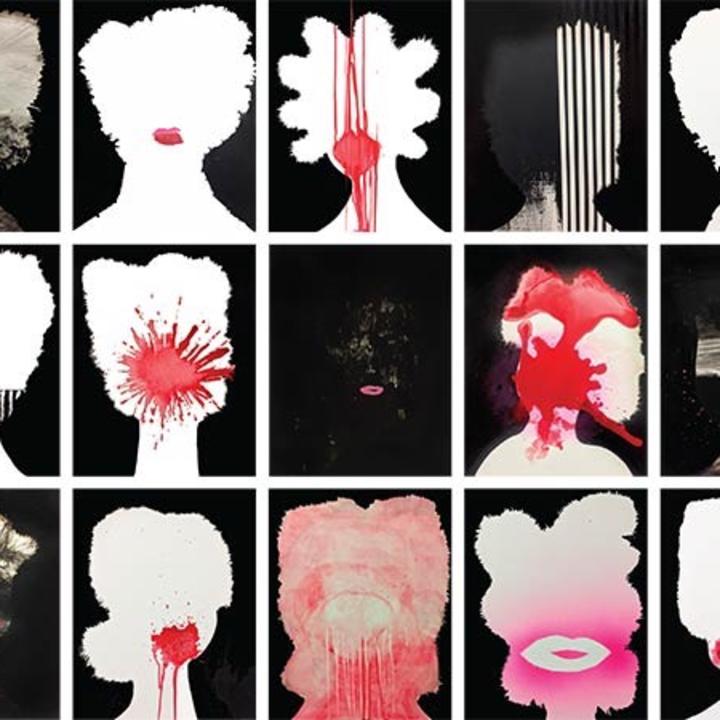 Some are excessive, sexualized, and quirky; while others are passive, or dominant- a culmination of figures that ultimately question standards of beauty and identity. Again, if there is a Newark school, it is for artists who are deeply engaged with the world, who explore and know difference. And our humor is sharp.
But make no mistake, Newark is also about much sweetness, and I suggest mellowing in the Newark Museum garden, a magically-scaled, storytale-walled enclosure of green paths and mature trees, and in the summer, jazz. 
Notably on view at Gallery Aferro through May 26 is Dimelo, curated by Jo-El Lopez for the new Eleta J. Caldwell and Rodney M. Gilbert Memorial Gallery. In the Spanish language DIMELO means "tell it to me" or in the colloquial terms: "talk to me". Artists Ernesto Rodríguez, born in 1964, Juan Guitiérrez, born in 1968, and Wali Vidal, born in 1982, all in Santiago de los Caballeros, Dominican Republic, use traditional and modern artforms to describe a new moment of globalization, dismantling stereotypes and inviting street viewers inside Caribbean culture. 
I am totally enchanted by the playful, oversized cast popsicles created by Rodriguez, and the ants he created using plastic spoons are a sly commentary on waste, consumerism, and value. Also on view: Places You Aren't Supposed To Go: [Don't Play Me] Do We Still Call It Abstract Art? A solo show by Lisette Morel curated by Ayana Evans, Two Spirits curated by Jo-El Lopez featuring Borinquen artists Geraldo Castro and Luis Carle.
The Newark school? More like a Newark spirit. And it's as complicated and fascinating as the world.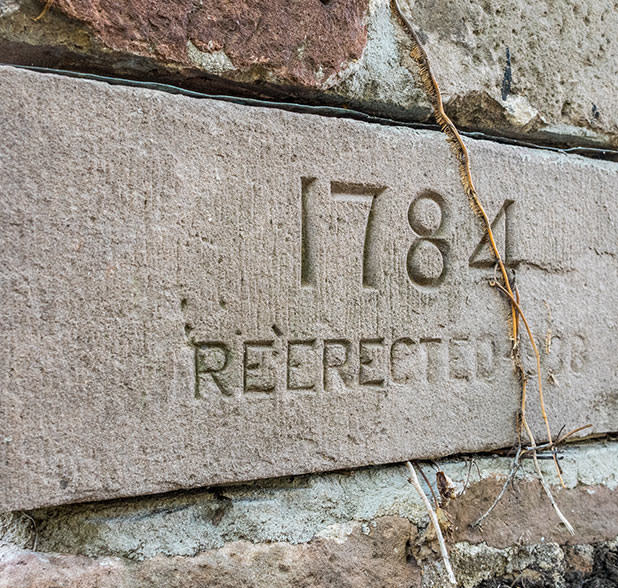 ---
Evonne M. Davis and Emma Wilcox are working artists and cofounders of a Newark alternative arts nonprofit. Begun in 2003, Gallery Aferro offers exhibitions featuring local, national and international artists, a wide range of public events, a year-round studio residency program, educational offerings, group tours, a publication line, a gift shop and public art initiatives.