Spring into Second Sundays 

Spring is coming. Maybe that isn't what her mother named her but it's what she goes by. She is the one who flicks her sugar packet with forefinger struck against thumb, the color on her nails blurring with rapid gesture.
Rip the paper envelope, tamp the sugar. Then the coffee, steaming a little in the warming morning sunlight, gets stirred by holding the lid closed with thumb and shaking the cup back and forth ferociously a few times.
There is no melancholy prodding of spoon through swirls of cream. She likes what she likes, why wait for it?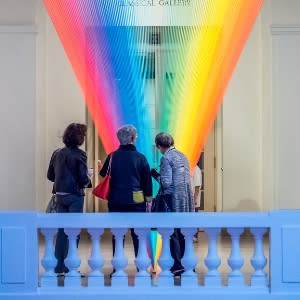 She texted you quite late last night: "taking home sickness to a new level" and a quick pic, close-up and a little blurry, of a very fresh tattoo, the two (2) ladies, one (1) horsehead, three (3) plows, count them, one (1) cornucopia of the New Jersey state seal, inked large on her not-large thigh, spanning it. Now when she walks this summer her tattoo will flutter like a flag, like a stanchion banner, no retreat, carrying Newark forward to new realms.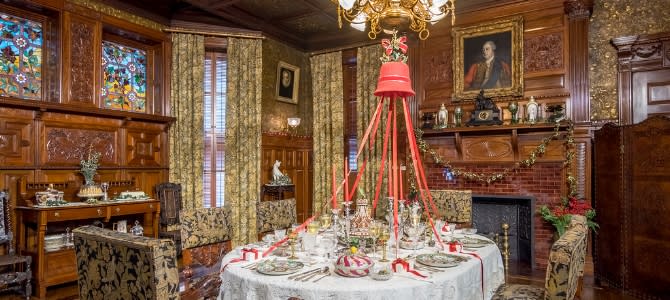 (Insert the abbreviated emotional language of our times here, ALL CAPS). Really, all I want to say, is this:
Spring, come back to us. It doesn't matter where you've been. Bring the cherry blossoms, make the pigeons chase each other around with crazed ardor, pry open all the windows. Just get on a train and come back. Pick one, any one, all the trains stop at Newark Penn Station.
(Instead what I say is that I will treat for full brunch, not the continental, this Sunday morning.) The currency of devotion, in this century, anyway.
The distance hangs between us as I wait for a response for what seems like an eternity. Then she texts a train arrival time. That's it. That's all I need to know.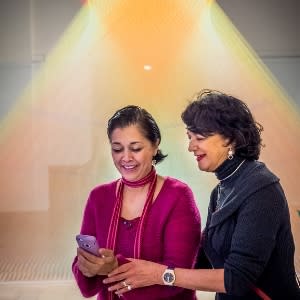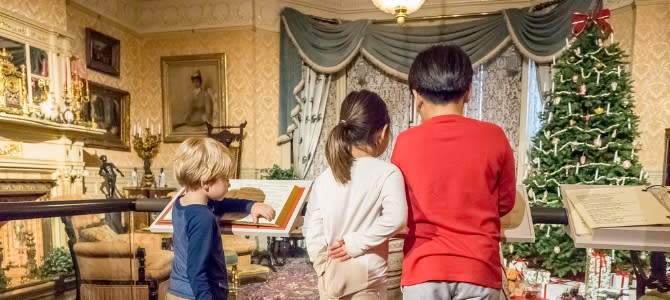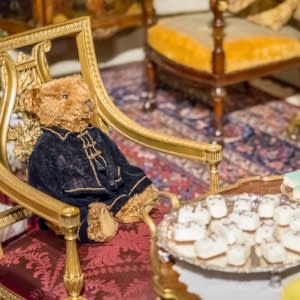 So there you are:
Get there languorously, coats under arms, plenty of time to arrive at the big gold doors of the Newark Museum. Brunch on the second Sunday of each month starts at noon.
She hasn't spoken a word, but you notice she's draped a few strings of pearls around her neck, and when she takes off the mirror shades she smiles at you, no words needed. See, we don't miss second Sundays.
Look across the flowers on the table, in this big room with wonderfully and absurdly high ceilings. Little kids are in their good clothes, everyone looks nice today. Monday doesn't exist.
Every month is different, but this time we wanted to see Wondrous Worlds: Art & Islam Through Time and Place and catch the Innov Gnawa Band.  The Gnawa are the descendants of enslaved Sahelian Africans in Morocco. They have a tradition of performing possession-trance ceremonies to heal those afflicted by spirit-induced illnesses, using music made with metal castanets and a three-stringed guitarlike instrument to evoke spirits into possession. Before that, we will follow an artist into the Ballantine House for some strange poetry, translated from the French, which also seems to stir up the spirits.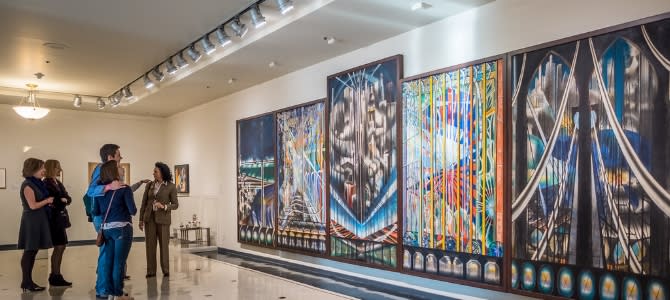 I love the Ballantine House because you can get to it without going back outside the museum.
It feels like entering a portal or traversing some kind of bridge when you cross over from the bright museum into this darker, hushed, ornate space.
I know intellectually that the world of noise and modernity is outside, right there waiting for us just beyond the wooden shutters, but as long as I'm inside this multilevel house, compact yet expansive, with thousands of hand-printed scallops on the walls and claws on the mahogany furniture, I can stay in limbo.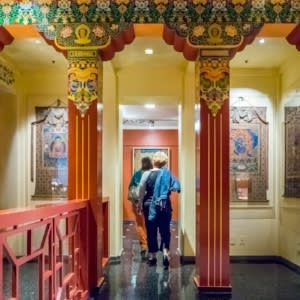 It feels like no one in the world knows where we are. Magic. When we feel like it, we leave there for the second floor galleries. Another favorite is Newark in 3D, it gets me every time. Made by local duos the Bongiorno's in homage to Paul Strand's Manhatta, it is a short B/W film you watch with 3D glasses that plays time and history like music.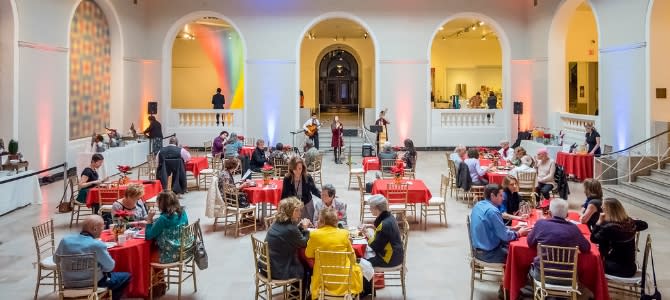 Later we will head out, past a wedding party where all the little girls are wearing tiny white fake fur stoles, and my favorite magnolia tree, ancient and tall in the church yard. It flowers every year before everything else. On it's own time, here in Newark. Beauty, alone. 
Note: Second Sundays will run through June and resume again in Fall 2016. Each month features new music, talks, workshops, and artist-led tours. 
Further note: Every loved one is different, results may vary. 
 
---
Evonne M. Davis and Emma Wilcox are working artists and cofounders of a Newark alternative arts nonprofit. Begun in 2003, Gallery Aferro offers exhibitions featuring local, national and international artists, a wide range of public events, a year-round studio residency program, educational offerings, group tours, a publication line, a gift shop and public art initiatives.
Photo Credit: Mike Peters, A collection of images from past Second Sundays.