Q & A: America's Got Talent in Newark
We turn the tables on Heidi Klum, Howie Mandel, Howard Stern, Mel B and Nick Cannon, grilling them about relationships, dinner parties, Newark, and what viewers can expect to see in Season 10 of America's Got Talent.
We Say Hey to Howie
You've been credited in the past for stating that Newark audiences are especially vocal, is there anything in particular that makes New Jersey special? "Yeah... it's real. I think in NJ you don't have the jaded audience that sees one million television tapings and goes to a million shows.
So that the people who are here are truly excited to be here, and truly understand the weight of what it means to someone walking on the stage, that no one knows, and that their lives could possibly change forever"
What makes Season 10 different from past seasons? There's a special element to it being the 10th season, the fact that we've been together so long, I think that we're raising the bar and I think the talent is going to have to raise their bar".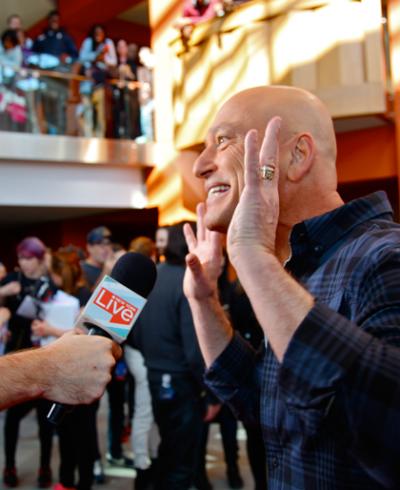 We got Howie to spill the beans on his secret to a happy marriage. "It's my 35th anniversary and my wife suggested that we renew our vows. She came up with hers already...it's enough already" His secret, you ask? "To me it's love, respect and everything, but she would tell you that the fact that you are asking me this question in the state of NJ and she's' in the state of CA... is what makes it work. The fact that I am always away makes the heart grow fonder."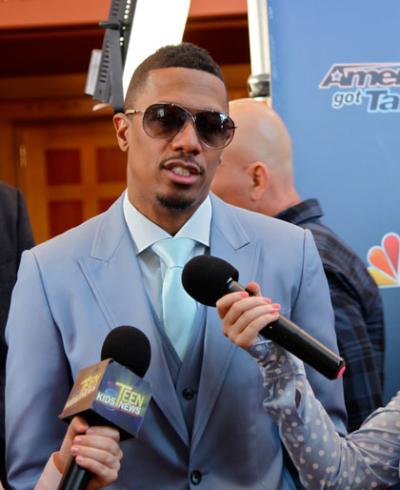 Nick Plays Nice
Do you prefer a role behind the scenes or in front of the camera? "Its all the same to me. Wherever I get to be creative, wherever I get to have fun. I don't do anything unless I am having fun. This is something I enjoy doing". 
You've been to Newark before...did you ever have fun in this city? "I always have fun in Newark. This is a vibrant city. Yeah, I always have fun here". Mel B running the red carpet, chimes in that she doesn't believe him, to which Nick replies "What are you talking about?" Mel shoots back "I have no idea".
We ask Nick do you all spend time together outside of work? "Dinner at Howard's house". Does he cook? "No, but he has a very nice house. It's cool, we actually really like each other."
Season 9 held the first magician winner, what do you think will win this year? "I would say that Howard Stern since he started the job, always wanted a band. How cool would that be."
After 10 seasons, do you feel like you are comfortable enough with each other to be honest or do you get on each other's nerves? " Uh, they've always gotten on my nerves. But the thing is its always been kind of cool because you've seen several different incarnations of the panel on the show but this is definitely the best one with the best chemistry."
Do you think you would want your kids in a position to go into entertainment, to be famous or do you want to avoid that? "I've been very vocal to say that I never want my kids to go into entertainment. I want them to strive for something more. I want a nuclear physicist, or an astronaut. I want something to take the world over, I want a bio chemist or something like that."

Hanging with Heidi

How are you feeling about Season 10, what keeps you coming back? "I loved the last two years, even before I was a judge on the show, it was one of the very few shows that I would watch with my kids because it's a variety show and it doesn't get boring. It's always amazing. We don't get prepped before. People walk onto the stage and we ask 'what are you going to do today', and they're like doing a headstand while singing opera or something like that."
Is it hard to tell people when they're not right for the show or just not good enough? "It gets easier, when you see so many acts you can quickly pick the good from the bad and sometimes you just have to tell people that you're talented, but its not really a million dollar act.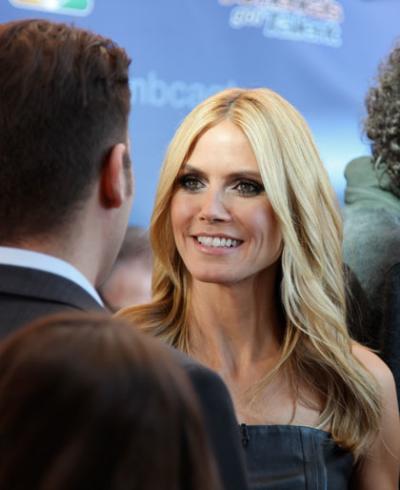 Sometimes people don't want to leave the stage...you've got four X's...goodbye and they just don't want to go. Sometime people are delusional too, they hear something different than we hear...you know".
Do your kids support your career, do you get to see them a lot? "So, we're going to do some audiences when its spring break in Los Angeles. We will do about 2 or three days there and they will come. They love it. They love coming to the audition days and seeing everyone, all the people that get the X's. Not just the really talented people who make it to the live shows, they love seeing all of the strange acts that don't make it."
When asked if there was a special talent that Heidi wished she had, she replied, " I love to sing, I don't sound great but I would love to sing."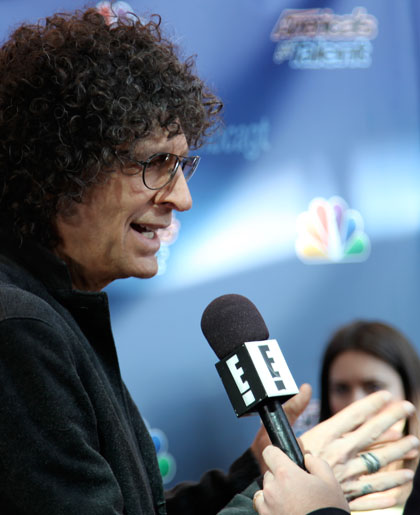 Hung Up on Howard
You're widely credited with bringing the show's production back from Hollywood to the East Coast. "Damn right!" 
What is it about the East Coast that moves you? "I'm lazy. I work on the East Coast. Listen, I think this is great for New York." and New Jersey? "And New Jersey...right the tri state area. But no, this is great. I love New York, I grew up in New York. I love New Jersey and really it's nice to see a production here. It sets us apart from the other shows. It makes us special."
People say that you fit more in Hollywood now that you are a part of a mainstream show. Do you agree with that? "I am Hollywood. Listen, I never ran a career that way. I always felt that I would just be honest and truthful. This a family show, I understand the difference, it's not as raw as my radio show, but every venue has it own set of rules."
Can you tell us what your favorite thing is so far about this season? "So far ...this, sitting here talking to you. So far this is all we've done. I had a peanut butter bagel sandwich and that was my favorite thing to eat so far.
"Nick says that you throw the best dinner parties, except that you don't cook. Any comments? "Yeah. That's why it's good. I believe in lots of food. I once went to a dinner party at the late Joan Rivers' house and I said "Joan you are a Jewish woman, how come you're serving little tiny strips of bread with a little bit of butter on it?" She was trying to pass...you know. I always believe in lots of food and that's why my parties are good. I had Nick over when he was married to Mariah, I haven't had the single Nick over yet". 
What do you think that would be like? "I picture like a bevy of women."
Thanks to the judges of America's Got Talent, for letting us mix it up with them on the red carpet. Live tapings of the show will happen at New Jersey Performing Arts Center from March 2-9th. Tickets are as free as the air.
---
Lauren Craig / Lauren Hall
Photo Credits: David Joseph