Experimental Music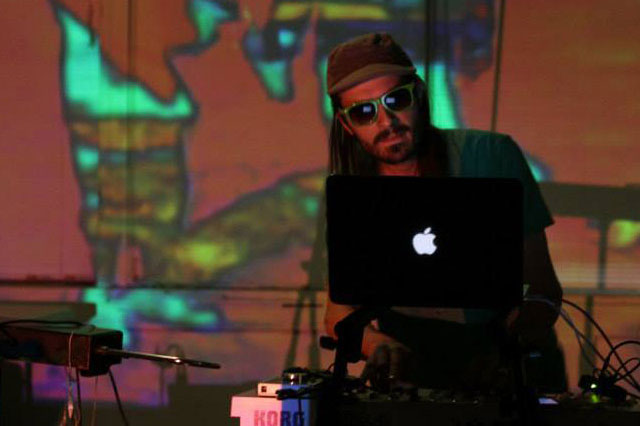 One of the underappreciated uses of rumors is a beacon, the light and sound out in the night. And the night, dear reader, is The Jersey. Which is exactly how the transcription software I was toying with recorded it, digital functioning overwhelmed with deciphering the raucous, freeform multiparticipant conversation that we had about, well, the rumors. The rumors about experimental music in Newark locate the city as the light, the beacon, the sound, out in the darkness. It was an exciting conversation, and it's been edited for length as well as to protect the implicated.
Heidi Hussa is co-curator, with Michael Durek, of PLANAR/LINEAR, a semi-monthly experimental showcase of experimental musicians held at Index Art Center. Hussa, like Alex Cummings, is a member of Oculus Art Collaborative, a group who work in the fine tradition of DIY and skill-sharing. We sat down with Hussa and a number of other artists to learn more.Heidi Hussa: The name comes from the idea of field conditions...I studied architecture, and I'm influenced by Iannis Xenakis, breaking down a landscape into its simple geometric parts. Influences: 20th-century composers like Edgar Varese, or when the contact mike was invented... You can't see this music in bars... What's great about the "old vanguard" of these musicians is that they're completely accessible, because they're not famous. Alex Cummings: It's about atmosphere. It's not melodic or about narrative experience, but ambiance... Experimental musicians don't always identify as musicians.
HH: Noise music isn't happening in acceptable places. It's happening in people's basements and kitchens and COLLOQUIAL NAME OF RETRACTED LOCATIONS.
This seems to raise the question of how playing this music at Index, an art gallery, changes what they're doing. No one really comes to any conclusions, but we talk about it for a while. The landscape being described is that of youth. Conceptually, it is rather spare, with small subcultural pockets here and there. But there is the strong awareness of many, many individuals within this landscape, a kind of enormous loosely affiliated tribe. One of the many rumors I had heard about Oculus was that they sprang from the ashes of a dying 501c3, this turns out to be true. We talk about resources, and how collective effort is what makes any endeavor possible.
HH: We're kind of anarchistic, anti-adhering to the status quo that we see as oppressive, and a lot of things fall under that... In a basement, you have to know how to get there... Index is between public and private, it's still very word of mouth.
Michael Durek: Places like Index are essential to the arts because they don't operate on a bottom-line profit motive, which is sometimes necessary but often turns things to crap, since great art requires risk, and the platform to fail or succeed doing new things. 
HH: At the first event there was a lot of dancing, which surprised me.
Q: How do people move with unstructured music?
HH: These three kids came. There were these older performance guys whose work really connects with that idea of field conditions, you know, "dit-dit-dit-dit"... And I have no idea who these kids were or where they came from (again, the conceptual landscape of a vast darkness with Newark as the lit honing beacon) but they were so excited that they started making up dances. It was totally dark except one light on the performers so you had no idea what was going on in the back, and you hear the sounds of these motions Later in the day, we also spoke with acclaimed new media artist Andrew Demirijian, who is one of 10 artists in "Artist Box", an unusual collaborative initiative by Gallery Aferro and the New Jersey Symphony Orchestra that just began and will run through 2015 out of NJPAC.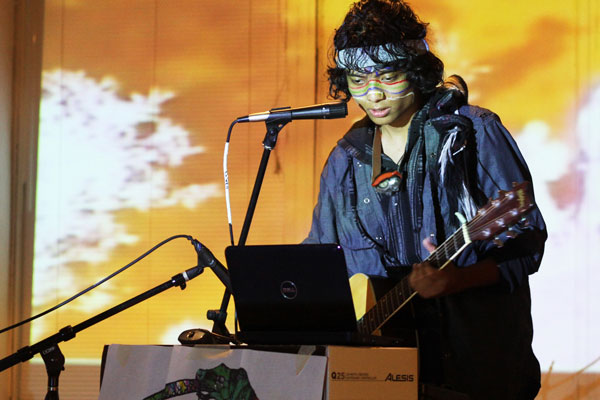 AD: Experimental music, is music that has no hope of ever getting played on commercial radio…It has a different relationship to structure and content, the structure isn't verse chorus verse and the content is not about love.
Like many of the other artists we spoke with, Demirjian is profoundly engaged with the spatialization of sound. Of the first Artist Box concert at NJPAC: It's an amazing space...it would be great to know more about the sound engineers, how the space was created…It's wild to think about how the piece performed was the 1930's equivalent of death metal, with maximum hammering….and about what tools do you have at your disposal to create full chaos.. Echoing Hussa, Demirjian also observed how people respond with their bodies to the sound. It was sonic assault. But no one was really getting into it in the aisles…
Q: What would be cool? HH: If more people came out of the woodwork, out of dark rooms laying on synthesizers. I know they're out there. This is NJ! Things are weird in NJ! Words we heard: Incessantly-touring grindcore violin, intricate and fluid, analog synthesizer and telecaster, electronics and yelling, stochastic processes. Blue collar musique concrete. electronic alter ego of double bassist, harsh, unforgiving noise, arrhythmic ambient sounds, musique concrete, free jazz, electroacoustic improvisation, droning pop music, all-casio keyboard full-scale orchestra.  
---
Evonne M. Davis and Emma Wilcox are working artists and cofounders of Gallery Aferro, a Newark alternative arts nonprofit. Begun in 2003, Gallery Aferro offers exhibitions featuring local, national and international artists, a wide range of public events, a year-round studio residency program, educational offerings, group tours, a publication line, a gift shop and public art initiatives. Photo credits: Oculus Art Collaborative