Meet Mr. Nice Guy
It's been said that a little reinvention is good for the soul. Well apparently it's good for business too! Just ask Elliott James, one of Newark's native sons and owner of 58 Park Supper Club in the Downtown Newark arts district. Formerly known as The Key Club, 58 Park is the rebranded new version of the restaurant/bar/lounge we've come to know and love over the past seven years.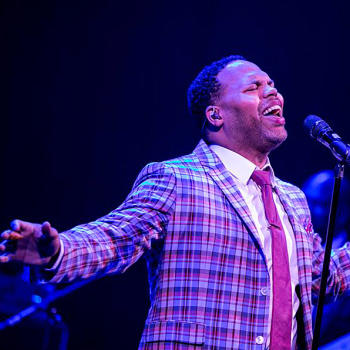 As a part of its reinvention, 58 Park recently launched 58 Park Live, a music showcase that takes place every Saturday night and features outstanding entertainment with a supper club feel. Headlined by established R&B artists and featuring emerging talent that perform as the opening acts, attendees can experience a great live show on par with anything you would see in New York City. In fact, 58 Park Live is MC'd by the one and only Ron Grant, who hosts the longest running open mic night in the world every Sunday at the Village Underground.
The best part of the 58 Park Live experience? The opportunity to get up close and personal with some of the hottest stars of R&B/soul in an intimate and local setting. The March 8th 2014 launch of 58 Park Live was headlined by Mr. Nice Guy himself, Eric Roberson, the talented and Grammy nominated independent singer, songwriter and producer that is one of New Jersey's brightest stars. Audience members were treated to a super soulful set of Erro's greatest hits that spanned his nine album (including "Esoteric", "The Vault 1.5," "The Appetizer," "Erro Live," "...Left," "When Love Calls," "Music Fan First," "Mister Nice Guy" and his latest, "B-Sides, Features & Heartaches"), twenty year career. From one of my personal favorite songs, "Picture Perfect" to a hilariously classical version of Notorious B.I.G's "Big Poppa," Robeson's performance showed and proved that he is the consummate entertainer.
Although Roberson grew up in Rahway, it is a little known fact that he was actually born here in Newark, and his stellar performance certainly signaled that he felt right at home. It was also a family affair, as his parents, who are hugely supportive of his career, and high school friends were in attendance that night. When I asked Roberson post-show about his love for Newark, he said, "I remember coming here to shop growing up and always enjoying the energy of Newark. I'm always comfortable on stage but this is another level of comfort."
Even though we can officially claim Roberson as a product of Newark, be careful who you say that around! @PamperedTherapy and I got into some friendly Instagram beef when I called him Newark's own. She commented, "Ummmmmm sorry boo he's RAHWAY's own, he grew up here, went to church here, went to school (starring in all the plays) & graduated HS here. He's OURS." Well I stand corrected! We ultimately agreed to share him. It's all Jersey love, right?
58 Park Live is produced by 58 Park Supper Club in association with Pro Entertainment Solutions and Purpose Music Group, who not only represent Roberson but also such soul standouts as Bilal and Algebra Blessett. So I, for one, am super excited to see what acts may be gracing the 58 Park Live stage in the future!
Another reason to make 58 Park Live your next date night destination? The food and drinks of course! Boasting a well priced menu featuring Chicken & Waffles, Jerk Shrimp, Chicken Bruschetta and more, the full bar will also keep you in the groove all night. After the winter we've had, spending a Saturday night out with good people, awesome talent and great food is especially enticing, no?
The rebranded new vision for 58 Park Supper Club coincides with the complete transformation happening in the Downtown Newark arts district near NJPAC, including Military Park and the Prudential Tower. So with all the new construction going on and new business coming into the area, what will be James' secret to continued success for 58 Park? Says James, "I am a Newark native, a graduate of University High and a graduate of Hampton University. I have a commitment to excellence. I have a commitment to the community, to music, the arts, entertainment and service." Enough said!
---
Lauren Craig, also known as InaWordFab, is the Glambassador of all things fashion, art and entertainment in Newark. When she isn't busy practicing law or watching reality television, Lauren is devoted to inspiring others to live their most fab and fulfilling life...and world peace. Visit inawordfab.com for more and be sure to follow her life in the fab lane @inawordfab on Twitter and Instagram.
Photo Credit: Keith Estep Photography