Oprah Visits Newark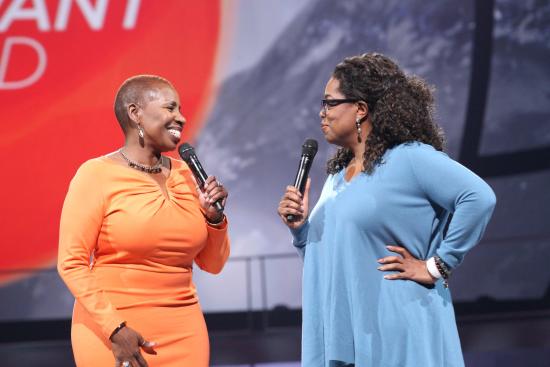 One would think that turning an 18,000 seat arena, in this case Newark's Prudential Center, into an intimate gathering would be a mission impossible. But during her signature Life You Want Weekend on September 26 and 27th, Oprah did just that! Not only was it intimate, the weekend was spirited, inspiring, touching, transformative, fun, affirming and aspirational.
Upon entering the venue affectionately known as "The Rock" on Friday, I was struck by the amount of great energy in the building. From the staff taking tickets to the smiling attendees, the positivity was palpable!
And it's no wonder Oprah chose the Prudential Center as the only Tri-State area stop on her eight-city U.S. tour. The Rock is a modern venue outfitted with state of the art amenities in the central business district of Newark boasting easy accessibility from cities like New York, Hartford, and Philadelphia via both major highways and public transportation including NJ Transit, PATH and Amtrak. For these reasons, the Pru Center is both the home of the New Jersey Devils and the Seton Hall Pirates men's basketball team and plays host to the biggest names in entertainment including Lady Gaga, Taylor Swift, Carrie Underwood and now, Oprah.
"We were thrilled to host Oprah's only tour stop in the region at Prudential Center. As an organization and a community member, we share many of her values - inspiration, authenticity and personal development," said Prudential Center president Hugh Weber. "We are committed to captivating on a world-class level, while connecting on a personal one, every time we open our doors. We want New Jersey's nine million people to call Prudential Center home.
"Even before Oprah entered the Pru Center arena, DJ Kiss had us dancing in our seats (and in the aisles!) in excited anticipation of what we were about to experience. Set up almost like a one-woman show, Oprah shared her life story, deftly weaving the tales of tragedy and triumph that have shaped her journey with humor, imagery and inspiration. Especially poignant moments were punctuated by the flashing our Life You Want digital wristbands which were lit in colors like white, gold and blue and turned the Pru Center into a galaxy of constellations.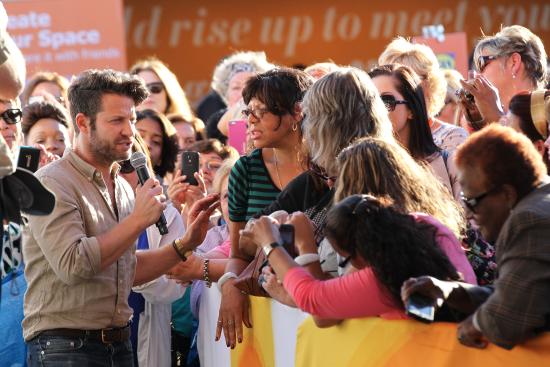 On Saturday, we were given notebooks with worksheets meant to awaken us to our life's true purpose and set the vision for a new life. Then, throughout the day, Oprah introduced her hand-picked life trailblazers, Mark Nepo, Elizabeth Gilbert, Rob Bell and Iyanla Vanzant, that each used their unique brand of communication to inspire us to be the best version of ourselves. The atmosphere in the Prudential Center vacillated between joyous and rollicking (especially during the Soul15, a 15 minute cardio-dance customized by SoulCycle for the tour) to so intensely quiet you could hear a pin drop.
There were so many gems shared throughout both days, but here are my 10 favorite nuggets of wisdom from #LifeYouWantNJ:
Your purpose is the thread that connects the dots between everything you do. Your legacy is every life you've touched.
No gift is made for you to hold within yourself. Everything gets bigger by sharing it with the world.
It is better to live your own destiny imperfectly, than to live a perfect imitation of someone else's life.
You have no power in someone else's territory!
Your life is speaking to you all the time. First in a whisper. Then a thump. Then a brick. Then a brick wall!
Everything that has happened to you, was happening for you.
The life you want begins by embracing the life you have. The life you have is miraculous and it matters!
Courage is doing what you know you need to do before you are forced to do it.
What you focus on expands.
When you set the vision, the universe will rise up to meet it.
Besides the amazing inspiration we were experiencing inside the Rock, it was even more amazing to see the impact of the tour on the businesses right outside. Dinosaur BBQ, Chipotle and Dunkin Donuts had lines out the door during the lunch break! Now that's what I call the Oprah effect! A few of us avoided the lines by walking a few short blocks over to the Ironbound where we had a great Spanish meal at Fornos.
Whether you love her, hate her, or fall somewhere in between, the impact of Oprah bringing her Life You Want Tour to the Prudential Center is one that will be felt by not just the attendees but the city of Newark for a long time to come.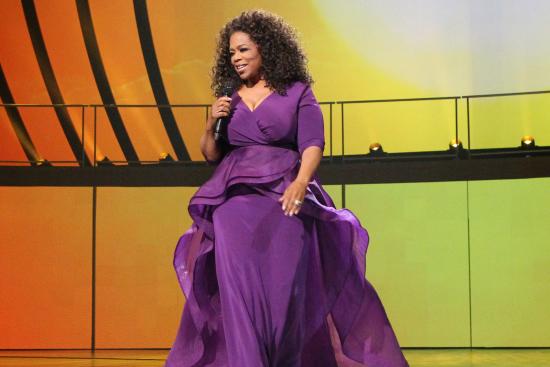 ---
Lauren Craig, also known as InaWordFab, is the Glambassador of all things fashion, art and entertainment in Newark. When she isn't busy practicing law or watching reality television, Lauren is devoted to inspiring others to live their most fab and fulfilling life...and world peace. Visit inawordfab.com for more and be sure to follow her life in the fab lane @inawordfab on Twitter and Instagram.
Photo Courtesy of Harpo Studios, Inc. / George Burns