Night People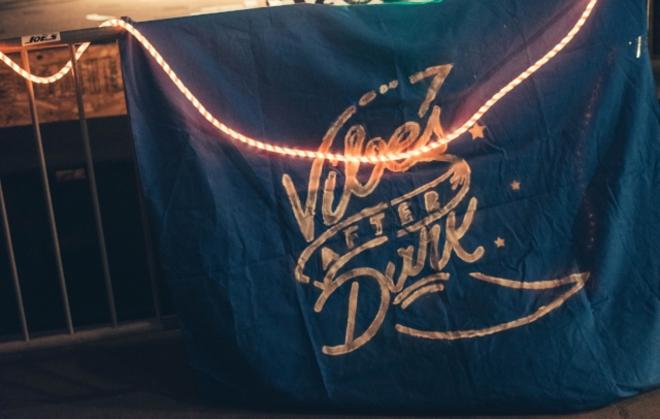 Night people are my people. Always have been. And like Ruth 1:16, where they go I will go. Now that the weather's nice, let's have fun on the town after the sun goes down.
After a disco nap, first go to Nico's Kitchen. It's just finished a light rainbow-laden, sun-shining rain and you've got the place to yourself, which is delicious. How are you my pumpkin?
says the manager to the bartender, who's polishing glasses just like A Bar at the Folies-Bergère come to life, updated with a discrete piercing.The stud at the edge of her lips gleams like the bottles and the glasses, in the sophisticatedly dim and yellow light of the place.
She says back to him, laughing, I's fine but we need more bourbon my good man, softly chiding him for his inattention the things of this world, before the crush of night people to the bar that will come later. Haircut, really more of a touchup, on Halsey Street by Teacher's Village.
You first met your trusted sartorial consultant when he said drolly but kindly, "We got scissors" as you walked by. Pick up the dress you got custom made from Sew Naturally Talented. Then head to Branch Brook Park for some night roller-skating before they close at 9.
About house music parties: everyone claims to be an old head, listing off the names of clubs and those wonderful (grey) zones where "venue" is inadequate as nomenclature.
But you too, yes!, can be an old head. Simply talk knowingly about last week's or even last night's party, indicating that the mood was better there than here… I love such talk because it is part of one's outfit; this pose of indifference to the moment, and it masks (just barely) a burning, intense passion for the beats and the moves.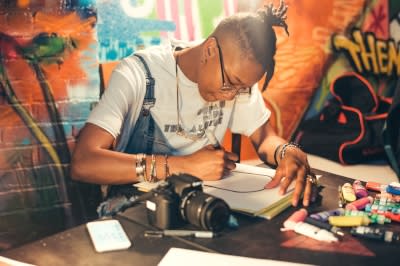 House music dies and is reborn each night, and the endless of talk of the past (Zanzibar, African Globe, etc.) actually indicates how alive the scene always has been and always will be.  That locations vary is an understatement, but it isn't hard to find out where the parties are happening.  
Next, crash a grown and sexy party at Club Blue. The elders show up late, late, late in cream-colored cars, the doors of which they hold for women in sparkly shimmy dresses, the fellows sharp enough to cut in pressed suits, mohair coats, stickpin hats and great shoes. #Goals that's all I have to say. The blue Christmas lights get hung on the building awning on select nights, signaling that later wonderful things will happen.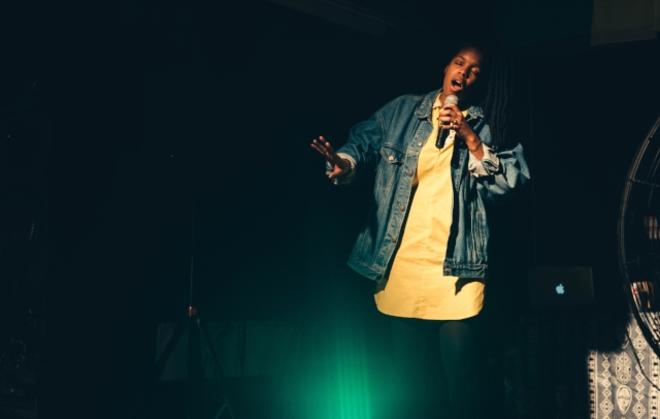 Evolve NJ and the Vibes After Dark Night Markets (both currently operating out of the Cage at 317 Mt. Pleasant Ave) are some of my favorite nighttime destinations. Let me caveat to say that I don't know what open mics are like where you're from, but here, like the kids say, we slay. Art is serious business here, and a quick tongue is standard equipment. Evolve NJ comes to you from Professor (Sean) Battle and Kween Moore, and they describe it as "Part training ground, part chill spot….about pushing through the comfort zone and into the unknown, for individuals must go beyond remedial to truly say they are grown."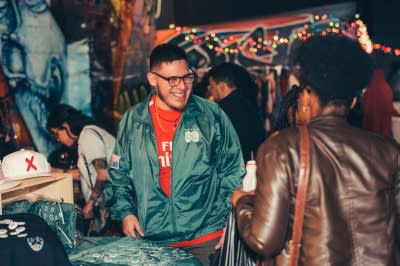 I first saw a beautiful poster last summer, for the Night Market, of a hand silkscreened, mirthful crescent moon. A night market is an ancient human cultural form, examples of which can be found across every culture, from the Souk to the Christkindlmarkt.
And of course, Newark's answer to the night market features not just artisans and workshops, but people getting down to a beat. I also love that the market is deeply and authentically connected with social justice work.
Like Emma Goldman said, If I Can't Dance, I Don't Want To Be Part Of Your Revolution. From the organizers: "We set out to build continuity within the community on the economic, social, and vibratory plane. Our calling card is to merge the vast, but scattered influx of creativity, music, and good eats under one roof to manifest this experience for us and by us." The next market is June 17th. Go catch some vibes, and I heard a rumor that the new Aferro Mobile Portrait Studio will be parked out front.
Stop by Tops Diner for some Red Velvet pancakes (yes, that is a thing, y'all). Just over the river, by the truss drawbridge where the big dramatic scene in Annie was filmed, Tops, were it to be beamed up by aliens, would make a nice starter terrarium for some enormous intergalactic child.
Dancing pets. I can think of worse things. And our hair looks good too. If you don't want to cross the river, or if it's after midnight, stop by 24-hour Brazilian café Casa Do Pão De Queijo.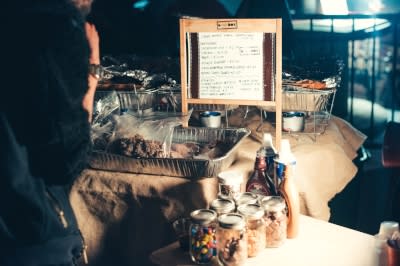 Don't worry if you don't know the names of things, just point, everything is yummy. My favorites are the coxinhas (pronounced co-SHEEN-ya), named after the chicken drumsticks they are supposed to resemble though I think they look like another body part! Get some sugarcane juice too and make yourself a little sweeter.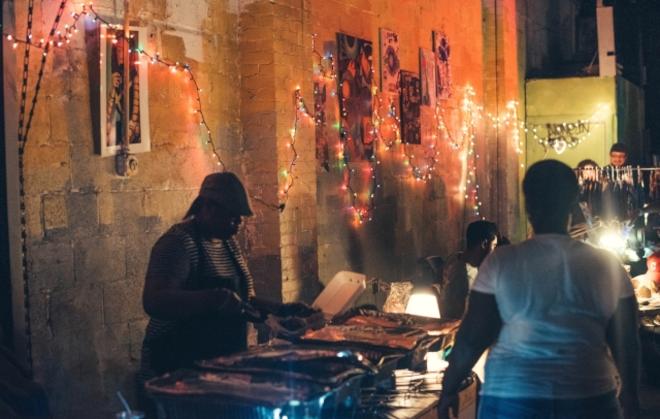 Lastly, now that you're fortified, go visit the local, national and international artists who've been working every night for a week straight, along Rt. 21 from 9 PM to 6 AM to create the longest mural on the East Coast and second longest mural in the nation at 1.39 miles.
The artists are Adrienne Wheeler, Akintola Hanif/HYCIDE, David D. Oquendo, Don Rimx, El Decertor, GAIA, GERA, WERC, Kevin Darmanie, Khari Johnson-Ricks, Manuel Acevedo, MataRuda, Nanook, Nina Chanel Abney, Sonni, Tatyana Fazlalizadeh, and Zéh Palito. The construction lights and spray paint residue everywhere give a satisfyingly carnival atmosphere, and the unbroken line of art, stretching to the horizon line, is not soon forgotten.
Sweaty, sweet, and danced off feet, that's you, here on planet summertime Newark NJ. Time for bed as the sun rises. Cue George Clinton, in his deep deep voice, "Just lay it on the radio, and LET THE VIBES FLOW THROUGH"
---
Evonne M. Davis and Emma Wilcox are working artists and cofounders of a Newark alternative arts nonprofit. Begun in 2003, Gallery Aferro offers exhibitions featuring local, national and international artists, a wide range of public events, a year-round studio residency program, educational offerings, group tours, a publication line, a gift shop and public art initiatives.
Photo Credit: Anthony Drayton / Vibes After Dark