Real Antique Wood in Newark
Up at dawn, we went to the edge of the city on an exciting adventure.  A light snow covered everything, making the world look like an etching plate, high contrast and fresh with potential. We were headed to Real Antique Wood, a five-year-old startup run by husband and wife Lisa and Gary, selling salvaged wood from barns, homes and factories.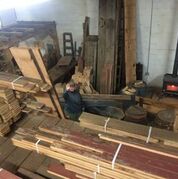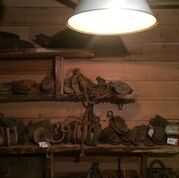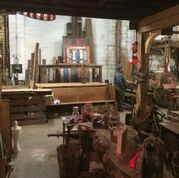 Like every artist, and many urban dwellers, we're obsessed with transformation, with reclaiming beauty and utility from objects and materials. They've got wood and timbers from a variety of different sources including 18th and 19th century barns, homes, and factories dating back to the industrial revolution. Some of their wood is from right down the way: the parkway lofts in Bloomfield, in a former factory complex, had their maple floors lovingly salvaged.
We rounded down a long driveway past giant stacks of enormous timbers, and parked in the lot of their big old warehouse. I knew we were at the right place for sure when I saw the vintage signs tacked on the outer building walls. Going down a hallway decorated with ancient license plates, we then entered…..wood heaven…..In one huge, inviting, toasty room there's little built environments created from salvage materials, including a cute office "house" where a friendly 10-month old yellow lab hangs out, a woodstove you can bask by on a bench, sections of every kind of metal and antique salvage (mason jars, hooks, doorknobs, industrial carts, on and on…), one-of-a-kind gifts and home décor, and of course….the wood….flooring, barn doors, slabs, end pieces of Chestnut, Oak, Heart Pine, Hemlock, Maple, Douglas Fir…. broad beams, wide plank flooring, barn doors, hardware, siding, paneling, and fire place mantels...it goes on and on. You also can walk around the outside area and pick out wood from the big piles.
In addition to sourcing and selling this amazing material, the staff also does custom milling and fabrication of environments, furniture, and more. They say, if you can dream it, we can build it. (this is me fanning myself after getting hot and bothered thinking about the possibilities). Their latest woodshop addition is a big CNC router so they can create detailed designs right in the wood.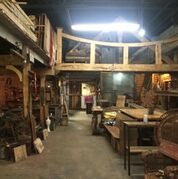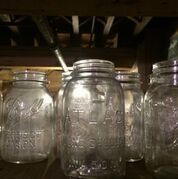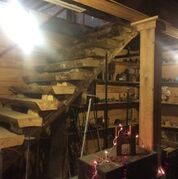 I had a great chat with Lisa as Levi, the puppy stood on his hind legs to join us at the counter. She is warm and really engaging, and what a great American story of entrepreneurship! After decades in the wood flooring industry, she and her husband noticed that customers wanted to know the story of their new/old floors. They wanted to feel connected to something rather than just being consumers. She and Gary took a big risk and started Real Antique Wood, so that they could pass on those stories. Now they employee 12 people and are winning national prizes for their work! She told me that the crew routinely drives as far as Ohio to take down old barns, staying for as long as a week and getting to know the farmers or other building owners very well. "Oftentimes we receive old family photos, antiques from inside the barn, and a brief history lesson that we're excited to share with the future owners of the wood…we've amassed an eclectic history of these barns, many of which have been around since our country's origin." She told me that the store often gets mailed birthday party invites from far-flung farm communities, or hears from family when the elder farmer passes on.
My partner Evonne Davis' love of wood, tools, and upcycling is intense, and we begged Lisa to consider offering classes. As a tall young carpenter walked by, intent in his toolbelt, Lisa called out to him "You've got another student!" and laughed. Keep your fingers crossed, kids.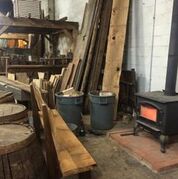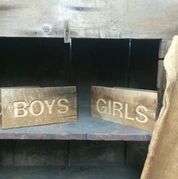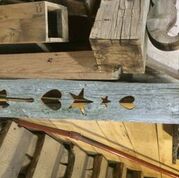 What a magic place to visit. We really didn't want to leave, running our hands over the rings of a massive piece of heartwood, thinking about all the sunlight the tree had lived in all it's days to get so big. Much of the appeal of reclaimed wood comes from the knowledge that the old growth forests used to build so much of this country don't exist in the same way anymore, and obviously, we don't want to cut anymore of them down! Modern wood just does not have the same attributes…I remember drilling into the enormous beams of our first loft in Newark, and the drillbit would release amazing, and varied smells…pine, oak…It was like time travel a little bit, fresh and sharp sap scents as if just yesterday the old building had been assembled.
Back in the center of the city, I was thinking about all the spaces where reclaimed materials have been used in a variety of styles, from a sophisticated modern aesthetic to a more rustic look. Every year on a friend's birthday when we order one or two of every…single…thing on the tapas menu at Mompou (yes, you read that correctly) we sit in the gorgeous dining rooms laden with reclaimed wood and cork. The studios of SUAD round the corner also use reclaimed materials in interesting and elegant ways.
I definitely suggest a trip out to Real Antique Wood soon. If you don't want to lyft or uber the 13V bus goes right by the building. If it's summer when you go, stop by Dairyland, opened in 1900, and check out the comically oversized cast iron milk bottle on the top of the building while you eat your cone, and dream of woodgrain in all of it's honeyed colors, sunshine in solid form.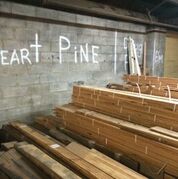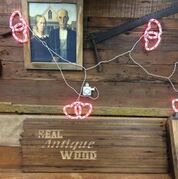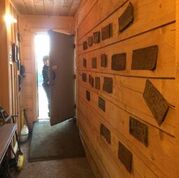 Evonne M. Davis and Emma Wilcox are working artists and cofounders of a Newark alternative arts nonprofit. Begun in 2003, Gallery Aferro offers exhibitions featuring local, national and international artists, a wide range of public events, a year-round studio residency program, educational offerings, group tours, a publication line, a gift shop and public art initiatives.