Wearable Art
As we ate homemade pumpkin whoopee pies and drank our beers, we tried to sing "All of my favorite things," but couldn't remember the words. The baby sang too, with her eyes, as we shouted out "Julie Andrews, something something something kittens string!" Her parents are an artist and a DJ, respectively, so somehow I suspect she knows other songs.
So here are some of my favorite artist-made things, sung off key and with love. And since we're in Newark, one of verses has to be LOOK GOOD SMELL GOOD, which is the refrain of one the veteran vendors at Broad and Market.
Yvonne Onque of God S Wearable Art simply can do no wrong, in my estimation, when it comes to earrings, combs, jackets, hats, inventive shrugs and blouses, and other items, all of which are adorned with striking hand-painted images of women of color.
She also makes earrings that look like miniature record albums: you can wear Nina Simone or Curtis Mayfield from your ears!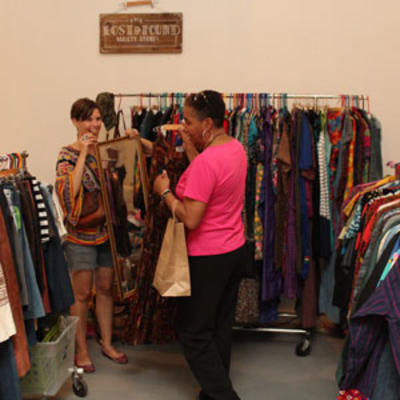 She writes: "We have spent our creative time carefully designing images we know you can be proud to wear. The faces of our women are meant to represent beauty and inspire in you a positive and affirming feminine spirit. In case you haven't noticed they are all painted with their eyes closed. The closed eyes represent a peaceful state of meditation and prayer. Who is God-S? She is your Momma, Auntie, Sister, Daughter, and Friend.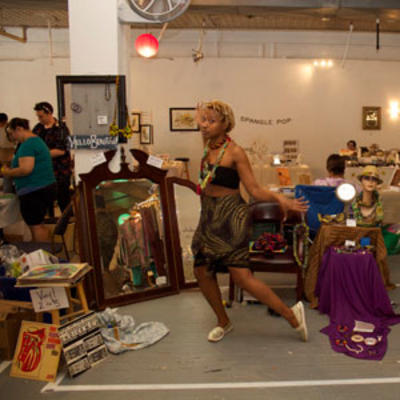 She is YOU! She is the everyday woman who defies odds and stands in her power. She is collective feminine energy. We encourage you to wear your God-S Wearable Art as a testimony to the universal blessing of women as life bearers, nurturers, teachers and inspiring leaders in today's multifaceted global village."
Iya (Queen Mother) Imakhu, in addition to the many gifts of healing and activism she gives to her community, also creates holiday gift bundles. Get in touch for orders! Get a "beribboned basket with a Handmade African Fairy Godmother sock doll, a bottle of festive cinnamon anise brew, and homemade chocolate filled spritz cookie balls."
Stick Em Up is a new company out of Newark with an intriguing backstory. Founded by artists/activists in the wake of Occupy, Stick Em Up offers affordable, professional quality graphic design and printing for activists, artists, non-profits, schools, galleries, and small business. "Our low overhead allows us to focus on serving clients and organizations that share our values." And…they have wonderfully mysterious looking flat black plastic packets, sealed and unmarked, filled to bursting with blank, cut-out stickers of trucks, freight trains (hoppers, boxcars, etc), billboards…all the iconography of urban living, ready for your graffiti. Mail some to your niece or nephew and corrupt them with art!
Malik Whitaker, a proud Newarker, not only offers private drawings lessons for your artistically inclined young person ("does your child draw on the walls?"), but also sells bricks from his Brick City Project online. The project is expansive, featuring hand painted scenes of Newark's important places and rituals such as the Cherry Blossoms, Hobbies, and various parades. He also does massage, if you want to throw in a gift certificate too!
Other favorites, of note:
On December 5th and 6th, Anker West will be having the 20th annual Ceramics in a Hard Place sale. I've written about this longstanding community event before, go see it for yourself at the Dietze Building! On December 19th, Gallery Aferro will hold the last Market on Market Street (85 Market Street) of 2015, featuring more than 40 artisans, makers, and folks with good eyes for vintage goods.
The event coincides with the 7th annual holiday potluck, the most over-the-top, multiethnic, spread of yummy homemade food you've ever seen, plus performances and crafting workshops.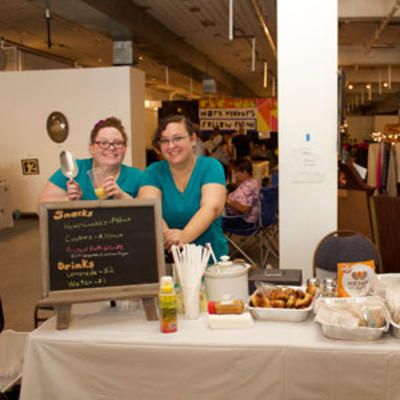 How to wrap all the goodies you've gotten for your favorite people? I suggest either heading to Newark Print Shop's Print Club of a Wednesday evening and making some hand silkscreened wrapping paper.  If you've got young people in your life, try turning one of their drawings into a limited edition artwork.
Pick out a generous quantity of colored African wax resist fabric from the various fabric and import stores around downtown. Wrap your packages, but not before throwing in a generous handful or two of roasting chestnuts from the giant open bins at Seabras supermarket. Seal it with a kiss. If your beloved(s) are far away, head to the main Newark Post office, gazing at the painted stars on the ceiling, singing "something, something, something favorite things…" 
---
Evonne M. Davis and Emma Wilcox are working artists and cofounders of a Newark alternative arts nonprofit. Begun in 2003, Gallery Aferro offers exhibitions featuring local, national and international artists, a wide range of public events, a year-round studio residency program, educational offerings, group tours, a publication line, a gift shop and public art initiatives.

Photo credit: Gallery Aferro