Florists Newark, NJ
Downtown Newark
We highly recommend a visit to Washington Florist. It's not just a great shop, smack in the center of downtown at 565 Broad Street and full of blooms, but it's good to support family-owned businesses in our town and this is one of the best. Founded in 1906 by recent immigrants from Greece, it remains in family ownership and is now managed by sisters Peggy Capko and Athena Zois, both experts in flowers, floral design, and customer service.  Stop in for a chat with either of these charming women, tell them your budget, and get some creative ideas for your sweetheart.
It's also hard to resist the selections at the downtown Whole Foods Newark. The stores nationwide are known for a great variety of fresh flowers and plants in handsome displays, with reasonable prices. You could choose something quite traditional or consider something a bit different, perhaps a red or rose cyclamen plant, which will keep nicely for weeks. Whole Foods is on Broad Street in the beautifully renovated Hahne & Co. building, and if you're driving there, you can park for free in the underground lot with a minimum purchase of $10.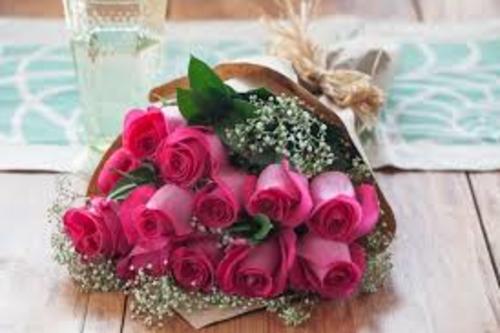 A few blocks west of Broad Street, at 156 Central Avenue, is the long-established Mueller Brothers Wholesale Florist. While only licensed vendors can buy flowers here, it's a treat to wander the aisles for some ideas, and perhaps pick up a vase, ribbon, or other decoration.
The Ironbound
In the Ironbound section, we recommend you check out two other family-owned florists that have served the community for decades.
Santos Florists has two locations, at 10 Wilson Avenue and 29 Niagara Street. The staff offers excellent advice for a high-quality arrangement of roses or perhaps some super-fragrant lilies.
At 283 Lafayette Street brothers Mike and Manny Pimantel, who own International Florist, can provide traditional or more modern bouquets in a wide range of styles and prices. 
And for those in a hurry, a bunch of roses can be purchased while you do your grocery shopping at Seabra Foods on 219 Chestnut Street
A more lasting gift
When it comes to beautifying Newark with plants and flowers, we give bouquets of kudos to an exceptional non-profit, the Greater Newark Conservancy, 32 Prince Street.  Once you've purchased your flowers, why not consider pairing them in your honey's name with a gift/donation that supports local horticultural education and community gardening?
Whether it's flowers for Valentine's Day or any other special occasion, Newark offers many sources for beautiful floral tributes.