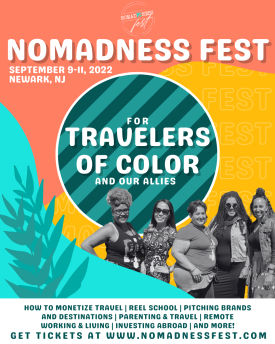 Press Release
FOR IMMEDIATE RELEASE
July 26, 2022
NOMADNESS Fest Brings Newark, NJ to the World this September
Traveling in Color: The BIPOC Experience
NEWARK, NJ, July 26, 2022 - NOMADNESS Fest, formerly AUDACITY Fest, once again disrupts the travel industry by making travelers of color at the forefront of the tourism conversation. After a three-year hiatus due to COVID, this year's festival brings together travel influencers, industry leaders, brands, and destination tourism boards from September 9–11, 2022 in downtown Newark, NJ. The 2022 theme is 'Traveling in Color: The BIPOC Experience'. It is the first travel event of its kind to focus on BIPOC (Black, Indigenous, People of Color) travelers and the many different intersectionalities amongst them. Previous in-person festivals were held in Oakland, CA, and Memphis, TN.
This three-day festival begins on Friday, September 9th at Newark Art Museum with an invite-only Industry Day event connecting influencers, writers, and travel business owners with brands and destinations representatives for one-to-one networking. On the main festival day, Saturday, September 10th head to Mulberry Commons for hands-on workshops, panels with global travel industry leaders, specialized onsite activations that speak to various travel styles, networking opportunities, and the Louisville Tourism sponsored afterparty. The festival wraps up on Sunday, September 11th at Military Park, with a private ticketed BBQ celebrating the Nomadness Travel Tribe community's 11th anniversary.
Confirmed speakers of this year's event include NOMADNESS Founder, Evita Robinson; Travel + Leisure Magazine's Editor in Chief, Jacqui Gifford; President of the Black Travel Alliance, Martinique Lewis; creator of the $1,000,000 grossing online course on solo travel 'Travel Like a Bawse' Founder, Shakeemah Smith; remote working expert, Libryia Jones; Gen Z travel expert, Gabby Beckford; Newark influencer, Lauren Lebeaux and many more.
Panels and sessions cover topics from Investing and Moving Abroad, How to Monetize Travel, Remote Working, and Living, Parenting + Travel, Content Creator's Corner, A Conversation with Nomad Jrs, Politics + Culture, and more. Attendees will also find a Tiny Home Truck on-site activation with Vaughn Dabney of Unoma Haus, as well as representatives from partners Meta, and AirBnb. Other sponsors include Louisville Tourism, Visit Detroit, Memphis Travel, Rhino, We Travel, Intrepid Travel, Sunday II Sunday, Matador, Lonely Planet, Eden Body Works, and Mosie Baby.
Vendors at NOMADNESS Fest will be a combination of spotlighted New Jersey businesses and sponsor activations.
The festival event is open to all ages until 6PM. After 6PM, for the party, attendees must be 21+.
Tickets are available at https://nomadnessfest.com/tickets/
-##-
About Nomadness Travel Tribe
Established in 2011, Nomadness Travel Tribe (nomadnesstraveltribe.com) is an award-winning travel lifestyle brand created by Evita T. Robinson and is the first online travel community to represent millennial travelers of color across the globe. Powered by a mission to show the world that travel has no racial, religious, economic, or interest limitations, Nomadness Travel Tribe has a global community of over 30,000 members responsible for helping inject over $50 million into the travel industry annually. Nomadness executed the first festival in 2018 in Oakland, California.
For Press Pass to cover the event: https://forms.gle/mx3F3KWyg596zeFD9
For Interviews: evita@nomadnesstv.com
For Partnership: sejal@nomadnesstv.com