Best Soul Food in Newark

Currently craving some catfish? Yearning for yams? Or perhaps pining for pork chops? You may be suffering from a severe lack of soul food in your diet! Lucky for you, just because Newark is a Northeastern city doesn't mean you can't sample some serious Southern delicacies while out on the town. Newark is the home to multiple eateries serving up mouth-watering dishes steeped in the style and flavors of traditional African-American cooking the South. With menu items like fried chicken and waffles, collard greens and cornbread, mac and cheese and more, get ready to experience down home eats by the forkful. Our latest Glambassador's Guide below is your soul-satisfying list of the Best Soul Food Spots in Newark.
Soul Food Chess House, 1075 Broad Street - This no-frills, family-owned establishment, which offers up huge helpings of delicious comfort food, has become so popular that there is almost always a line trailing out the front door! Specializing in take out dinners (there are only six small tables inside complete with chessboards), fan favorites include perfectly seasoned chicken wings, flaky fried fish, mac and cheese and collard greens with just the right amount of vinegar.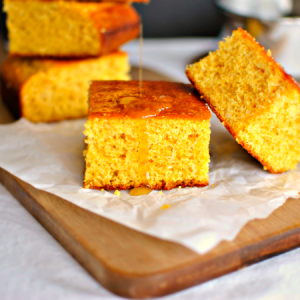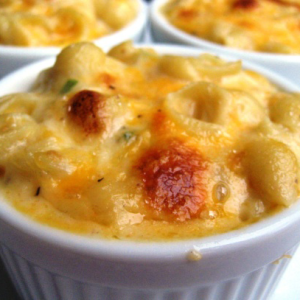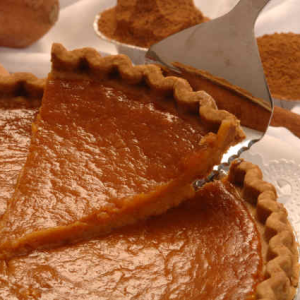 Duke's Southern Table, 11 Clinton Street – Known for its jazzy decor, upscale cuisine and signature drinks, Duke's is a Downtown Newark hot spot. Warm and buttery cornbread is the first thing that greets you at dinner, and you can't go wrong when choosing from menu items like Sauteed Jumbo Lump Crab Jumbalaya, Southern Style Smothered Turkey Wings and Southern Fried Chicken N' Potato Salad. Don't miss Thursday's Fish Market that includes thoughtful wine pairings along with soulful sides!
Diamondz N Da Ruff Café and Lounge, 71 Clay Street – Want to be one degree away from hip-hop superstar, Jay-Z? Head to this quaint soul food restaurant co-owned by his mom, Gloria Carter. An well-appointed space located within walking distance from Newark Broad Street Station, Diamondz serves up soul food favorites every Sunday. Crispy fried catfish, savory oxtails, mac and cheese and mixed collards and cabbage make high grades at this casual dining spot.
Vonda's Kitchen, 183 W. Kinney Street – You'll feel right at home in Vonda's Kitchen, a go-to favorite for fresh soul food, healthy options and amazing Uptowns (sweet tea and lemonade). Clean, bright and modern with any artsy interior, may we suggest the blackened catfish, barbeque chicken, beef ribs and candied yams? Don't forget to grab a delicious slice of red velvet or carrot cake to go. Hometown hero Shaq is a big fan (no pun intended)!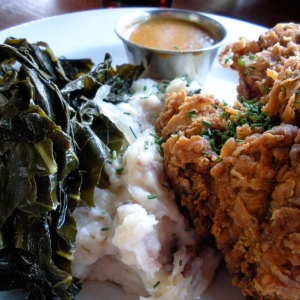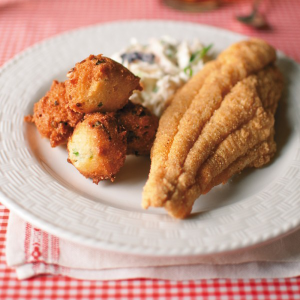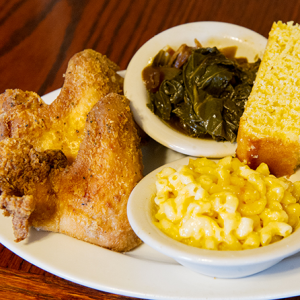 King's Family Restaurant, 327 Lyons Ave. – Looking for a hearty Southern breakfast? Head over to King's for the tastiest fried whiting, salmon cakes with creamy grits or a heaping helping of chicken and waffles. This large eatery with friendly service, reasonable prices and ample portions is sure to please. Perfect for a no-pork diet, they serve beef and turkey bacon as well as chicken, turkey and beef sausage. Brunch win!
Awesome Newark, 9 Alling Street - Just steps away from Newark Penn Station, Awesome Newark is a homestyle eatery offering healthy, delicious food for commuters on the go. But if you have the time, sit and stay awhile in their comfy dining area with a plexi-glass roof perfect for enjoying the sun. Chicken and waffles, baked chicken and collards, shrimp and grits and curry chicken salad round out the fresh and modern take on soul food at Awesome Newark.
Taste Venue, 47 Edison Place - This popular happy hour spot situated right across from Prudential Center may have an extensive bar, but it's the food that will keep you coming back! Perfectly seasoned catfish strips, yummy chicken and waffles and their famous grilled Hennessy wings that fall right off the bone are just three of the delights you will find at Taste. A lively ambiance will greet you, and there is always someone to chat up at the modern bar. Enjoy!
---
Lauren Craig, also known as InaWordFab, is the Glambassador of all things fashion, art and entertainment in Newark. When she isn't busy practicing law or watching reality television, Lauren is devoted to inspiring others to live their most fab and fulfilling life...and world peace. Visit inawordfab.com for more and be sure to follow her life in the fab lane @inawordfab on Twitter and Instagram.