Best Brazilian Restaurants in Newark
Hungry? Grab a seat and a steak knife as we spark up the fire pit and take you on a Newark-centric tour of the all-you-can-eat meat extravaganza known as rodizio! A cultural phenomenon with its roots in southern Brazil, rodizio is a style of barbeque that features a never-ending parade of as many as fifteen tasty varieties of beef, pork, lamb, turkey and chicken that are skewered, seasoned, slow-roasted and carved right at your table.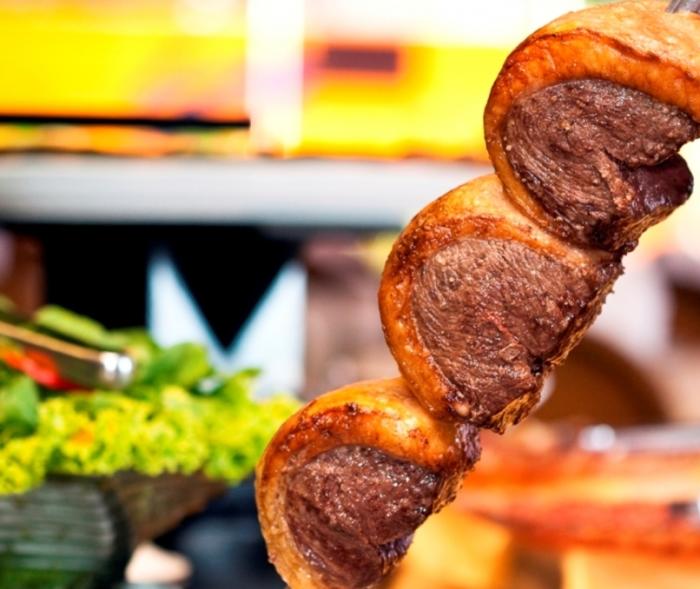 Best enjoyed with a gregarious group of diners eagerly anticipating the next flavor, the rodizio experience includes salads, sides and as much tableside protein as you can handle, all for one fixed price. Since Newark boasts one of the largest Brazilian populations in the States, be sure to put rodizio on your list of must-have cultural dining experiences when you visit. But before we get to the best restaurants serving rodizio in the city, check out our guide to Rodizio.
First Things First
Bring an appetite! Seriously. Rodizio is a varsity-level dining experience. Nibblers (and vegetarians) need not apply. Start things off with sangria or try a fresh caipirinha, Brazil's national cocktail. Made with cachaça, sugar and lime, it's like a mojito with a little more bite! Hit the buffet for yummy salads, veggies and sides including rice and beans, plantains and fries. But, remember, your focus is on the meat, people. Don't over do it!
Indulge Your Inner Carnivore
Now that you are back at your table, it's officially time to grub. Be sure to turn your card green side up, which will let the carvers know to begin tableside service. As the servers arrive offering an endless array of skewered deliciousness, you are free to sample (or decline) any of the cuts of fire-roasted meats.
You can choose to be brave and try everything (chicken hearts, anyone?) or be slightly more picky. If offered, I always go for the shrimp, rib eye, lamb chops, filet mignon, sausage, anything stuffed and anything bacon-wrapped. Pro Tip: cheaper cuts tend to be presented at the beginning.
Don't waste valuable space on your plate (and in your stomach) on plain old chicken! When you have sufficiently satiated yourself or simply need a break, flip the card to the red side to signal defeat.
I'm Soo Full…Is That Pudding?
If you remembered to save room (and I highly doubt you did), end your meal on a sweet note. Flan, serradura (crushed cookies and cream), a bold espresso or a sweet Spanish coffee are always great finishes to an indulgent meal.
And now, in no particular order and without further ado, the list of restaurants serving the BEST RODIZIO in Newark:

Fernandes Steak House
158 Fleming Ave  
fernandessteakhouse.com
Housed in a sprawling, two story building off of Ferry Street, Fernandes has amazing Old World ambiance and the convenience of valet parking. Come for the amazing rodizio, stay for the grilled pineapple with cinnamon sugar finish.
Brasilia Grill
99 Monroe St
Brasiliagrill.net
Consistently mentioned on local foodies' rodizio short list, Brasilia boasts an amazing rodizio for a great price, an above par salad bar and a delicious Brazilian Long Island Ice Tea. Sit next to the grill be served the first (and best) cuts of fresh meat.
Casa Nova Grill
264 Ferry St 
yelp.com/biz/casa-nova-grill-newark
Proudly serving a stellar rodizio buffet since opening in 1992, Casa Nova has a lovely ambiance, strong drinks, and great food. The portions are huge and the vibe is lively, especially late at night when this restaurant turns into a dance club/lounge. 
Iberia Peninsula 
63-69 Ferry St
Iberiarestaurants.com
Cathedral ceilings, exposed brick and huge barbeque pits make dining in this restaurant a spectacular experience. Iberia Peninsula specializes in rodizio and as well, offers a top-notch sangria and a variety of Portuguese wines.
Churrascaria Boi Na Brasa
70 Adams St, Ste 4
Boinabrasa.com
A family-friendly atmosphere, lower than average prices and great rodizio? No wonder Boi Na Brasa is a local favorite. Save even more money by taking advantage of the BYOB policy of this hidden gem.