Portuguese Passion!
I sat down with Newark native Lilly Ribeiro to talk about her new venture, Living Incubator Performance Space (LIPS), and learn more about the influence her Portuguese-American background here in the city has had on her work. Lilly says: "I was made in Newark! Born in St James Hospital, educated in the Newark public school system and graduated with a double major from Rutgers-Newark University."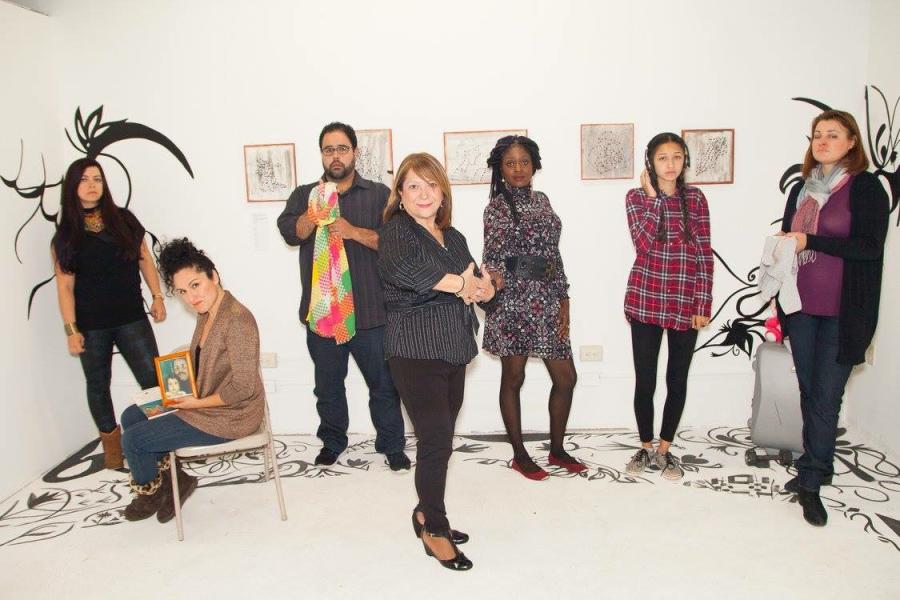 What is LIPS? Where did it come from?
For over 15 years, I have worked as an arts activist committed to reshaping how art is created, presented, and received. I have organized original and nationally recognized community-based art shows, theatrical productions, and film events around the country and in Newark. As a trained applied theatre practitioner, I'm committed to fostering meaningful collective experiences. My passion is sharing knowledge as a theatre-teaching artist with urban youth, and survivors of DV, and working with elders with dementia and Alzheimer's. As an undergraduate student at Rutgers-Newark University, I organized grassroots theatre-based projects. Using theatre to bring people together to make a change in their communities. This use of theatre, and the arts, as a tool to bring people together, to make meaningful theatre. In 2002, I was invited by Doris Cacoilo and Amie Figueirdo to join _gaia, a collective of women artists. I founded the performance aspect of _gaia and became involved with the V-Day Worldwide Campaign, where staging theatre productions like Eve Ensler's award-winning play, The Vagina Monologues, was a transformative experience. I committed myself to bring this piece and work like it to the people. From 2004 to 2010, I directed and organized V-Day Worldwide events in Spanish and English in cities throughout New Jersey and New York. This was theater as a participatory event. This was live and direct. This theatre movement wasn't site-specific. It took place in the hearts and minds of the people. Through the V-Day work, I eventually began working at a shelter for DV survivors part-time on the weekends at Women Aware. Today, I do freelance work for Montclair Art Museum, Newark schools, work for the YWCA Union County, the lead domestic violence agency of Union County, NJ as a drama therapist and community educator while running the Living Incubator Performance Space in Newark, known as LIPS housed on the main level of the Gateway Project Spaces. LIPS is an arts collective committed to engaging in civic dialogue with members of the community to foster creative collaborations and generate open accessibility to the arts.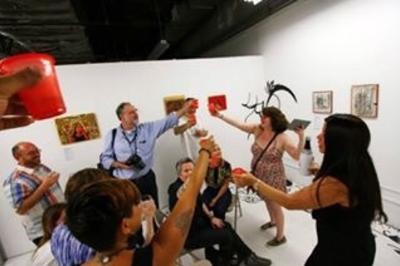 LIPS features monthly exhibitions and community programming, as well as popup spoken word events, readings, film screenings, theatre, and music performances. Varied works conceived/produced at LIPS are exhibited at the gallery space as well as in community centers. Outreach components include residents of Newark, students, community partners, workplaces, and daily visitors who pass through Gateway Center year-round. Artistic programs are based out of Newark, New Jersey, and extend to other urban and rural areas. We have an open submission policy for community members and artists of Newark.
LIPS gallery functions as a multi-disciplinary hub always looking for collaborators. We organize around women's issues and concentrate on activism with a focus on a range of issues from those centered in the local community to global issues affecting the lives of women. We work with guest curators to conceive performances, film projects, art, and music shows, and installations uniquely suited for our space. We are looking to screen film shorts/ documentaries, and exhibit visual and/or performance work at their space and with community partners. We're looking for original ideas for works of theatre, music, dance, and visual and performance art. For more information visit www.lipsnewark.com
Let's go way back, where do your connections to Newark start?
In the early 20th century waves of immigrants from Portugal settled in the Ironbound district of Newark, NJ. Another wave of Portuguese immigrants followed in the '60s to '80s. Like many other immigrants, my parents chose to come to Ironbound Newark because of the hardships they faced in their country of birth. There was a growing Portuguese community here, in an already existing immigrant community. My mom and dad were able to continue their traditions and speak their native language. They felt safe. As immigrants, my parents did not have to become "Americanized" and blend in - it was accepted to be an immigrant since it was a community of immigrants or "first-generation Americans". My father was a car mechanic in Portugal and dreamed of opening up his own business in the United States and that's what he did. His autobody shop was located on Raymond Boulevard. A couple of years after opening his business, my father passed away unexpectedly at the young age of 32. My mother at that time was 8 months pregnant with me and my brother was only two years old. My mother became a young widow and was suddenly a single immigrant woman sustaining a family, my father's business, and our home. My mother could have gone back to Portugal but she made the decision to stay. Growing up, I spoke Portuguese at home, and English with my friends and in school. Some of the community activities I was involved with were the girl's softball league at Independence Park and Chestnut baseball field, the girl's soccer team at the Boys and Girls Club in Newark, and the Girl Scouts, and Youth Group based out of Our Lady of Fatima Church.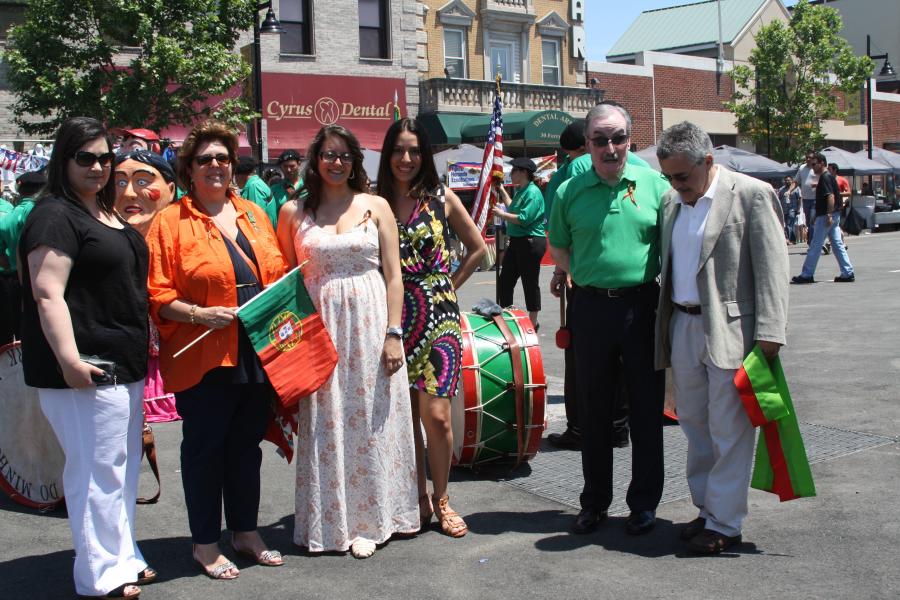 How do you think your connection to the city shaped you?
As a first-generation Portuguese-American living in the Ironbound section of Newark, I sometimes found it a challenge to break from Portuguese traditions and identity.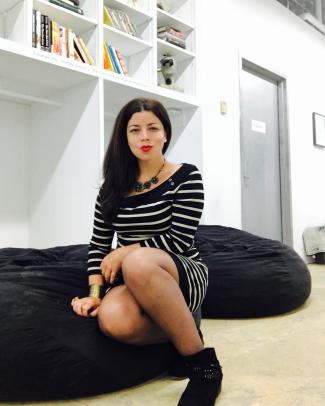 There were no community organizations, at the time, that offered theatre or arts programs outside of school. As a child, I wanted very badly to be involved in the arts, specifically performance. At school, I played the violin, and the drums, and was involved with the cheer and twirling team. I took art classes, silk screening, and shopping as part of my school curriculum. With my friends, we organized our own performances. I found ways to perform, to be resourcefully creative. I defied the odds of my background by having arts as an outlet. Early on in life, I realized the power of performance: theatre and dance "saved me". It helped me stay off the streets and work towards my dreams of going to college to study theatre. Theatre was a luxury that always felt out of our reach, which drove my ambition to become a theatre practitioner to give the "gift" of performance to communities that had limited access. By making the arts accessible to the community, a better life is possible for the residents. It encourages thinking "outside the box" to solve problems, improves social skills, boosts academic performance, and increases the chances for success and a better future. It gives people hope.
What's different about Newark arts?
Many Newark artists I know believe that art is not just created for personal or aesthetic purposes, but to incite change, offer healing, and ultimately, celebrate humanity and culture in their communities. Newark arts are just as diverse as the residents who live here in the five different wards. As New Jersey's largest and second-most racially diverse city, there have always been community members who don't always self–identify as artists organizing in the neighborhoods to bring joy to the people who live through the arts and performance, outside of the gallery and performance center world.
What do you think people should know about the neighborhood you grew up in that you think they might not?
The Portuguese had big adjustments to make in arriving to an urban area like Newark. Many were from rural areas of Portugal with little education or marketable skills coming to a new country. Many Portuguese went into business for themselves and opened up their own businesses like my father and uncle who opened up an auto body shop and service station. Many others entrepreneurs opened up cafés and restaurants, grocery stores, jewelry stores, and construction businesses here in Newark.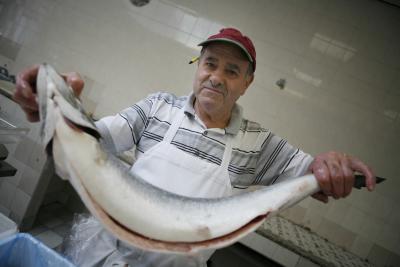 Some of them literally started with nothing. I remember as a kid I would see men standing at five corners, where Wilson and Ferry Street meet, with coolers in their hands, waiting for anyone to pick them up for any type of day labor which was most often construction work. Sometimes they would wait all day for work. Most women worked in factories or as domestic workers, like my mom. They worked very hard and saved their money. Sometimes my mother had up to three jobs to support the household.
This was not unusual for many families because many Portuguese people made very little and worked very hard. Families often lived in small spaces. They lived in places where the rent was affordable. They also moved in with other family members. These families lived together until they could afford to live on their own. Many saved their money in hopes of buying their own home in Newark, or back in their homeland of Portugal.
The Portuguese neighborhood is the "East Ward" section of Newark known as the Ironbound (Ironbound is also called "Down Neck" by locals). Nicknames such as "Little Portugal" describe this area. This area is very well known for its churches, Portuguese food, the Portuguese feast, soccer, music like the "Fado" and dance like "Rancho" a traditional type of Portuguese music and folklore dancing. NJPAC sometimes features well-known Portuguese Fado singers. This neighborhood has tons of jewelry shops, social clubs, bakeries, and restaurants all over the neighborhood reflecting the culture and identity of the people who live here. Other residents in this area are people who are descedents from Germany, Ireland, Italy, Spain, Cuba, and Puerto Rico. As the Portuguese have been slowly moving out, South Americans from Brazil, Ecuador, Peru, Salvador, and Africans from Cape Verde have been moving in.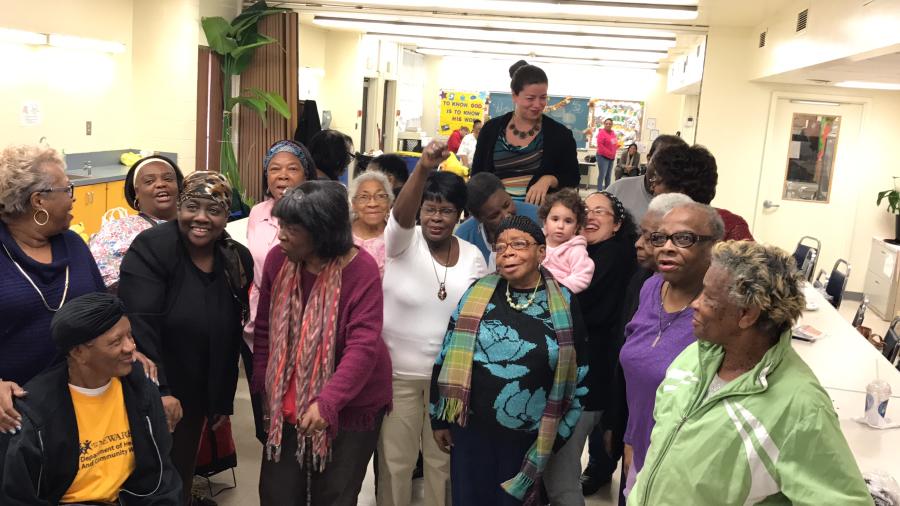 Best Newark memory?
Working at Burger King as a teenager on Market Street across the street from the Master Car Wash. All my friends would hang out in the parking lot…The good ole days. My managers became my best friends. That's also where I met my first love and then that same guy broke my heart. My best memory of Burger King is when the company came out with the Western Whopper and when I worked the drive-thru I would ask customers if they wanted to purchase the western whopper meal and apple pie in a southern accent. I loved hooking my friends up with extra fries….
What's next for you and LIPS?
I want to focus on building relationships with groups of people who don't normally work together. Currently, in Elizabeth, I am working with police officers and youth in the school to create a theatre. At LIPS, our current show_gaia's, Wonder Women X, Selfie: Us and Them, is up through January 14, 2017, with artists Milcah Bassel, Hao Feng, Mediha Sandhu, Lulu Cipher, Jennifer Marie Torres, Meredith Goncalves, Stephanie Quispilaya, curated by Doris Cacoilo and Christine Vidal DaCruz. We're also working with seniors to do "yarn bombing" this winter in Newark at Branch Brook Park.
---
Evonne M. Davis and Emma Wilcox are working artists and cofounders of Gallery Aferro, a Newark alternative arts nonprofit. Begun in 2003, Gallery Aferro offers exhibitions featuring local, national, and international artists, a wide range of public events, a year-round studio residency program, educational offerings, group tours, a publication line, a gift shop, and public art initiatives. Visit them at: aferro.org Header Photo credit: Evonne M. Davis