Late Night Restaurants in Newark
When you're visiting a bustling city like Newark, full of haute happenings, fashionable functions and stylish social occasions, time tends to fly! One moment you're enjoying a lazy brunch downtown on your way to the art exhibit du jour, then suddenly you're making a quick stop to shop trending styles on Halsey Street before taking in your favorite artist in concert at the Prudential Center, and before you know it you're savoring your post-show glow at a cute Ironbound lounge with cocktail in hand! Suddenly it occurs to you: it's after midnight and you're starving. Think you're destined for an unsatisfying fast food experience? Don't fret, my pet, your gutsy Glambassador knows just where to find awesome late-night fare in Newark. But first, take a gander at the official Glambassador's Guide to Late Nite Bites!
Counting calories after midnight is just wrong. Don't be that person.
The right late-night meal can be the difference between a raging hangover and a happy morning. Therefore, anything fried, between two pieces of bread or cheese-covered is highly recommended.
Breakfast actually tastes better late at night, so when in doubt, order the official breakfast sandwich of the Garden State, a Taylor Ham, Egg and Cheese.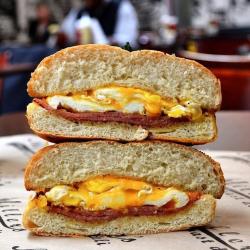 Utensils are overrated and will only slow you down. This is not the time to order something you've never tried or with ingredients you can't pronounce. It's all about uncomplicated comfort food.
French fries. Enough said.
Now that we've established some parameters, here are some of the best spots in the city to grab a meal after midnight: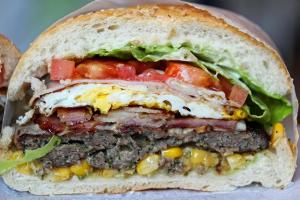 Altas Horas, 266 Ferry Street – Open 24 hours, this tiny Brazilian eatery in the heart of the Ironbound has an extensive and affordable menu. If you're feeling brave, order up the infamous, "Da Hora", a massive sandwich containing a burger patty, a chicken breast and a slice of sirloin steak topped with bacon, ham, a fried egg, potato sticks, mozzarella cheese, lettuce, tomato, mayo and corn!
Another popular menu item is the X-Banana, a loaded burger topped with sweet fried banana. Wash it all down with a fresh juice or smoothie for a late night delight!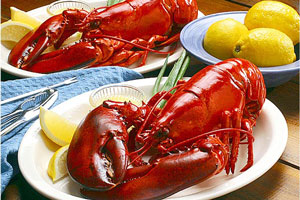 Sagres Bar and Grill, 44 Prospect Street – If you're having a late night seafood craving, Sagres, with its old world feel and big wooden bar, is a surefire choice.
The kitchen stays open every night until 1:30 am, offering generous portions of garlic shrimp, king crab legs, stuffed salmon and broiled lobster. Your trip would be incomplete without a Sagres Sangria, which made our list of the "Best Cocktails in Newark."
JJ's Hot Dog Truck, 257 Bloomfield Ave – This is not your typical hot dog truck. Open until 4 am nightly, this food truck is a Newark institution known far and wide for its perfect water dogs.
The "three hotdogs and a soda" special is perfect for late night grubbing, and there are a number of awesome toppings available like hot chili, bacon, kraut, mushrooms, potatoes, cheese, baked beans and spicy onions. Locals will tell you to order a delicious Chocolate Cow to drink!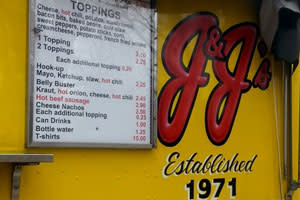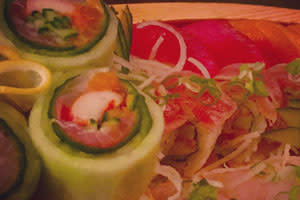 Manu's Tapas Bar and Sushi Lounge, 90 Ferry Street – What's better after a long night than filling up on savory sushi rolls? Lucky for us, at Manu's on Friday and Saturday nights, the kitchen is open until 12:30 am.
For starters, order the Bruschetta or the deep fried Monkey Balls (scallions, crab meat, spicy tuna and massago breaded with sauce). The Ironbound roll and the Incredible roll are guest favorites, as are the delicious cocktails.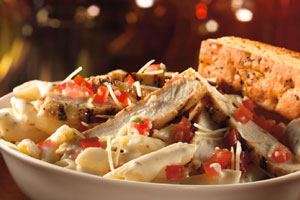 Applebees, 383 Springfield Ave – After taking in a movie at the newly renovated CityPlex 12, an all-digital theatre co-owned by Shaquille O'Neal, stop into our local Applebees, which stays open until 1 am on Friday and Saturday nights and sits right across the street.
You can't go wrong ordering a Pub burger, boneless wings and of course, fresh hot french fries!
Suave Sabor, 306 Ferry Street – If fried pastries stuffed with different meats and cheeses sounds like the perfect late night bite, then take a ride to Suave Sabor.  
Freshly-made Brazilian "salgadinhos" are their specialty, and as well they offer a delicious Brazilian Hot Dog and a better X-Tudo, a burger with mozzarella, potato sticks, bacon, egg, corn and mayo. This Ironbound eatery is open 24 hours with plenty of seating and street parking.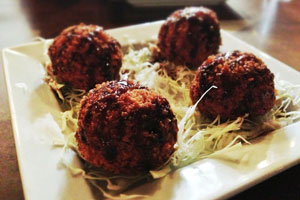 Lauren Craig, also known as InaWordFab, is the Glambassador of all things fashion, art and entertainment in Newark. When she isn't busy practicing law or watching reality television, Lauren is devoted to inspiring others to live their most fab and fulfilling life...and world peace. Visit inawordfab.com for more and be sure to follow her life in the fab lane @inawordfab on Twitter and Instagram