LGBTQ Friendly Newark
Not only is Newark "quite friendly" as reported by Conde Nast Traveler, but quite LGBTQ+-friendly to boot! On the very day the nation celebrated the Supreme Court's decision granting marriage equality across the county, Newark made LGBTQ history of its own by introducing the city's first 'LGBTQ Friendly Business' decals. Now, the wealth of establishments in Brick City that welcome and support members of the LGBTQ+ community are easy to spot: each is sporting rainbow flag window decals emblazoned with the phrase, "Newark Believes in Pride."
Whether you're in Newark for an extended stay or an afternoon jaunt, there are LGBTQ+ friendly hot spots to satisfy every interest.
Dine – Make a connection over a fabulous meal at one of these LGBTQ- friendly venues:
Sushi lovers flock to Sushi House 21 or Manu's Kitchen & Sushi Lounge for fresh rolls and a full bar. Burger Bound is home to fresh burgers, hot truffle fries, cocktails, and outdoor patio seating. Finally, the local favorite, Vonda's Kitchen, is a neighborhood café serving fresh soul food, healthy options and amazing Uptowns (sweet tea and lemonade). Need we say more?
Party - The night is young and so are we!
Get your party on at local hot spots like Little Tijuana (hip hop and Latin music, hookah, and tasty drinks) and Q's Lounge/QXT's (industrial space, check the calendar for burlesque nights).
Shop - Newark is a highly fashionable destination.
Peruse unique one-of-a-kind items and gifts at The Black Home, fashionable couture at and expertly sourced vintage at Closet Savvy Consignment.
Sleep – Rest easy at the trendiest hotels in the city.
May we suggest the Hotel Indigo Newark Downtown, a boutique hotel boasting beautiful exposed brick and unique loft-style rooms. Go for a bite to eat at their signature restaurant, the Ainsworth Newark Restaurant Bar and Rooftop. Stay for drinks with a sky high view of the city at its rooftop lounge.
The conveniently-located Courtyard Marriott Newark Downtown features a multifunctional and modern lobby with ideal amenities for a relaxing stay. Spacious guest rooms and Starbucks coffee in the morning await you!
Worship – Looking for a church home away from home? 
NewArk Unity Fellowship Church, housed in the historic Newark Symphony Hall, provides a cutting-edge ministry and lively worship services spreading the message of God's unconditional love. An architectural must see, Grace Episcopal Church welcomes a diverse and progressive congregation by being committed to the Catholic faith and traditions but open to new insights like the ordination of women and the affirmation of gay relationships.
 
Entertainment – No matter your budget, a date night in Newark is always a good idea.
For a memorable occasion, catch a world-class show at NJPAC after enjoying a fabulous pre-show dinner at Nico's. For a low-key evening, head to The Yard for their delicious burgers, unique dishes, and an awesome jazz brunch.
Experience artistic delights at cultural landmarks like the Newark Museum of Art, and homegrown festivals such as Lincoln Park Music Festival and Gallery Aferro.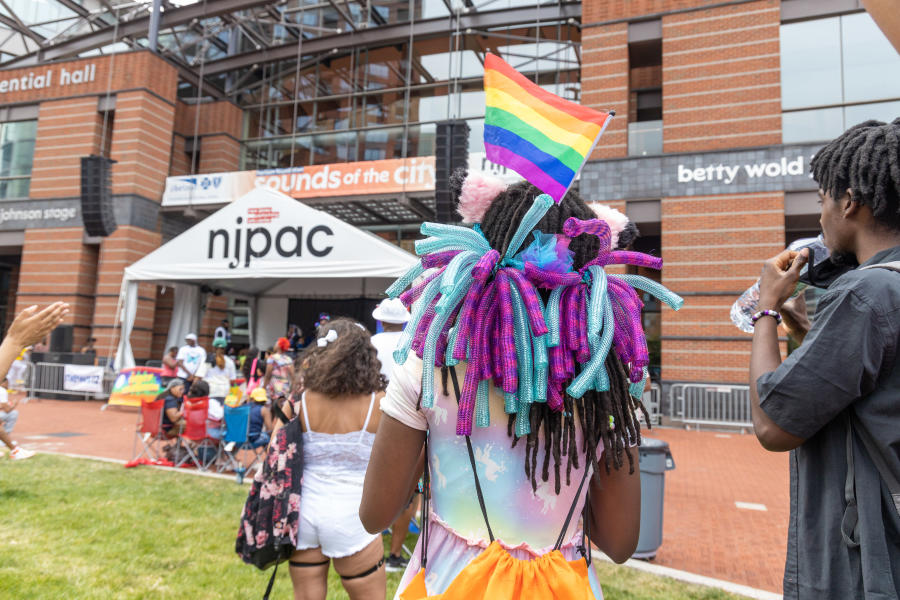 Photo Credit: Fresco Arts, Newark Happening
Some Friendly Businesses...
More Businesses and Brands to be Announced...
---
---
Marriage – Love is in the air, ready to make it official?
The Clerk of Essex County performs marriage ceremonies at the Hall of Records. Dates should be reserved ahead of time and prospective couples must apply for a New Jersey Marriage License at least three days in advance. Your forever begins in Newark!
As of October 21, 2013 the State of New Jersey allows same sex couples to marry.
One of the applicants must be a resident of New Jersey. If applicants are non-residents of New Jersey, the application must be made in the municipality where the ceremony will take place.
A witness of 18 years or older must be present.
Marriage Licenses: $28.00 (cash only) license fee is due at the time of application (non-refundable)
One of the Following for Proof of Identity:
Passport
NJ DMV Drivers License
Military Photo ID
Essex County ID
There is a 72 hour (3 days) waiting period between the filing of the application and the issuance of the license. This 72-hour waiting period begins at the time the application is filed with the local registrar.

Telephone: (973) 733-3825/3826
Hours: 8:30am to 4:00pm
Monday thru Friday, Except Holidays
---
---
NEWARK'S OUTREACH PROGRAMS:
Newark LGBTQ Community Center
11 Halsey Street
Newark, NJ 07102
973-424-9555
The Social Justice Center (LITSJC) serves as a safe space for people seeking services and resources that support the well being of the lesbian, gay, bisexual, transgender, and questioning (LGBTQ) community.
Queer Newark
The Queer Newark Oral History Project (QNOHP) is a community-based and community-directed initiative dedicated to preserving the history of Queer Newark. 
NJ LGBT Chamber
The NJ LGBT Chamber is the bridge to connect with New Jersey's LGBT, friendly, and allied business community.
973-869-9567
Newark Pride
Newark Pride produces great events throughout the area in partnership with the region's leading LGBT organizations.
African American Office of Gay Concerns
877 Broad Street Suite 211
Newark, NJ 07103
973-639-0700

The AAOGC provides prevention services, education, and support to prevent the spread of HIV/AIDS.
Newark Community Health Centers Inc.
741 Broadway
Newark, NJ 07104
800.994.NCHC (6242)
NCHC is one of the largest providers of comprehensive primary care services for the uninsured and medically underserved populations in the country's most densely populated cities.
NJCRI - Project WOW  
393 Central Avenue
Newark, NJ 07103
(973) 483-3444
Toll-Free: (866) 448-5812
The Project WOW! Youth Center provides HIV/STI prevention and substance abuse services to LBGTQ youth between the ages 13 and 24. 
Newark Rutgers LGBT Students and Allies
225 Conklin Ave
Newark, NJ
973-353-1766

Lesbian, gay, bisexual, transsexual, transgender, intersex, or queer or questioning resource center, a welcoming place where you can go for advice and support.
NJIT Spectrum (Blog)
University Heights
Newark, NJ 07103
973-596-3469
Promoting tolerance for all people at NJIT.