Newark Sculptures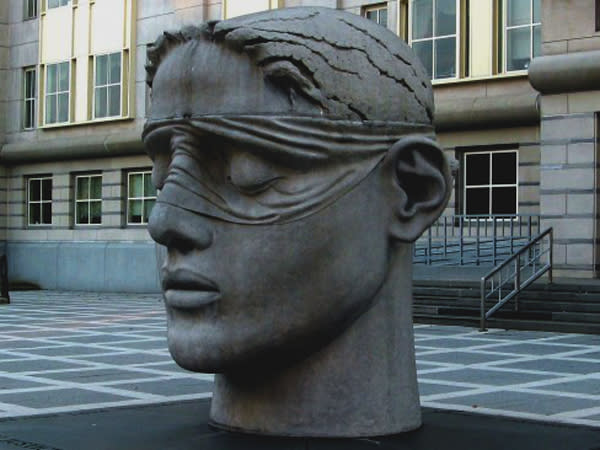 Carried Away in the Deco: Newark Noir Edition, Part I
For inspiration sometimes I ride my bike at night in circles around and around the massive, beautiful sculpture of Justice that stands in front of the Martin Luther King Jr. Federal Courthouse. She's wonderfully androgynous, with a pensive mouth and ears that protrude a bit from behind her hair.
She seems so wise. In the spring the cherry petals swirl around her, in the fall the wet leaves blow in rain around her. Created by artist Diana Moore, this public art commission from 1991 seems far older. In Foucault's 1967 essay on Heterotopias, he writes about the spaces we enter with ritual. And so sometimes I ride around Lady Justice at night in circles, on an old English bike that the good people at the Boys and Girls Clubs of Newark Bike Exchange fixed up.
Sometimes I'm alone. Sometimes I'm with friends, and we ride in opposite directions around the statue, almost touching, our headlights making patterns of shadows. The poem inscribed in the stone around her is by Mark Strand and it reads in part: THE ERRING HUMAN HEART IN TURN/MUST DO ITS PRIVATE PART AND LEARN.
Last night I rode with some friends on the Newark City Subway. In much the same way that an airplane is also a magic winged box, let's consider for a moment that we went below the earth via a set of stairs. I was thinking of Orpheus, but we actually were picking up a friend of a friend, a young writer named Hotep.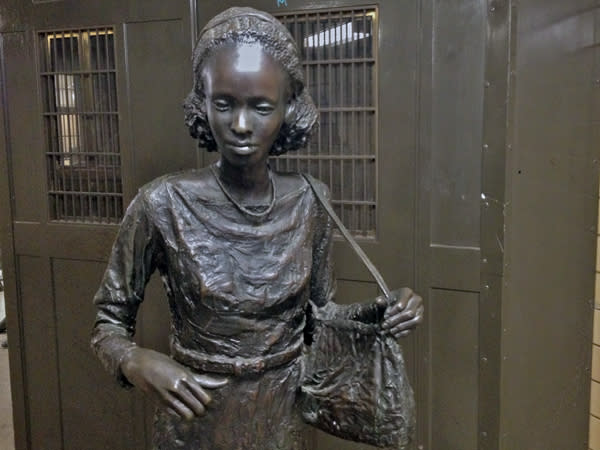 Then my new friends went off to a house music show, and I went home to indulge a new obsession, the location of Newark City Subway PCC Car #1. Decommissioned in 2001, one of the fleets of gorgeous 1930's cars the city of Newark bought in 1954 from the city of Minneapolis.
(Do you need a dramamine yet?) These curvy, almost chubby, yet supremely elegant deco trams were lovingly kept in service decade after decade as the world changed around them, to the delight of train fans everywhere. And while I miss them, I am proud that my city played them live swing music on their last day of use, and that most of the cars have been placed in transit museums throughout the country. But as best I can tell from the train fan sites, Car #1 was retained for some imagined future use as a piece of Newark's history, for Newarkers. Is it really true? Can we make this happen people?
Side note: Beneath the silly Hollywood froth of Who Framed Roger Rabbit, there lies a real history, the streetcar conspiracy, an economically motivated, well-coordinated effort to dismantle thriving tram systems in American cities. Forget it, Jessica, it's Chinatown. If you want some more real-life noir, check out the true tale of Newark Pennsylvania Station architect Stanford White of McKim, Mead, and White, whose insane mustache* was only slightly smaller than the amazing list of buildings he and the firm created.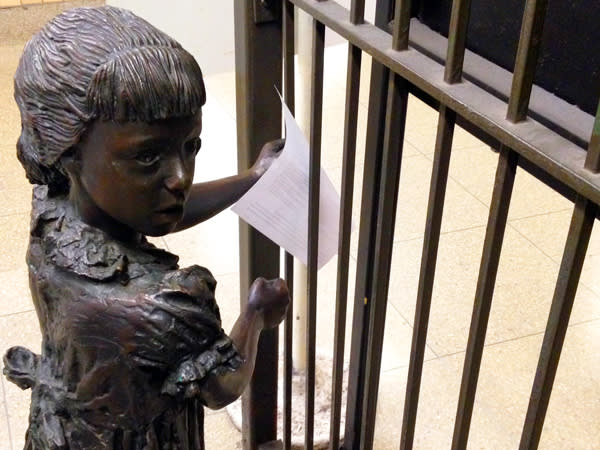 We rode around for much of the night looking for public art commissions, namely the striking WPA murals in many of the stations by the immensely accomplished Newark School of Fine and Industrial Arts graduate Domenico Mortellito, and oddly poignant life-size bronze people by Grigory Gurevich. Notably, one of the bronze folks is lugging a massive portfolio. Artists! Our people! Our people are everywhere!
Our station is the sibling of the original New York City Pennsylvania Station, demolished in 1963 under protest. A noir trope is doubles, doubling, and lost pairs.
There isn't a breath to list all the things in Newark that reveal a Deco sensibility. Though if you want I will try soon. But one of the most evocative places I know is the Newark main post office, a potentially endangered building with the grand scale of a cathedral. Oh, how I love going to get the mail! 
Put on Double Indemnity shades and take out a post office box. Have an affair with someone you're already seeing by surreptitiously exchanging notes and parcels. I promise it won't feel remotely ordinary to slip that little key into one of the endless rows of little boxes that line more than 100 feet, with slightly battered gilt stars that are painted around the keyholes.
That the entire setup strongly resembles an automat only adds to the overwhelmingly mysterious and complex sensations the visitor experiences. It's kind of dark, with a deep, deep blue vaulted ceiling and little lamps on the elegant writing desks with their long gryphon legs....See I've gotten carried away again. In my own city.
*Seriously. Google it. Or grow your own!
---
Evonne M. Davis and Emma Wilcox are working artists and cofounders of a Newark alternative arts nonprofit. Begun in 2003, Gallery Aferro offers exhibitions featuring local, national and international artists, a wide range of public events, a year-round studio residency program, educational offerings, group tours, a publication line, a gift shop, and public art initiatives.