Newark's Indie Arts Scene
This postindustrial oasis spurs creative minds and souls, producing style bibles, and works of art that matter. There's a movement afoot in Newark and we reached out to area art magnets and mavens to talk about their latest obsessions.
Starting with Gallery Aferro – The studios at 73 Market Street are not really just four walls: they are frequently laboratories and time machines, where artists are at work 24/7, round the clock. Gallery Aferro is full of surprises, it's a 20,000 square foot cultural hub where art is made, taught, and experienced: from motion-tracked tropical fish, or a 50 foot long painting, or an intense impromptu performance. Their current program, Activate: Market Street, transforms hundreds of linear feet of vacant storefront space on our block with kinetic, film, new media and sculptural installations on view day and night.
Rebecca Jampol, an independent curator for Solo(s) Project House is super excited about the hot talent around town. "Newark's creating a landscape for entrepreneurs and artists to roam freely and create". She's busy curating quarterly year-round exhibitions that feature artists from all over the world.
In her downtime, she can be found at her favorite hang…"Hell's Kitchen Lounge, Newark's best watering hole"! Solo(s) Project House is a space focused on evolving projects around a completed one, where gallery and studio are elbow to elbow, where the rigors of creation are coupled with the satisfaction of completion.
The gallery is a sound stage upon which the house residents can imagine their months of creativity displayed from beginning to end.
Print this! Newark Print Shop is a place for inspiration, a place for discourse, and of course a place to press prints. It draws from the local community bringing together teachers, artists, poets, and activists...the result, great works of art.
\We spoke with Executive Director, Lisa Conrad who conceived of the idea for a weekly print club while in a Newark landmark. "It was inspired by a flier that I stumbled upon at the Newark Public Library, which is home to an extensive print and artist book collection.
The flier was an advertisement for a print club from about thirty years ago, and I knew immediately that this idea needed to be revived. Print Club happens each and every Wednesday, join in the fun or stop by to see the huge mural of Newark's famed poet Amiri Baraka. Feel like a collector and pick up pretty prints from their gallery store.
From the unveiling of new murals in the cafeteria of the Newark Boys Chorus sponsored by the Geraldine R. Dodge Foundation to neighborhood partnerships with Wyclef Jean, and adorning parking meters throughout Downtown Newark with commissioned artwork, Yendor from its founding as given on to Newark arts and authentically reflected its community.
In appreciation of its Founder, Rodney Gilbert, Newark re-named a street after him (Rodney Gilbert Way) and commissioned the "Ancestral Steps" street mural—designed by Yendor principal, Malcolm Rolling— and brought to life by fellow Yendorians Jasmeen DeJesus, Jay Golding, and Elijah Minton.
"Akwaaba," which means welcome. For those who are involved in the West Ward's revitalization, it's definitely a welcome addition to the community. Laura Bonas-Palmer says, "For my husband and I, we do not want to leave Newark... We love Newark. We love being part of revitalizing the city. We wanted to do this because we thought that art would have a significant impact on this community.", (REBECCA PANICO, TapInto) 
The 1,400-square-foot space is open for local residents and organizations to hold events inside and is slated to continue to host gallery exhibitions for Newark youth.
Indexing artists? No need…Index Art Center is in the know. IAC not only shares their digs with contemporary artists, bands, DJs, and creatives but also Art & Artifacts of Newark. AAoN focuses on Newark Artists, art about Newark, artifacts from Newark, and artwork made from Newark artifacts. Stop by and see their spaces and lookout for the latest exhibition.
Sumei Multidisciplinary Arts Center silently stuns with works by musicians, architects, poets, graphic designers, visual and fine artists. They're one of Newark's best-kept secrets with two locations in the Ironbound. Sumei focuses on international artists while the Prospect Street Firestation Gallery is dedicated to featuring local talent. The gallery has exhibited artists such as Willie Cole, Vic Muniz, and Gary Di Benedetto.
What do Warren Buffett, Shaquille O'Neal and the Prime Minister of England have in common? They've each received awards made right in downtown Newark's GlassRoots studios. Tucked away at 10 Bleeker Street, this nonprofit studio is the artistic home for first-time bead makers as well as professional glassblowers.
No matter your age or experience, you are invited to play with fire and discover the thrill of manipulating molten matter to create beautiful works of art. Prefer to sit on the sidelines? Stop in and watch the artists in action or shop the gallery filled with unique glassworks.
Pop up art happens in Newark. The indie scene has taken over the gateway transforming it from habitrails to happenings. The Gateway Center is a multi-functional building that connects to Newark's Pennsylvania Station. Find exhibitions in the fully functioning gallery space, The Gateway Project Gallery, in Gateway II, and pop up exhibitions throughout the entirety of the Gateway Concourse, which goes from the Station to Mulberry Street.
The Gateway Projects is a collaborative endeavor by Solo(s) Project House (Newark, New Jersey) and Project For Empty Space (New York City), bringing joy to commuters one step at a time.
Independent arts does not stop with the warm weather; festival season begets more enthusiastic creatives and art fun throughout the seasons. Newark First Fridays kicks off the annual arts & cultural festival in the spring (May - September), Newark Pride holds down the middle of summer with dynamic activations from/for the LGBTQ community, while Newark Latino and International Film Festival anchors the beginning of fall.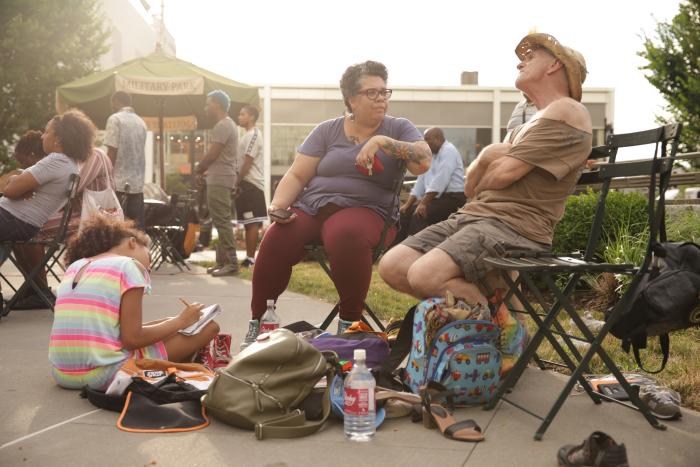 With that, get out there and delve into the colorful world of Newark!
Mess around in our urban playground, mix it up, and find something wonderful and new.
---
Images: "New Beginnings" by artists LNY, NDA, and MATA RUDA, Melissa Vandenberg, Bob Elam