February is Black History Month! In 1976, President Gerald Ford urged all Americans to recognize Black History Month as an "opportunity to honor the too-often neglected accomplishments of Black Americans in every area of endeavor throughout our history." Celebrate and honor the rich history of African-Americans all month long with these 10 ideas and events that recognize the heritage, accomplishments, and culture of Black Americans in the United States.
1. Join the Newark Public Library, All Month Long -
This year, the Newark Public Library's Black History Celebration explores Black culinary traditions. The Library provided this description of the 4-part series:
The series will celebrate Soul Food, examine the restaurant and hospitality industries, alcohol and spirits, and food insecurity. The series also talk with celebrity chefs and cookbook authors and investigate ongoing battles for justice for Black Farmers. Here's a look at the varied programming:
Join the NPL on Wednesday, February 2 at 6 p.m. as they welcome chef and 2018 James Beard Book Award winner Michael Twitty who will open the celebration. Twitty, the first Black person to win the award, is an African-American Jewish culinary historian. He's also a living history interpreter, chef, and one of the few recognized international experts of his craft. His forthcoming book Kosher Soul is slated for an August 2022 release.
Other Programs, All at 6 P.M. EST: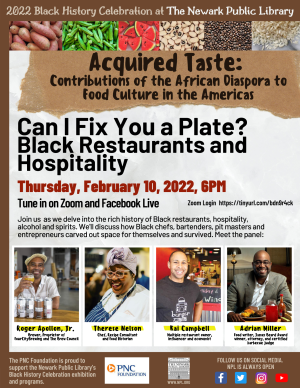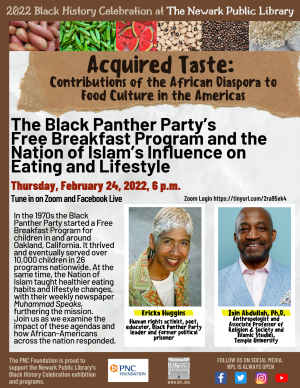 Thursday, Feb. 10: Can I Fix You a Plate? Black Restaurants and Hospitality showcases an impressive panel whose members will explore and celebrate our rich history in restaurants, catering, BBQ, and spirits. Ongoing struggles and achievements in the industry and the future of Black restaurants will also be discussed.  
Wednesday, Feb. 16: From the Ground Up: The Struggle and Resilience of Black Farmers will look at the history of sharecropping; traditional farming; the class action lawsuit Pigford v. Glickman which outlines the ongoing fight for justice for Black Farmers; and the growth of the community and urban farming.
Thursday, Feb. 24: The Black Panther Party's Free Breakfast Program and The Nation of Islam's Influence on Eating and Lifestyle feature former political prisoner and Black Panther Party leader Ericka Huggins and Temple University professor Dr. Zain Abdullah as they review the two national organizations' programs, platforms, and mission to bring African-Americans healthier lives through eating in the 1970s.  
The NPL will provide two platforms for our patrons to view our programs -- Zoom Webinar and Facebook Live.  The NPL records their programs and makes them available on their YouTube channel.
2. Support a Black Owned Business or Restaurant. Check our Guide - 
In Newark and the surrounding area, you may support African American and Black-Owned Stores, Restaurants, Spas, Centers for the Arts & More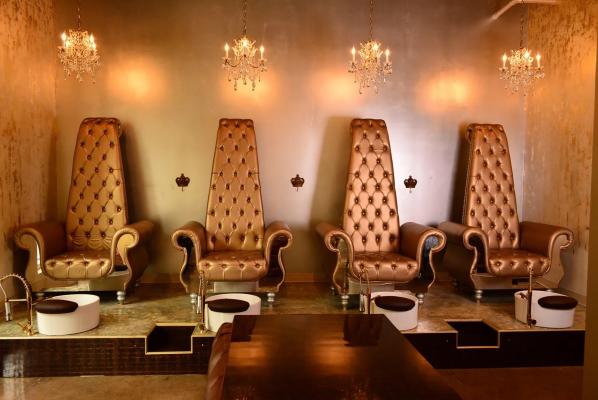 Bella Nail Lounge and Beauty Bar
From longtime favorites like the Kings restaurants and Vonda's Kitchen, contemporary offerings of The Yard and The Weekend Spot, to new openings Bar Vanquish and Swahili Village (Opening Spring 2022)
3. Binge with Newark Actors and Directors -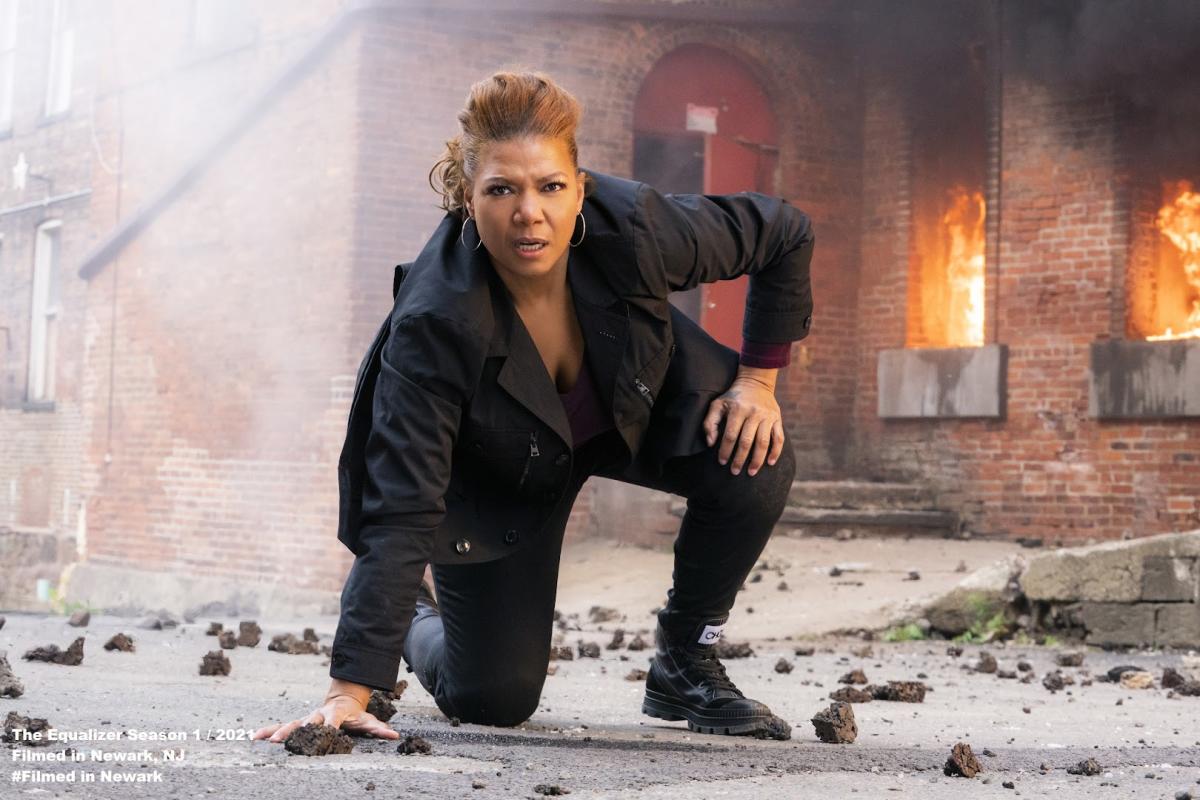 As the birthplace of film and the movie picture industry, almost since Hannibal Goodwin's patent of the nitrocellulose film in 1887 and Thoms Edison's Black Maria, in nearby West Orange, Black creatives have contributed greatly to this ever-growing industry. Staying inside much of February? Binge watch some of Newark's most talented daughters and sons on your favorite streaming service: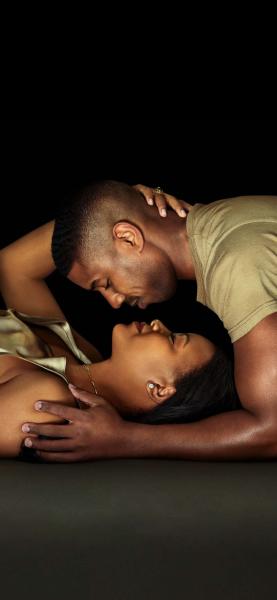 Michael B. Jordan, IN THEATERS | Journal for Jordan (GET TICKETS)
Raising Dion (Netflix)
Just Mercy, PG13 (Prime Video)
Black Panther, PG13 (Prime Video)
Creed I PG13, II R (Prime Video)
Queen Latifah, FILMED IN NEWARK | Equalizer (WATCH ON CBS)
Chicago, PG13 (HBO Max)
Hairspray, PG (Netflix)
Tobias Truvillion, Love Dot Com (Netflix)
Brooklyn's Finest, R (Prime Video)
In Contempt, (Prime Video)
Ernest R. Dickerson, They Gotta Have It - R (Netflix)
Godfather of Harlem, Directed 2-Episodes - TVMA (Prime Video)
The Wire, Directed 6-Episodes - TVMA (HBO/Prime Video)
Tisha Campbell-Martin, School Daze (Netflix)
Martin - NR (Prime Video)
House Party - R (Prime Video)
Shaquille O'Neal, Def Comedy Jam 25 - R (Netflix)
Kazaam - PG (Prime Video)
HONORABLE MENTION: Clarence Avant, The Black Godfather - TVMA & The Color Purple - R
4. Explore the Source of Knowledge Book Store -
The oldest independent book in the area is an African-Caribbean family-owned bookstore in Newark, NJ, selling books written and about people of African descent. They carry a huge selection of fiction, nonfiction, and children's books, African art, drums, and Shona stones. They look forward to continuing to provide yoga, lectures, movies, parties, and rentals when it is safe to do so.
Physical Store, 867 Broad Street
Order Online (BookShop)
6. Checkout the Krueger-Scott Mansion & Support Budding Entrepreneurs -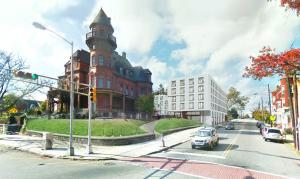 At the top of Court Street sits an abandoned mansion once owned by Louise Scott, a self-made Newark millionaire, and iconic Black female entrepreneur. In 1958, Scott bought the mansion, formerly owned by a Newark beer baron, and used the space as the center of her beauty empire, Scott College of Beauty Culture. While in operation, it housed a dentist's office, a restaurant, a charm school, an ice cream parlor, and a salon. Although it has since fallen into disrepair, the mansion was recently approved for redevelopment.
Today, MakerHoods Newark combines innovation in affordable living, entrepreneurial support for a new generation of makers, and shared spaces for light manufacturing. Makerhoods Market is more than just an e-commerce platform it is a catalyst to develop profitable, sustainable businesses. Looking to shop? Support Black-owned, women-owned businesses, and other budding local makers today! 
Click HERE to Shop!
7. Black Portraiture[s] VII: Play & Performance
+ 8. The Marion Thompson Wright Lecture Series -

Rutgers University - Newark will host the seventh annual Black Portraiture[s] Conference from Thursday, February 17 to Friday, February 19, 2022. Our theme for the conference is Play and Performance, which explores the role of "play" in past and contemporary African diasporic art and performance. We are made up of an interdisciplinary advisory board of Rutgers University faculty and will have over 160 speakers and scholars and 2 landmark exhibitions that explore how African diasporic visual, performance and musical artists have interpreted this concept, one that starts in the fluid space of black childhood, as a way of re-imagining race, gender, history, and Black futurity in the world today. 
For More Information Click Here
Express Newark and The Clement A. Price Institute invite you to join us virtually for the 42nd Annual Marion Thompson Wright Lecture Series as part of Black Portraiture[s] VII: Play & Performance. The conference will be held online for the general public on Saturday, February 19, 2022, at 9:30 AM EST.
Tyler Mitchell, Bisa Butler, Regina Carter, and Dominique Morisseau all foreground the themes of play, utopia, and performances in their work. 
Each through their works has interpreted this concept of "play", one that starts in the fluid space of black childhood, as a way of re-imagining race, gender, history, and Black futurity in the world today. 
This re-imaging shaped by generations of African diasporic artists, musicians, scholars, and activists envisions a future void of violent oppression and sparks new possibilities of change in the present moment
9. On the Air and Online, WBGO Honors Black History Month -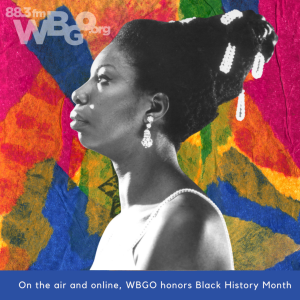 WBGO honors the rich history and vibrant presence of African American music in celebration of Black History Month. Tune in to hear messages from your favorite WBGO hosts highlighting notable quotes from leaders and artists, speaking about the impact and importance of jazz music to our society. Hear quotes from influential people like Wynton Marsalis, Maya Angelou, Dr. Martin Luther King Jr., Sonny Rollins, and more! Also, tune in to hear show features that highlight the contributions of African American artists and musicians throughout the month of February. Our music collection will also feature songs of protest that resonate with the Black experience in America, past and present.
WBGO's Award-Winning program Jazz Night in America will offer episodes that narratively touch on social justice and empowerment, and musically showcase a wide spectrum from big band, spoken word, and gospel. Jazz Night in America airs Saturdays at 6 pm on 88.3 FM and streaming via WBGO.org.
Jazz Night in America Black History Month lineup:
Feb 3, 2022 – The Movement Revisited
Former All Things Considered host Audie Cornish guest hosts this week's Jazz Night in America episode. The tables turn as JNIA host Christian McBride -- Grammy Award-winning bassist and composer -- talks about and performs his suite, The Movement Revisited, inspired by the words of Rosa Parks, Malcolm X, Muhammad Ali, and Martin Luther King, Jr. The performance was captured live at the Kimmel Center in Philadelphia, McBride's hometown.
Feb 10, 2022 – Samora Pinderhughes: The Transformations Suite 
Samora Pinderhughes says that jazz has the power to reflect "radical imagination." To the Bay Area-native pianist and composer, that means challenging the status quo with his multi-movement "Transformations Suite." The suite combines theater, music, and poetry to examine and explore the history of African American protest movements. Jazz Night travels to Berkeley, CA to showcase the "Transformations Suite" and explore Samora's journey into forming his musical life around activism from his parents to his peers, pupils, and mentors.
Feb 17, 2022 – Jazzmeia Horn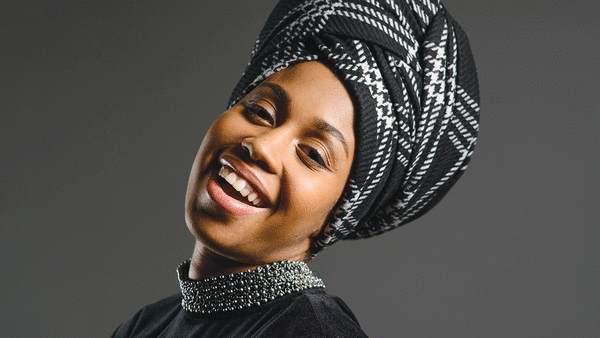 Maybe you became aware of Jazzmeia Horn when she took first prize at the Sarah Vaughan International Jazz Vocal Competition. Maybe you got hip when her debut album, A Social Call, was released in 2017. Or maybe this is the first you're hearing of Jazzmeia, which means you have something to look forward to. A singer of ironclad capability, creative drive, and irrepressible panache, she has emerged as the breakout new talent in a formidable jazz-vocal tradition. This is her moment, and Jazz Night in America has her story.
Feb 24, 2022  – Damien Sneed 
Jazz Night goes to church. Leading us in services this week is gospel pianist and vocalist Damien Sneed. We hear him live at Dizzy's Club at Jazz at Lincoln Center with his trio plus special guest vocalist Anitra McKinney. We take a tour of the legendary Abyssinian church in Harlem and learn about Sneed's upbringing in Augusta, GA to work with the legendary Aretha Franklin.
The Pulse with Keanna Faircloth
New interviews with artists in honor of Black History Month:
Feb. 3: Jazzmeia Horn, in advance of the Hudson Jazz Festival
Feb. 9: Alicia Olatuja, prior to her concert at Flushing Town Hall
SportsJam with Doug Doyle: From the Vault
WBGO will also celebrate Black History Month with an array of features online, including:
The Pulse: Alicia Olatuja
Q&A - Irma: My Life in Music
Q&A - Oscar Peterson: Black + White
Jazz United: Cecil Taylor
Black History Month x Valentine's Day
10. Sneak Preview Harriet Tubman Square -
Creating a monument to Harriet Tubman 'rooted in community' in Newark, NJ
Last June, Mayor Ras J. Baraka announced that artist Nina Cooke John's design for the Harriet Tubman monument was been chosen to replace a statue of Christopher Columbus, which was removed from Washington Park in the summer of 2020. The park and the surrounding area that includes the Newark Museum of Art and Newark Public Library will be renamed Tubman Square in honor of the pioneering abolitionist, during the summer of 2022, when the new monument will be installed.
11. Salutes the Outstanding Black Business & Community Leaders, with NJPAC
In celebration of Black History Month, we invite you to join us as we salute the work of outstanding Black businesses, community leaders, artists and athletes who have made significant contributions to New Jersey. Below is a sampling, please Click Here to view all of the videos produced by NJPAC.
---