Newark's Hottest Happy Hours
Best Happy Hours in Newark, NJ
In Newark and across America, happy hour is an increasingly ubiquitous institution. After all, who doesn't love a few hours at the end of the day when you're guaranteed to get the best boozy bang for your buck? Luckily, there are a ton of Newark establishments that offer happy hour enjoyment, ranging from well-known haunts to brand-new hot spots.
And since happy hour is your reward for a weekday well done, it's important to be in the know about who has the best deals on any given day. Luckily, your cocktail-savvy Glambassador has compiled a list of Newark's must-try happy hours. Without further ado, below is The Glambassador's Guide to Newark's Hottest Happy Hours.
Mompou, 77 Ferry St. - Just a short walk from Newark Penn Station, Mompou is a modern bistro with great ambiance, authentic tapas, and a lovely back patio for lounging. Known for innovative cocktails, head to Mompou for happy hour on Tuesday to Friday from 4-7 pm for $7 cocktails, $5 glasses of wine, and $5 tapas.
Marcus B&P, 56 Halsey St. - Located in the newly redeveloped Hahne & Co. Building downtown, this intimate and high-end space is the latest venture from acclaimed chef and restaurateur Marcus Samuelsson. Don't miss happy hour Tuesday through Friday, from 3 to 6 pm, which features $6 beers on tap, $7 house wine, and $8 signature cocktails. The cornbread is an absolute must!
CoolVines Newark, 625 Broad St. #110 - This premium wine store is right in the heart of the Newark Central Business District and across the hall from Whole Foods. A merchant with a mission. Their focus is on small-production wines and handcrafted beer & spirits.
EACH WEDNESDAY 6:30PM-8:30PM – GalleryRetail leads a Happy Hour for their Patreon Subscribers. Live DJ sets from Popido and a Guest DJ, new items on tap each week, and $1 tap while the event lasts.
Membership starts at $2 per month. Proceeds go toward powering Newark First Fridays, independent art and cultural festival.
The suggested donation is $7 for Non-Members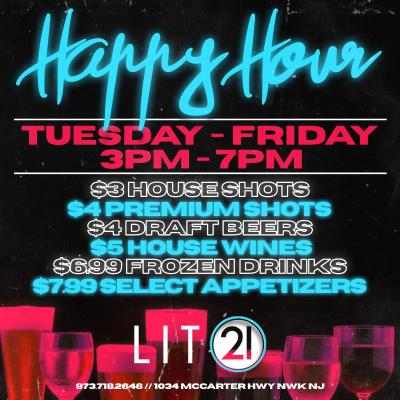 Lit21, 1034 McCarter Hwy. - Chill riverside eatery with a terrace offering global dishes & desserts, plus cocktails & hookah. Tuesday through Friday from 3 pm to 7 pm: $3 House Shots, $4 Premium Shots, $4 Draft Beers, $5 House Wines, $6.99 Frozen Drinks, $7.99 Select Appetizers
Adega Grill, 130 Ferry St. - Accommodating and quaint! Head here for happy hour, Monday through Friday from noon to 7 pm, with All Beers - $3.50, All Draft Beers - $3.50, All Gins - $6.50, All Vodkas - $6.50, All Rums - $6.50, Caipirinhas - $7.00, Pitcher Sangria - $20.00\
Ellie's Bistro, 20 Green St. - World-Class Pizza at a Family-Style Bistro... If you're looking for authentic Italian food you can follow your nose to Ellie's wood-burning oven and quality happy hour! Each day, Monday through Friday 4 pm to 6 pm, $4 Draft Beers, $5 Well Cocktails and Meatball Sliders, Truffle Fries, Mozzarella Sticks, Plain Pizza, & Wings, Each Just $5
Dutch's Restaurant, 24 E. Park St. - LIVE JAZZ at DUTCH's every Tuesday in October. We have an incredible lineup starting with Madame Pat Tandy.
Nico Kitchen + Bar, 1 Center St. - Located in New Jersey's premiere performing arts center, NJPAC, Nico is a Diner's Choice Award winner with an upscale vibe. Happy Hour is a great time to get to know Nico. Visit any Tuesday through Saturday from 3 pm to 6 pm for 1/2 price drinks!
City Rub Smokehouse, 118 Stockton St. - Have a dining experience like no other at this smokehouse specializing in southern cuisine with a Brazilian twist. Happy hour specials are available each Monday through Friday from 4:30 to 6:30 pm, including $6 caipirinhas, $4 glasses of wine, and $4 Budweiser drafts. And, enjoy $1 wings!
Redd's Biergarten, 37 Edison Pl. - The traditional outdoor German beer garden has moved indoors! Redd's sits across from The Rock and is known for its "5 Hour $5 Happy Hour" available seven days a week. From 2 to 7 pm, enjoy $5 appetizers, $5 craft/import half liters, $5 house wines, and $5 well drinks. Tuesday, Thursday, and Saturday from 8:30 PM - Midnight they offer Half Liter Beer Specials starting at $4 and House Wines for $5.
The City Lounge & Restaurant, 225 Washington St. - Monday - Thursday 7 pm to 7 pm, Friday - Saturday 4 pm to 10 pm, Sunday 12 pm - 7 pm they offer $1/$2 Tap Beer, $30 Sangria, 1 for $5 / 3 for $10 Shooters, 1 for $12 / 2 for $20 LIT Pouches,  1 for $10 / 3 for $25 Mixed Pouches,  1 for $10 / 2 for $15 Hookahs, and Beer Specials starting at $3.
American Whiskey, 51 Edison Pl. - American Whiskey Newark offers Neapolitan-style brick oven pizza, smoked wings, and other eats as well as cocktails, draft beer, good company, and of course whiskey! Also, right next to the Prudential Center, American Whiskey offers a great space for parties large and small to come in before and after events. From 12 to 8 pm, enjoy $9 Rittenhouse Rye Manhattans, $9 Elijah Craig Old Fashions, $3 Bud Light drafts, and $3 Miller Lite drafts.
---
More Options Throughout Newark: