Wine Lover's Guide to Newark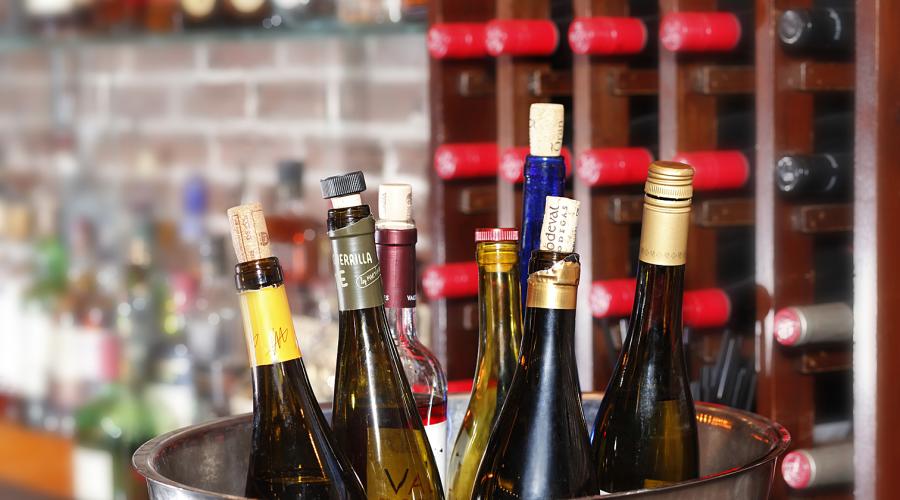 Generations ago Newark was known for its many breweries. Today, it's all about wine. Whether your choice is a substantial red or a delicious white, or something with bubbles, here's a sampling of the many spots in Newark offering well-chosen wine lists in attractive settings. Salut! 
The New Jersey Performing Arts Center (NJPAC) is the hub for great entertainment, but it's also home to one of the finer restaurants in town, Nico's Bar and Kitchen. At this elegant bistro, tuck yourself into a comfortable banquette to peruse the excellent wine list. At Nico's happy hour (M-F, 4-7) there are 21 wines by the glass at reduced prices, with choices from the West Coast, Europe, Argentina, Australia and New Zealand. For wines by the bottle, there's an ample selection that is heavy on vintages from California and Italy, with a range in price and type from a refreshing Gruner Veltliner ($30) from Monterey to the widely praised Italian red Brunello di Montalcino ($110). Bikram Bhandari, Nico's new manager, has a revamped wine list in the works slated to include some fine regional wines from New York State (and maybe even New Jersey.) Wine tasting dinners should also debut later this year.
Just a few blocks from NJPAC is the hipper-by-the-minute Halsey Street neighborhood. The restaurant  27 Mix has been welcoming workers, residents, visitors and college students and faculty for 10 years, for food, drinks and good vibes in a relaxed and attractive space.  "The Mix" offers a "Wine Down Wednesday" with most glasses and bottles at half-price, and a happy hour with wine discounts from 4-7 pm Monday through Friday. Wines include California reds and whites, with a smattering of vintages from Argentina, Australia, Spain, Italy and Washington State.
Heading towards the center of town (Broad and Market streets) you'll find a chic boutique hotel in a 1912 bank building designed by one of the most celebrated architects of the day, Cass Gilbert. Hotel Indigo is just a few blocks from Penn Station, NJPAC and the Prudential Center.
If you want to enjoy your wines in a warm and welcoming place that seems to gain in popularity every year, head down Ferry Street in Newark's celebrated Ironbound to Mompou Tapas and Wine Bar.
The stylish pub-type restaurant (named after the Catalan composer Frederic Mompou) offers a wine cellar lounge and bar where you can choose from a broad selection of Tintos (reds) from Spain, Portugal, and California, and a somewhat smaller selection of Blancos (whites) from Spain, Portugal, Italy, Australia and the U.S., including a New York State Riesling. Franciso Casela, Mompou's new manager, promises some serious fun for wine-lovers. Starting Mondays in February you'll be able to sample six different vintages for $15. That's a great deal, with the added benefit of public transportation just three blocks away at Penn Station. Try the richly bodied, intense red Oinoz (a Tempranillo from the region of Ribera del Duero) to see how good Spanish wine can be.
The Ironbound's numerous Spanish and Portuguese restaurants are popular for their paella and other Mediterranean specialties, and of course for their ubiquitous sangrias (more on those later).   But for wine lovers, especially those interested in vintages from the Iberian Peninsula, one would be hard-pressed to find a selection that rivals Forno's. This classic white-tablecloth restaurant offers a  wine list that is almost dizzying.  Here you'll find a small encyclopedia of varietals, organized by region, from Spain and Portugal, and numerous selections from California, Italy, France, Australia and South America.  If you're curious, owner Dario Lopez can help you select a special Tempranillo from Spain or its sister wine Aragonez from Portugal. 
For the most extensive selection of Portuguese and Spanish vintages, we recommend a visit to Lisbon Wines and Liquors, also on Ferry Street.  You can learn about wine regions, the most prized ports and sherries, and on a Friday and sometimes Saturday evening, you can sample wines at a modest wine tasting.  
And, back to sangria, with a cautionary note. This delectable concoction of red or white wine, fruits, brandy and triple sec goes down easily. But don't let it spoil your taste for more subtle flavors of wines from around the world available in Newark. On the other hand, an evening of just sangria with the wonderful foods of Spain and Portugal is, let's be honest, hard to beat. Enjoy. 
---
Newark Bound Magazine: It's all about Newark. Flip through the glossy for an in-depth look at Newark's world-class attractions, endless dining options, upscale and discount shopping, accommodations, and more. NewarkBound explores and reports on the highlights, trends, celebrities, humor, history and perspective that reflect life in and around New Jersey's largest city.
Story by: Helen S. Paxton
Photos by: Arthur Paxton