GNCVB Board of Directors, Elected Officials and Industry Partners,
Amid the growing concerns about the Novel Coronavirus (COVID-19) and for the health and safety of our Visitor Center personnel, the Visitor Information Center (GNCVB) will be closed to the public until further notice.  The GNCVB administrative office will remain OPEN from 9:00 am – 5:00 pm daily.   Groups, walk-in guests or for those traveling to Newark, can find additional information on our website at www.newarkhappening.com. If you have any questions or need to speak with a Destination consultant, please call our office directly at 973-735-2135.
Attached is a copy of Newark's "Frequently Asked Questions from the City of Newark.  Message links from New Jersey Gov. Phil Murphy and a summary regarding COVID-19, including the CDC's ongoing response, recommendations, and resources, are listed below.    
https://www.nj.gov/governor/news/news/562020/20200309b.shtml
https://www.cdc.gov/coronavirus/2019-ncov/index.html
This is a critical time in our industry, and we must work together to stay safe and informed to share information with the traveling public.  As a reminder, please use these tips and take precautions wherever it is necessary.
Clean your hands often by washing them with soap and water for at least 20 seconds or using an alcohol-based hand sanitizer that contains at least 60%-95% alcohol.
Avoid touching your eyes, nose or mouth with unwashed hands.
Cover your mouth and nose with a tissue or your sleeve (not your hands) when coughing or sneezing.
Avoid contact with sick people.
Stay home
Eat right / exercise
Please see the following message from Roger Dow, President & CEO, US Travel Association:
https://www.ustravel.org/press/us-travel-oval-office-coronavirus
Thank you for your patience and support during this time.
All the best,
KARIN AARON, CTA
President + CEO
---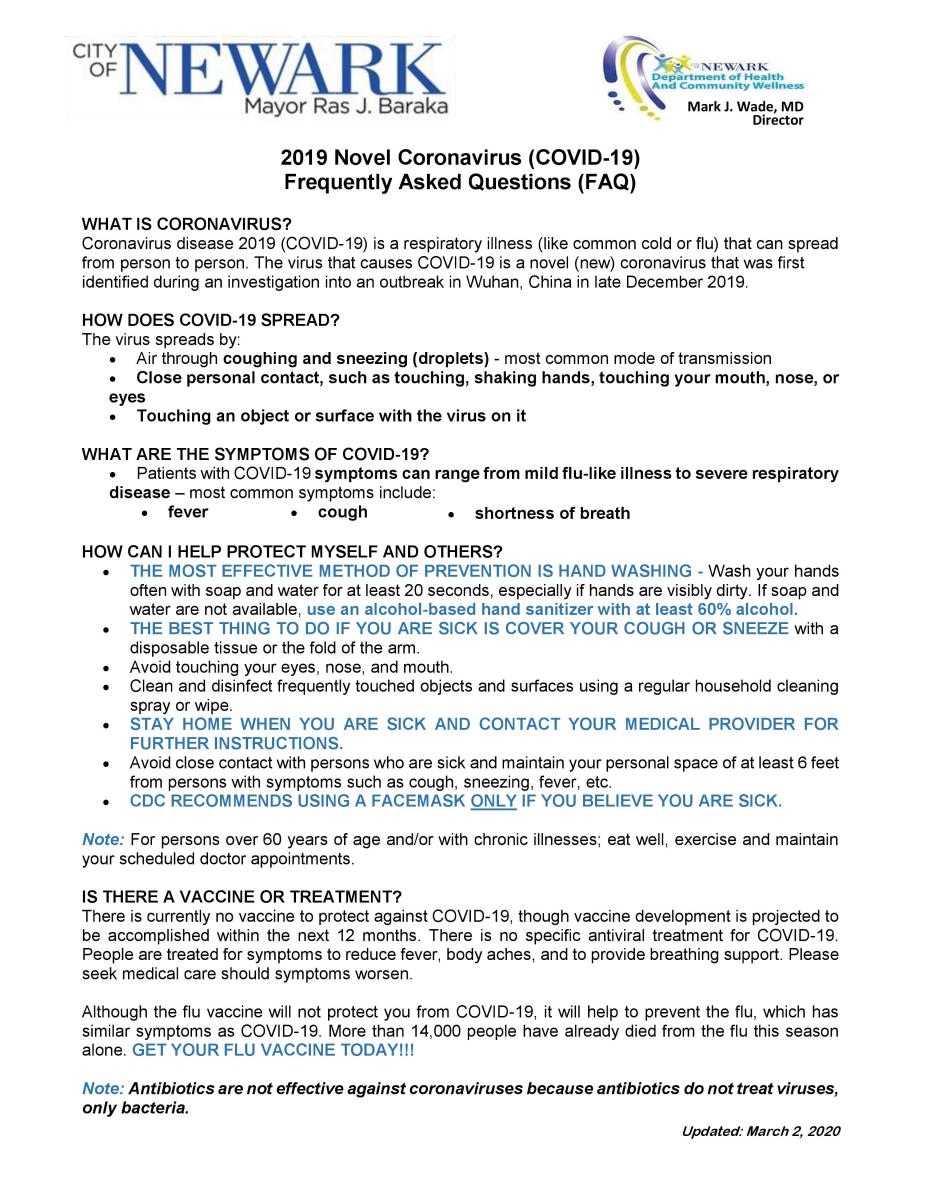 FOLLOW THE DEPARTMENT OF HEALTH AND COMMUNITY WELLNESS ON FACEBOOK AND TWITTER