To get your blood pumping; take in the outdoor elements, or simply catch scenic glimpses of the city of Newark, set out for some of the city's best-known trails and parks. From dreamy ponds that you can fish in to paved jogging trails, here are 7 of the best outdoor activities in and around Newark: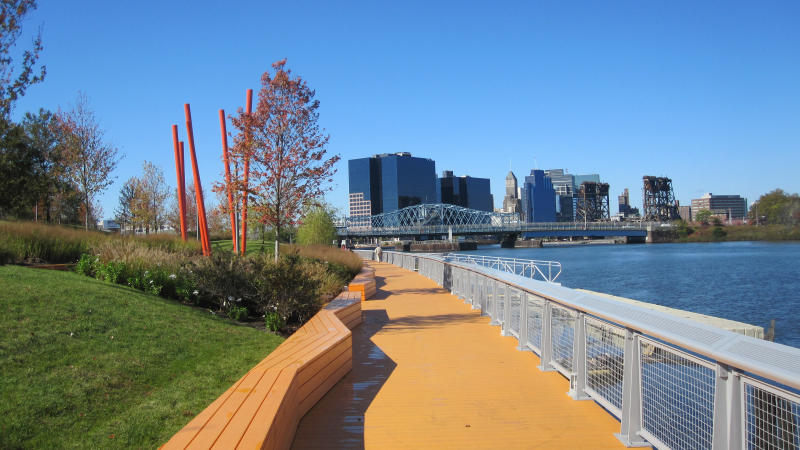 1. Newark Riverfront Park
For a tranquil promenade next to the water, visit Newark's Riverfront Park, a 7.1-acre greenspace completed in 2013 to provide locals and visitors with designated paths to run, walk, and enjoy the outdoors. Feeling like a workout? Check out the park's outdoor Fitness Zone, which has a diverse array of machines where you can burn calories like arm press stations and ellipticals. The station was created to allow for a complete exercise program for aerobic, strength building, and stretching. Don't forget to check out the sports fields, playground, and running track-all located along the Riverfront.
2. Clark's Pond 
Adjacent to Newark, Bloomfield Township is home to Clark's Pond, wherein the spring, pink cherry blossoms delight visitors and people looking to picnic in a scenic space. The pond is home to 3 tennis courts, a basketball court as well a softball and baseball field. You can walk the paved trails around the 12-acre park and then take part in fishing in the pond.
3. Weequahic Park
The 311-acre Weequahic Park is a convenient stop for long layovers at Newark Airport being only a 5-minute drive from terminal to green space. Known as having the first public golf course in New Jersey, the park is also home to an 80-acre lake, as well as paved paths for running; basketball and tennis courts; and soccer and softball fields.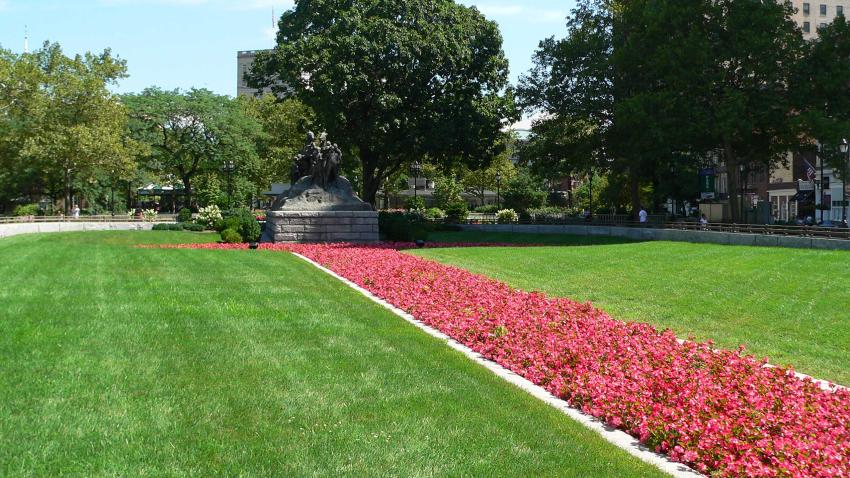 4. Military Park
If you like the bustle of downtown city life, then you are bound to encounter Military Park during your exploration of Newark. Originally a training ground for the military in the 19th century, modern-day visitors can have a picnic or a coffee on a bench in the 6-acre park. History buffs should stop by the Wars of America statue created by Mt. Rushmore sculptor, Gutzon Borglum.
5. South Mountain Reservoir 
West Orange is a city also part of Essex County where you will find the popular hiking area called the South Mountain Reservoir. Spread out over 2,000 acres, the nature reserve has a variety of footpaths, bridges, and overlooks. To see what the city of Newark looks like from above, you can enter through the park's eastern ridge for a panoramic view.
6. Independence Park
The Ironbound section of Newark is known for the heavy Brazilian and Portuguese culture that can be found in the food markets, restaurants, and clothing stores throughout the neighborhood. Also located in the Ironbound is Independence Park, one of Essex County's smallest and most quaint parks where you can participate in sports on the athletic fields, basketball courts, or take kids along the playground and walking paths.
7. Irvington Park
If you're a fan of trees and horticulture, head to Irvington Park which is home to several plant and tree species like red oak, mulberry, dogwood, elm, and ash trees. After burning some calories while walking or jogging around the 24-acre park, you can stop for a rest and engage in water activities in the park's small pond. You can find hobbyists model boat sailing or see fishermen waiting patiently for bites on their lines.